Almond Pro Steals Spotlight With Innovative Protein Powders Made Entirely From Almonds
MIAMI– Natural foods startup Almond Pro™ is riding their wave of continued sales growth with some exciting announcements for 2017. The hot new company is launching a peanut butter chocolate flavor of its flagship almond protein powder, and all products are now available for wholesale distribution.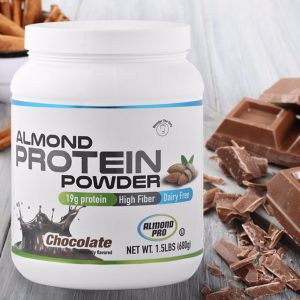 "We spent the last year focusing on the customer experience, logistics and strengthening our company's infrastructure. Now, our goal is to really educate consumers as to why almond protein powder is the best protein powder on the market," says Almond Pro™ President and CEO Caulen Foster. "Our protein powder marks the biggest innovation in the alternative protein market over the last decade. I call it the life protein. No company in the world has been able to create a product like this and we know once consumers continue to try and learn about almond protein powder, they won't want to use anything else."
Almond Pro™ has built a great reputation in the natural food, fitness and vegan marketplaces. People who are careful about what goes in their body enjoy the fact that the company's products contain no artificial colors, flavors, sweeteners or fillers. Each product is made from real almonds, not just almond "flavoring." Almond Pro™ almonds are also certified organic and non-GMO, and the protein powder has zero lactose, dairy or soy. Until now, anyone with food sensitivities has had a difficult time finding a protein powder that doesn't disagree with them. As shown by the steady increase in sales, Almond Pro™ is clearly meeting the needs of many consumers.
From a nutrition standpoint, one serving of almond protein powder delivers the equivalent of nearly two handfuls of almonds without the added fat. Almond protein powder is produced using a pressurization method that removes over half the fat while increasing the protein volume. Every serving of powder therefore contains 19g of protein, 6g of fiber and 14 essential vitamins and minerals. Almond Pro™ is also the maker of a versatile and organic almond flour that has 14g of protein per serving.
Since introducing its first products in late 2015, Almond Pro™ has earned a nearly 5-star rating on Amazon. This March, the forward-thinking startup will be releasing another new flavor as part of further enhancing its already strong appeal. In addition, every Almond Pro™ product is currently available at a discounted price on the company website.
Foster and the entire Almond Pro™ team encourage consumers to connect with the brand on its social media channels — YouTube, Twitter, Facebook and Instagram — to learn about upcoming products, discount offers, special events, recipe ideas and other news from the wide world of almonds.
About Almond Pro, LLC
Almond Pro™ is a company that's dedicated to providing high protein almond products to consumers across the globe. We like to think of Almond Pro™ as a brand that promotes innovation. We've started this pursuit by becoming the leading distributor and retailer of organic high protein almond flour in the United States with future products already in development. We also believe in quality. It is our promise to ensure that all Almond Pro™ products are formulated from natural ingredients free of GMOs, artificial sweeteners, fillers, or gluten. We are setting out to change this industry, and we're confident that when you purchase an Almond Pro™ product, you'll be as happy to consume it as we are to have put it in your hands.