Ahara Rasa Ghee Releases 6 Organic Flavors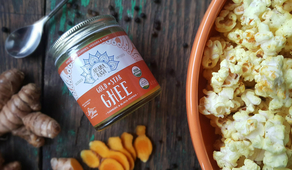 PORTLAND, Ore. — Founder & Creatrix of Ahara Rasa Ghee, Andrea Shuman along with fellow Ayurvedic practitioner, Martin Lemke are proud to announce that they have launched a full line of organic, spiced ghees to make cooking healthy, simple, whole foods tasty and accessible. Ahara Rasa Ghee is a gourmet, organic ghee company, from Portland, Oregon, making small batch, flame cooked, traditional and flavored cultured, clarified butters. All ghee is made from vat-cultured, artisan butter that is grassfed and sourced from the small farms of the Sierra Nevada Cheese Company.
What's new?
Adding to their traditional homestyle desi ghee, which is cooked over open flame, in small batches, ARG has just released 6 certified organic spiced ghees:
Bulb & Rind (Lemon- Garlic)
Gold Star (Turmeric-Black Pepper)
Vanilla Dream (with real organic vanilla bean)
Niter Kibbeh (Traditional Ethiopian style ghee)
Beurre Noisette (Paleo Style Brown Butter)
Hot Date (Organic Medjool dates soaked in Cinnamon, Ginger and Cardamom ghee)
As Ayurvedic practitioners, Andrea and Martin have long used and made ghee for it's seeming perfection of being not only delicious, but incredibly healthy for you. Ghee is often used in Ayurveda for solving digestive issues, assisting with calming anxiety and for its ability to potentiate the effects of medicinal herbs.
Ahara Rasa Ghee grew over 500% in 2016 in response to the high demand for their certified organic products. Consumers have been responding well, not only to their delicious flavors, but to their traditional ghee, which is also sold in myriad Indian markets in the northwest, where Indian consumers enjoy it for it's traditional texture with a rich grain. Traditional ghee is not smooth, like butter, but has a graininess that indicates that it was slow cooled to develop the flavors.
Consumers have shown great enthusiasm for Ahara Rasa's products not only for the ease of use and taste, but for their adherence to traditional principles of flame cooking and the use of grassfed, and cultured butter that is local to the USA. Humane dairy sourcing and environmental sustainability are principle values of Ahara Rasa Ghee, making it a standout for taste and company ethics.
About Ahara Rasa
For more information on Ahara Rasa and to review all their offerings, please visit https://www.ahararasaghee.com or follow the company with their current handles onInstagram @iloveghee, Facebook (@ahararasaghee), and Twitter (@ahararasaghee)