Sabra Launches Line of Sandwich Spreads
CHESTERFIELD COUNTY, Va., Aug. 1, 2016 /PRNewswire/ — Sabra Dipping Company, maker of America's favorite hummus, announced today the launch of Sabra SpreadsTM, a line of fresh, wholesome, refrigerated sandwich spreads crafted to take America's sandwiches from good to great. A first in hummus history from the brand that popularized the dip in America, this one-of-a kind condiment comes in a convenient squeezable bottle and is hitting the market with three delicious flavors: Garlic Herb, Honey Mustard and Sea Salt & Cracked Pepper.
"Sandwiches are as popular as ever. Casual and completely customizable, it is no wonder they continue to reign as a go-to meal," said Eric Greifenberger, director of marketing at Sabra. "With the launch of Sabra Spreads, we're giving consumers fresh new ways to love hummus while upgrading everyday sandwiches. The line was developed, from a nutritional, texture and taste standpoint, specifically to make sandwiches sing with added flavor. We are thrilled to introduce an incredible guilt-free innovation for the condiment category."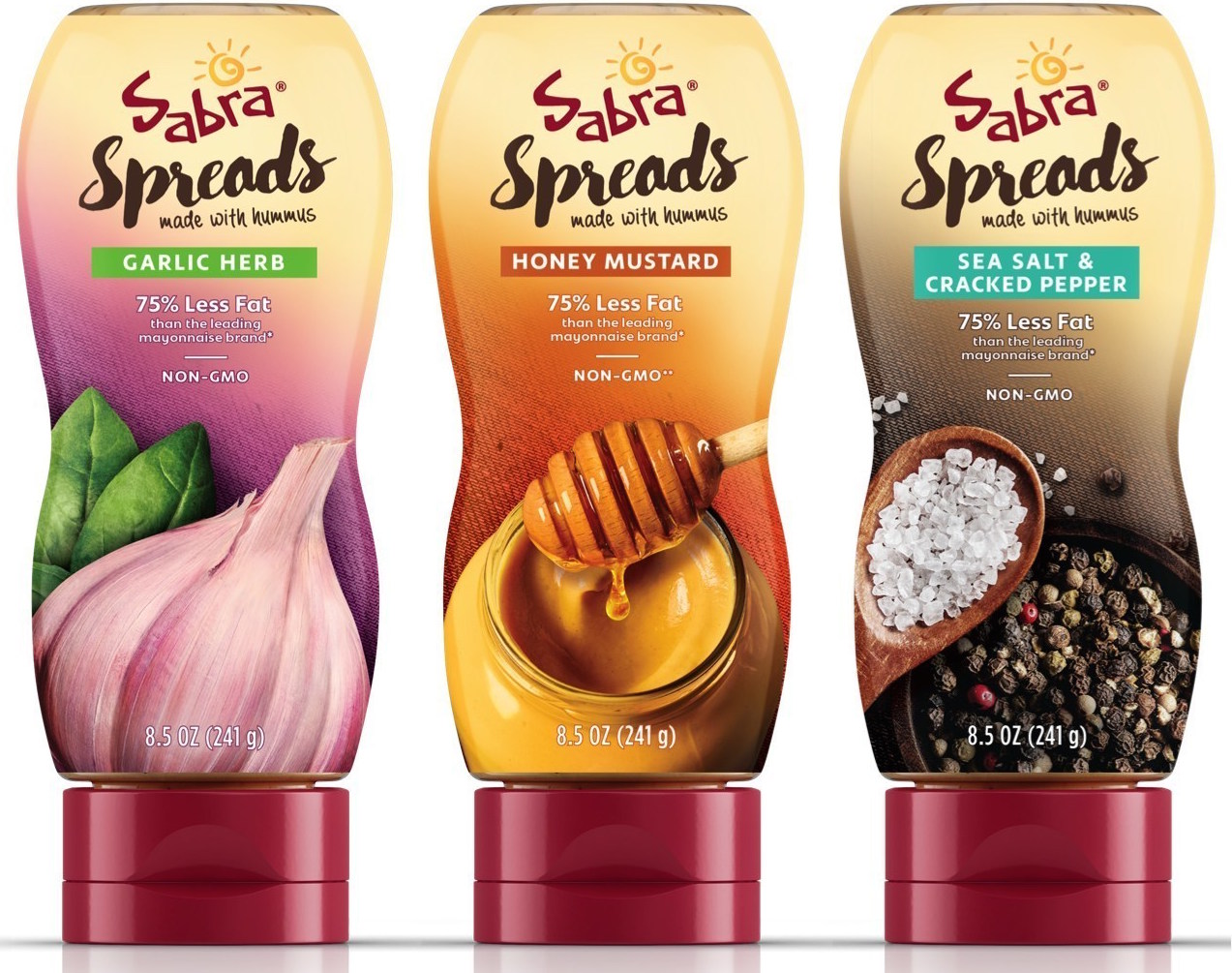 Approximately half of Americans eat a sandwich every day and virtually all use a condiment or spread. Dedicated to giving consumers fresh new ways to eat and connect, Sabra saw an opportunity to offer consumers a new, hummus-based condiment for better sandwiches. Sabra Spreads have 75% less fat than the leading spread, mayonnaise, and pair perfectly with sandwiches and wraps of all varieties from deli or cheese to vegetarian.
"When it comes to culinary innovations, everything starts in the kitchen and with the best ingredients," saidMaryDawn Wright, corporate executive chef at Sabra's Center of Excellence. "As consummate hummus eaters, we have always used hummus in a wide variety of occasions. We were thrilled when we observed trend-setting consumers and restaurateurs beginning to spread hummus on sandwiches, wraps and more. We harvested that enthusiasm behind spreading hummus to craft a line of hummus-based spreads with the ideal flavors and texture to compliment Americas favorite sandwich ingredients. Now, people at home can create a flavor-packed sandwich or wrap quickly and easily using our new line of spreads."
Sabra will support the new product with a significant digital launch, an experiential sampling tour, and fun consumer and in-store promotions including an integration with Arnold®, Brownberry® and Oroweat® Bread in the third annual "America's Better Sandwich™" contest. Sabra will also partner with food and nutrition influencers to develop and share more than 100 new sandwich recipe inspirations featuring Sabra Spreads.
As the category leader in refrigerated dips, the team at Sabra's Center of Excellence observes early shifts in consumer behavior that evolve into culinary trends. Leveraging such insights has led to breakthrough innovations in packaging and product development such as the first portable grab and go hummus snack packs, savory Greek Yogurt Dips, Guacamole Veggie Fusions and now, another US hummus first: Sabra Spreads.
Sabra Spreads will launch nationwide beginning September 1st, with limited retail availability late summer; and will be available in the refrigerated deli section of grocery stores and supermarkets. All three products are kosher, gluten free, and non-GMO. The suggested retail price is $3.99 per bottle. To learn more about Sabra Spreads, please visit http://sabra.com.
About Sabra Dipping Company, LLC: Sabra Dipping Company, LLC is the leader in the refrigerated dips and spreads category and producer of America's top-selling hummus. Sabra's award-winning products offer consumers fresh new ways of eating and connecting and include more than a dozen flavors of hummus and a wide range of refrigerated dips and spreads including salsa, guacamole and Greek yogurt dip. Sabra's range of offerings includes items that are non-GMO, vegetarian, gluten-free, kosher and vegan and can be found nationwide in club stores, supermarkets, specialty retailers and through food service. Sabra operates a gold LEED certified factory in Virginia. Find Sabra atwww.sabra.com, www.facebook.com/sabra and @Sabra on Twitter and Instagram.
Sabra Dipping Company was formed as a U.S./Canadian joint venture between Strauss Group and PepsiCo. The Sabra joint venture draws on both Frito-Lay, a division of PepsiCo, and Strauss Group's expertise to continue building this growing business.
About Bimbo Bakeries USA: Bimbo Bakeries USA (BBU) is a leader in the baking industry, known for its category leading brands, innovative products, freshness and quality. Our team of more than 22,000 U.S. associates operates 59 manufacturing locations in the United States. Our distribution routes deliver our leading brands such as Arnold®, Bimbo®, Boboli®, Brownberry®, Entenmann's®, Francisco®, Freihofer's®, Heiner's™, Marinela®, Mrs Baird's®, Oroweat®,Sara Lee®, Stroehmann®, Thomas'® and Tia Rosa®.