Fusion Jerky Debuts 1oz 'On-The-Go' Package
SOUTH SAN FRANCISCO, Calif. — The leading all-natural meat snack producer, Fusion Jerky, has responded to the customer demand for on-the-go, in-the-purse protein with their new 1oz packages. Beginning with their two most popular flavors, Grilled Island Teriyaki Pork and Original Hickory Beef, Fusion Jerky's incredibly tender, gluten, nitrite, and preservative-free jerky will be even more convenient for gym bags, office kitchens, and anyone on the move.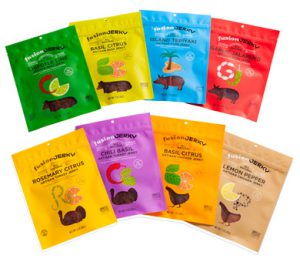 "Many of our customers are women, and they wanted a jerky that was high protein with a clean ingredient list that they could keep in their purse or grab and go after Pilates," said KaiYen Mai, Fusion Jerky CEO, "So we listened, and we created a 1oz single-serving package that wasn't covered in beards and hatchets." Given their successful eight flavor line, she notes "this new size is just a natural extension of our brand."
Fusion has had huge success by targeting the young, female jerky consumers that the rest of the industry has ignored for years, despite the fact that 50% of jerky consumers are female. Creating a nourishing snack without junk or chemicals that still tasted bold and satisfying has been KaiYen and Fusion's mission from the start.
They make their hand-crafted artisanal jerky in small batches here in the states with premium US meat, using only extra-lean whole muscle cuts and real herbs and custom-blended spices to offer 11g of protein and a 96% fat-free snack.
About Fusion Jerky
Known for their mouthwatering culinary flavors and soft, tender jerky, Fusion Jerky is a category leader and trend-setter in the meat snacks field. Fusion Jerky has also led the way for women in the industry as women-owned business and artisan manufacturer in the meat snacks market. They're one of the few jerky companies who produce their own jerky, having built a state-of-the-art facility so they can hand-craft their jerky in small batches using old family recipes updated with modern flavors and proprietary cooking methods. Available at retailers nationwide.
Find out more about the women-run Fusionjerky.com and discover their six other flavors.