Baron Chocolatier Rounds Out Premium Chocolate Collection with Addition of New Flavors
VERNON HILLS, IL NOVEMBER 17, 2016:Â Baron Chocolatier, Inc introduces several new flavor offerings to its line of premium chocolates. One of the new confections, White Chocolate Coconut sticks, recently received global recognition by taking top honors at the 2016 Yummex Middle East Innovation Awards, which recognizes people and companies pioneering leadership and innovation in the global food and drink industry, held in Dubai on Nov. 7th.
The following new products are expected to debut on store shelves beginning in January 2017.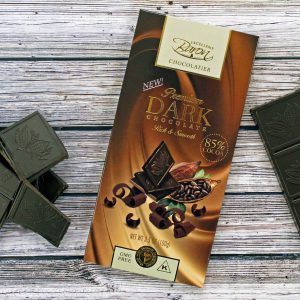 Truffles – Packaged 15 count, individually wrapped; Retail price $2.99-$3.99
Dark Chocolate Blueberry Acai Truffles
Dark Chocolate Pomegranate Truffles
Bars – Retail price $1.99-$2.19/100g and $0.99-$1.19/50g
85% Dark Chocolate (100g)
Dark Chocolate with Pomegranate (100g)
Milk Chocolate with Cookies (50g)
Milk Chocolate with Colorful Lentils (50g)
Sticks – Individually wrapped 8-count sticks; Retail price $2.99-$3.99
Milk Chocolate Caramel Sticks
Milk Chocolate Pistachio Sticks
70% Dark Chocolate Sticks
White Chocolate Coconut Sticks – Awarded "Best Chocolate Product" at the prestigious 2016 Yummex Middle East Innovation Awards.
"We are passionate at Baron Chocolatier about creating the finest bean-to-bar chocolates with flavorful profile combinations," said Chris Mattina, Senior Vice President & General Manager, Baron Chocolatier, Inc. "Our latest products are new and classic additions ranging from fruity, nutty, crunchy and creamy and, in the Baron Chocolatier tradition, always made with natural premium ingredients at an affordable price."
Baron Chocolatier's offers a variety of milk and dark chocolate bars, truffles and other sweet treats all made with all natural ingredients, including coloring from natural sources, real fruit juice, GMO-free, zero trans fats and certified Kosher and Halal. There are many flavor combinations to choose ranging from milk or dark chocolate with sea salt pieces, orange and almonds, raspberry pieces and toffee crunch to seasonal products such as truffle Easter eggs, strawberry cheesecake and mango passion truffles, sticks and more.
About Baron Chocolatier: Baron Chocolatier, Inc. is a privately-owned, second generation company with a proud confectionary heritage in the craft of the finest chocolatiers. Our premium chocolate is made with only the finest all natural ingredients and receives GMO-Free and Kosher certification while produced in state-of-the-art manufacturing facilities across Poland. Please find our products proudly available in the leading national retailers, grocery chains, limited assortment and specialty retailers throughout the United States, Canada and Mexico. For more information, please visit, http://www.baronchocolatier.com