Unilever Introduces Simpler Recipe, New Package for Country Crock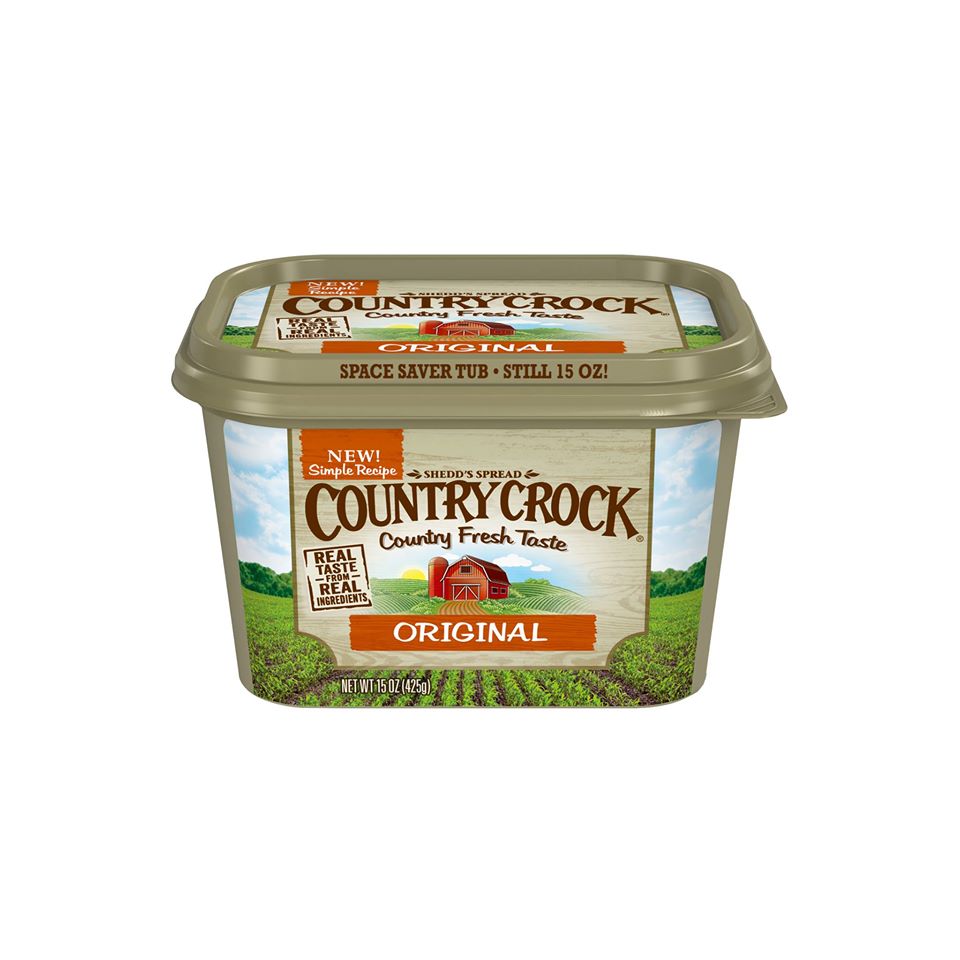 ENGLEWOOD CLIFFS, N.J., Aug. 3, 2015 /PRNewswire/ — Country Crock®, the brand that has been bringing delicious buttery spreads to American tables for more than 30 years, is introducing new simpler offerings with a country fresh taste made with real ingredients including delicious oils, purified water and a pinch of salt.
"At Country Crock®, we want you to feel good about the food that brings your family around the table," said Mike Faherty, General Manager, Baking, Cooking & Spreads Company, Unilever, North America. "We are continuously listening to consumers who are asking more from today's food brands to deliver great tasting products that they can trust and are made with fewer, simpler ingredients. In making these changes, we remain true to our brand heritage by bringing the country fresh taste families know and love. It's simple goodness for the whole family."
The new, improved Country Crock® Original, Churn Style, and Light varieties are made with no artificial preservatives or flavors. Delivering real taste from real ingredients, Country Crock® buttery spreads contain 0g trans fat per serving, no partially hydrogenated vegetable oils, and no cholesterol.
Whether cooking or baking, Country Crock® is the go-to ingredient in the kitchen – from topping summer corn on the cob, to baking up chewy and delicious cookies; from spreading on multigrain toast, to sautéing mixed vegetables.
"Country Crock® tastes delicious and works great in the kitchen, whether you want to add a country fresh taste to a favorite family recipe or try a new dish," said Country Crock® Principle Kitchens Application Chef, Normajean Longfield. "And because we know meals bring families together, we whipped up some new summertime, family-friendly recipes featuring Country Crock, such as easy and delicious Charred Corn & Zucchini Skillet Sauté, Fresh & Light Chicken-Veggie Chili, and Strawberry Shortcakes."
The new simpler offerings from Country Crock® will be available in Original, Calcium, Churn Style, and Light varieties nationwide and sold in rectangular, space-saving packaging that is reusable and recyclable where facilities exist. The new recipes will come in a range of sizes, from $2.39 – $3.79 in grocery stores and $2.19 – $4.99 in mass retailers.
As part of the company's commitment to offering products made with real, simple ingredients, Unilever is introducing simpler recipes across its portfolio of buttery spreads, including Country Crock®, I Can't Believe It's Not Butter®, Brummel & Brown® and Imperial®brands.
You can discover more about Country Crock's® country fresh taste and simple goodness by visiting www.CountryCrock.com or engaging on Pinterest (pinterest.com/countrycrock), Facebook (facebook.com/countrycrock), or Twitter (twitter.com/countrycrock).
About Unilever United States, Inc.
Unilever is one of the world's leading suppliers of Food, Refreshments, Home and Personal Care products with sales in more than 190 countries. In the United States, the portfolio includes brand icons such as: Axe, Ben & Jerry's, Breyers, Caress, Clear Scalp & Hair Therapy, Consort For Men, Country Crock, Degree, Dove personal care products, Fruttare, Good Humor, Hellmann's, I Can't Believe It's Not Butter!, Just for Me!, Klondike, Knorr, Lever 2000, Lipton, Magnum, Motions, Nexxus, Noxzema, Pond's, Popsicle, Promise, Q-tips, Simple, St. Ives, Suave, Talenti Gelato & Sorbetto, TIGI, TONI&GUY Hair Meet Wardrobe, TRESemmé and Vaseline. All of the preceding brand names are trademarks or registered trademarks of the Unilever Group of Companies.
Unilever employs approximately 8,000 people in the United States – generating approximately $8.5 billion in sales in 2014.
The Unilever Sustainable Living Plan (USLP) aims to double the size of Unilever's business, while reducing its overall environmental footprint and increasing positive social impact. The USLP is a strategic response to the challenges businesses face operating in an uncertain and volatile world. See more on the Unilever Sustainable Living Plan at http://www.unileverusa.com/sustainable-living/.
Unilever ranked number one in its sector on the 2014 Dow Jones Sustainability Index.
The entire Unilever global factory network, as well as its U.S. non-manufacturing facilities, have achieved zero non-hazardous waste to landfill status.
For more information on Unilever U.S. and its brands visit: www.unileverusa.com
To connect with Unilever U.S. via Facebook visit: www.facebook.com/unileverusa
To connect with Unilever U.S. via Twitter follow: @unileverusa
To learn more about taking small actions that can make a big difference visit: https://www.brightfuture.us
Like what you're reading?
Subscribe to BevNET+NOSH Today
Subscribe today and get access to the leading industry resources in the food &amp beverage industries. News, trends, industry data, expert analysis and much more.
Access all of these benefits:
Unlimited access to all content on BevNET.com and NOSH.com
Exclusive access to hundreds of educational videos
Watch subscriber-only live programs such as Office Hours