Kraze Foods Launches Online Store with Raw, Organic, Gourmet Flavored Nuts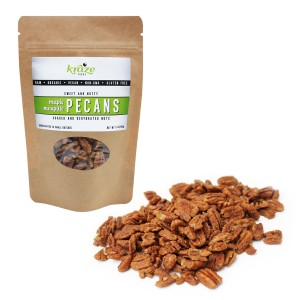 Sterling Heights, MI (June 03, 2015)
Kraze Foods, LLC is pleased to announce that their online store is now open for consumers to purchase organic, gourmet flavored nuts. A company focused on creating raw food snacks that appeal to people from all walks of life, not just raw food enthusiasts, Kraze Foods places emphasis on high quality, nutrition-dense foods that are healthy and bursting with flavor.
Their product line consists of Chocolate Orange Walnuts, Maple Mesquite Pecans and Spicy Cashews, which are raw from start to finish, all natural and contain no artificial flavors, colors or preservatives. Consumers can choose from 3 ounce packages and 1 ounce snack packs, which are ideal for lunches, people on-the-go and quick snack fixes.
In March, Kraze Foods launched an Indiegogo crowdfunding campaign which helped spread awareness of the new business and also generate funds to get the company going. While they did not reach their funding goal, President Sheryl Burns says, "We are determined now more than ever to get our quality products into everyone's hands, and are convinced we will have repeat customers. That's how confident we are in our process and the taste of our three uniquely flavored nuts."
About Kraze Foods, LLC
Headquartered in Sterling Heights, MI and owned and operated by co-founders David Adinarayan and Sheryl Burns, Kraze Foods, LLC is a collaboration of two like-minded individuals with an appreciation for gourmet food with a healthy twist.