Del Monte Introduces Fruit and Veggies Fusions Line
WALNUT CREEK, Calif., Aug. 10, 2015 /PRNewswire/ — The start of school means the entire family returns to the reality of a full schedule of classes, homework and after school activities. To nourish and energize, so kids can go above and beyond in all of those pursuits, there is the new Del Monte® Fruit and Veggie Fusions, a tasty blend of fruit in a lightly sweetened vegetable and fruit juice that equals one combined serving of fruit and vegetables in each cup*.
A 2014 report from the Centers for Disease Control shared some good news with an increase in the amount of whole fruit being consumed by US children ages 2-18. However the total amount of fruit consumed is still low and vegetable consumption was also low and has not seen an increase in recent years.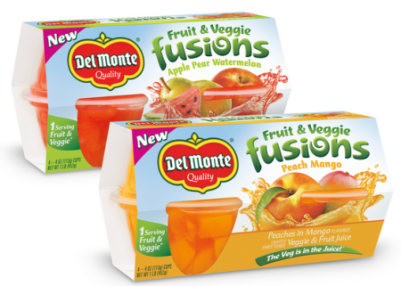 "As parents work to increase the amount of healthy meals and snacks their families enjoy they are looking for clever solutions. Del Monte® is already a trusted brand for lunchboxes and after school snacks, so we are excited to offer Del Monte® Fruit and Veggie Fusions as an innovative solution that is the perfect sidekick to accompany little superheroes through their busy days," said Neeta Pramanik, Associate Product Manager for Del Monte® Fruit Cup Snacks. "It has the goodness of veg with the yumminess of fruit for a snack that both parents and kids can love."
The cups come in three flavors – Peach Mango, Apple Pear Watermelon, Cherry Fruit Trio – and contain no high fructose corn syrup and no artificial flavors or sweeteners.
To celebrate Del Monte's new snack, the brand is also celebrating super kids. Moms can post pictures, videos and #sharethesuper moments of their kids being super on Instagram and Twitter for a chance to win prizes to fuel their family's super interests. The sweepstakes will run from Aug. 10 through Sept. 18.
Del Monte® Fruit and Veggie Fusions are available nationwide for a suggested retail price of $2.99. For more information visit SharetheSuper.com or check out the Del Monte® social channels: Twitter @DelMonte; Instagram @Del Monte; Facebook.com/Del Monte; Pinterest.com/DelMonteBrand.
About Del Monte®
Del Monte® Foods, Inc. is one of the country's largest producers, distributors and marketers of premium quality, branded food products for the U.S. retail market. The Company also produces and distributes private label food products.
Like what you're reading?
Subscribe to BevNET+NOSH Today
Subscribe today and get access to the leading industry resources in the food &amp beverage industries. News, trends, industry data, expert analysis and much more.
Access all of these benefits:
Unlimited access to all content on BevNET.com and NOSH.com
Exclusive access to hundreds of educational videos
Watch subscriber-only live programs such as Office Hours