Pasta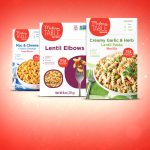 Modern Table is ready to take center plate with a reformulation and rebranding of their protein pastas and meal kits, as well as the launch of a new line of mac-and-cheese.
Three Bridges recently rebranded its line of refrigerated pastas and sauces with updated graphics and sleek new packaging to better showcase the brand's commitment to providing easy-to-prepare meal solutions that are made from simple, honest and better-for-you ingredients.
Veggie Noodle Co., the Austin, Texas-based food brand twisting up the pasta world, will debut their kinky new line of organic spiralized vegetables at the Natural Products Expo in Baltimore Maryland, September 22-24, 2016.
Banza, maker of the chickpea pasta named as one of TIME Magazine's Best Inventions of 2015, announced today its first expansion into long noodles: high-protein spaghetti.
Just months after launching Parla Pasta in Harris Teeter and The Fresh Market, Drake's Fresh Pasta Co. can now be found in the frozen aisle at Publix. Parla Oval Cheese Ravioli, Spinach Florentine Ravioli and Portabella Mushroom Ravioli is now available in all of their more than one thousand stores across the south.
MXO GLOBAL INC., manufacturer of TOLERANT Foods, announces it is launching a new Energy Legume Blend pasta, and new package design for its rebranded, single ingredient legume pastas, Simply Legumes™ this spring.
Explore Cuisine, the first company to bring bean pastas to market, is launching new "Pulse Pastas"—the brand's newest product line of pastas made from organic lentils and organic chickpeas. Made in Italy, Explore Cuisine's Pulse Pastas are vegan, organic, gluten-free, high in protein and a good source of fiber
New World Pasta Company, a wholly owned subsidiary of Ebro Foods, announced that its brands: American Beauty®, San Giorgio®, Ronzoni®, Creamette®, Prince® and Skinner® have earned NonGMO Project Verification on their most popular pasta products.
Slendier, an Australian company that provides a full range of healthy, easy-to-prepare pastas, noodles and rice will now have its products for sale on Amazon.com, the world's largest online retailer.