Biodynamic
SPINS proudly announces Biodynamic certification as the newest attribute to appear in its SATORI reporting and analytics tool. The partnership with Demeter USA, the only certification agency for Biodynamic products in the U.S., enables manufacturer and retailer partners to engage with this growing movement toward healthy and sustainable means of production across a multitude of product categories.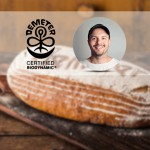 In this interview with Errol Schweizer, a strategic advisor for natural product companies and new member of the Board of Directors for Demeter, Project NOSH explores the growing popularity of biodynamic products. Schweizer discusses why he joined the organization (which is the U.S. certifying body for biodynamic farms and products), why he wants to see more biodynamic products and what challenges the movement faces.
Demeter USA, the U.S. representative of Demeter International and official certification organization for Biodynamic® products nationwide, today announced that natural and organic food industry visionary, Errol Schweizer, has joined its board of directors.