Project NOSH Welcomes Jon Sebastiani, SPINS Study and Data Distribution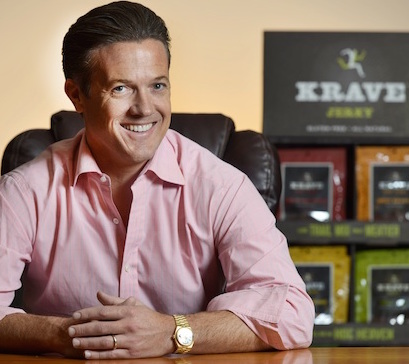 The Project NOSH conference in Brooklyn has added some significant food for thought with the addition of an inspiring conversation with Krave Jerky and Sonoma Brands founder Jon Sebastiani and a special presentation from retailing information provider SPINS on the snack category.
Sebastiani will sit down with Project NOSH editor Carol Ortenberg for a chat about building CPG startups from the ground up. Pulling from his own rich history and experience, Sebastiani will discuss the key inflection points every entrepreneur needs to be prepared for and the key team members needed to help your company scale. Sebastiani will also discuss what he looks for in entrepreneurs when investing through Sonoma Brands.
Also during the event, attendees will join SPINS' Kora Lazarski for a deep dive into the snack space between traditional meals, one that is driving much of the innovation and investment in the food space. Lazarski will analyze sales trends of snack categories and, more importantly for product marketers, look into the key attributes that are driving their growth. She will also look into new product launches and innovations and evaluate their effectiveness in the marketplace as reflections of larger consumer trends.
SPINS' contribution will go beyond a presentation, however, as the organization will also be preparing special category analysis reports for distribution to Project NOSH attendees over the course of the day. These reports will show the movement of key product types culled and sorted to reflect the category dynamics affecting those brands that are registered to attend the event.
Questions about the event or attendance can be arranged by contacting Jon Landis. Some sponsorship is still available and can be arranged by contacting John McKenna.
About Project NOSH: Project NOSH covers the world of entrepreneurial packaged food companies and services that are expanding rapidly due to interest in Natural, Organic, Sustainable and Healthy (NOSH) products and businesses. The growth of these kinds of products has created an ecosystem of entrepreneurs, consumers, suppliers, employees, distributors, retailers, investors, regulators, and service providers: The goal of Project NOSH is to become the leading source of informed, comprehensive coverage and context in regard to this growing community of businesses and the larger trends affecting it, both internally and externally. Project NOSH is a publication of BevNET.com, Inc.
About Jon Sebastiani: Born to a lauded Sonoma wine family, Jon Sebastiani has grown up working in and surrounded by the aura of wine, food and hospitality. Embracing his entrepreneurial spirit, Jon was involved in a variety of business pursuits at a young age. From helping drive the M&A process of his family's winery, Viansa, to founding KRAVE Pure Foods which quickly became one of the fastest growing CPG companies in the country (acquired by Hershey in the spring of 2015), Jon has a wealth of valuable firsthand experience.
About Kora Lazarski: Kora Lazarski is Strategic Alliance Manager for Chicago-based SPINS. Kora's strategic alliance and business development work at SPINS leverages her background and passions by creating strategic programs that grow the value of data for retailers, brands and the whole industry of people working for the common good. She directs strategy and business development for SPINS industry, trade, and media groups.