Still Appetite For Meat Snacks as 4505 Closes Funding Round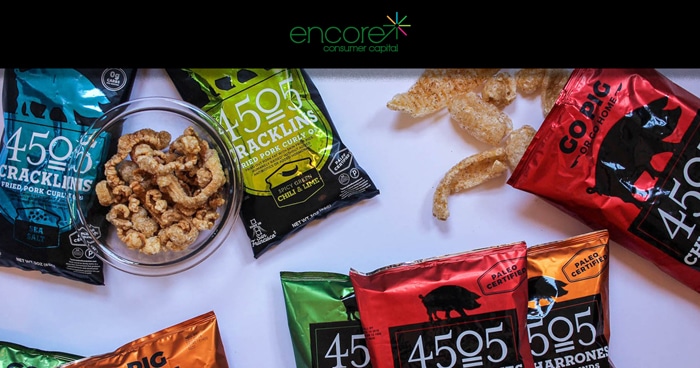 While the appetite for investment in meat snacks may be waning somewhat, investors are still hog wild for innovative brands in the category. Yesterday meat snack brand 4505 Meats announced the close of a round of funding led by Encore Capital, with investment firm CircleUp also taking part.
The company declined to disclose the total amount raised but an SEC filing indicates the company closed a roughly $8.5 million round. 4505 President Anish Sheth told NOSH the round included a smaller convertible note from last year. The company previously closed a round of funding led by CircleUp in late 2017.
Sheth, a former VP of marketing for fellow Encore portfolio brand CeCe's Veggie Co, told NOSH that the funds will be used for working capital as well as to increase sales and marketing efforts. He added that 4505 was excited to work with Encore because the firm has a solid history with meat brands, including pork company Tender Belly, meat snack producer Duke's and Aidell's sausages — the latter two of which Encore has successfully exited. Sheth believes this experience will help 4505 as it scales, particularly in the areas of operations and supply chain.
In turn, Encore managing director Scott Sellers told NOSH the firm was attracted to the white space in the salty snack set.
"4505 fits well into Encore's strategy of investing in brands that offer higher quality protein that tastes great," Sellers said. "Pork rinds are a sizeable category but traditionally have not appealed to health conscious and natural food shoppers… [4505 is] bringing new consumers to the category.
Although previously thought of as an unhealthy commodity snack, in recent years meat snack brands such as 4505 and General Mill's Epic Provisions have tried to reinvigorate consumer interest with premium, humanely-raised offerings. The snack also fits with many current diet tribes, such as ketogenic, paleo and low-carb. As a result of these efforts, Sheth told NOSH that the pork rind category has seen double-digit growth year-over-year and is one of the fastest growing subcategories of the salty snack set.
Retailers have responded to the growing acceptance by making space in the salty snack set for these new brands. Last year 4505 launched into all Whole Foods stores as part of the retailer's salty snack reset (which includes a meat chip section), launched nationally into Safeway/Albertson's and tested in several regions of Costco.
4505 entered stores with a better-for-you chicharróns (crispy chips made from the pig's back and belly) and last year launched cracklins (made from pork shoulder skin) which have a crunchier texture. This year at Expo West, the brand expanded into beef with the launch of Scratchins "beef rinds."
But Sheth, who joined as President in September 2018, told NOSH there's still plenty of opportunity for the brand to expand into other categories. Founder Ryan Farr, who now focuses on product innovation, is also a trained chef and butcher and Sheth said there are plenty of areas of the store beyond snacks that the company would like to explore.
"What sold [investors] on 4505 was the story obviously, but also that its a credible brand and that there are opportunities to expand beyond pork rinds," Sheth said. "Ryan as the founder, with his background and the success of the restaurant in San Francisco, really lends itself to us being creative to where else we can enter in the grocery store."