Rhythm Looks to Fruit as 'Kale Boom' Slows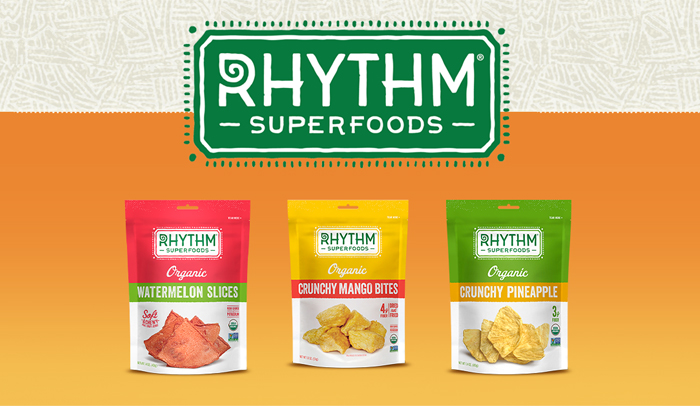 Rhythm Superfoods is hoping a brand redesign and portfolio expansion will bear fruit.
Next week at the Fancy Foods Show the produce snacking company will debut a new line of fruit snacks and, later this year, will reveal refreshed branding, according to CEO Scott Jensen.
The fruit line will consist of resealable pouches retailing for $3.49. Crunchy mango bites will launch in Whole Foods in March, the crunchy mango and crunchy pineapple in HEB in May and chewy watermelon slices in Kroger in May. The new line is Rhythm's first foray beyond vegetables — it currently sells snack packs of dehydrated beets, carrots and kale snacks.
"It became apparent that with the equipment and technology that we have for making our vegetables, that it works really well with fruit too. So the answer is why not [go into fruit]," Jensen told NOSH in an interview. "How can we find even more stars like kale? How can we work with the space that we have to help to help retailers drive more velocity in that section?"
Fruit might seem like a natural fit, and perhaps one that the eight-year-old company could have explored sooner. However, Jensen said, the company was reticent to enter the space simply because it could not keep up with the "kale boom."
"Kale became a hero. There were four or five years of this company's life where it was just hold on and meet demand," Jensen said "Sometimes you get on that racehorse and you have to ride it to the finish. For us it was about following up with the demand that continued to grow every year… So when the supply caught up with the demand, we could start thinking about 'what's the next steps.'"
Part of the struggle, he added, was that there are no kale snack co-packers. So in order to keep up with demand, the company had to continually invest in building its own facilities. Now, however, the kale category has flattened out. Jensen said Rhythm has continued to see double digit growth behind new categories such as carrots and beets. But fruit was a natural extension.
In designing the fruit line, Jensen said, the company tried to avoid using commonly available dried fruits like apples and bananas. The watermelons, mangos and pineapples are grown and picked in Mexico, near Rhythm's facilities, which allows the company to keep shipping costs down, he added.
Behind the company's infrastructure investments, Rhythm is also planning to bring back a discontinued broccoli snack line. Launched in 2015, the line was eventually discontinued — Jensen said the price point was simply too high for consumers.
In addition to the broccoli bites, the company will also launch new vegetable snacks in the second half of the year along with single serve offerings, which will retail for $1.49 to $1.99, depending on the channel.
Those products will also sport a new look. The company, which has raised roughly $9 million from 301 Inc, The CircleUp Growth Fund and Blueberry Ventures, is also undergoing a brand refresh this year. Jensen expects the new look to debut in the second quarter.
Part of the impetus for the redesign is the expansion into fruit, he said, but also Rhythm Superfood's increasingly millennial audience. An element of the rebranding will be the name of the company itself — Jensen is considering dropping "Superfoods" in favor of the shorter name of simply "Rhythm."
"I challenged us to say 'is this meaningful? Do our consumers relate to it?' and the research initially is that 'Rhythm' is what they remember and there's a lot of confusion around the term 'superfoods' and what it does and doesn't mean," Jensen said. "So that tends to guide you. If it doesn't mean what you want it to mean to consumers, why do you have it?