Reyes Holdings Sells Foodservice Arm to Performance Food Group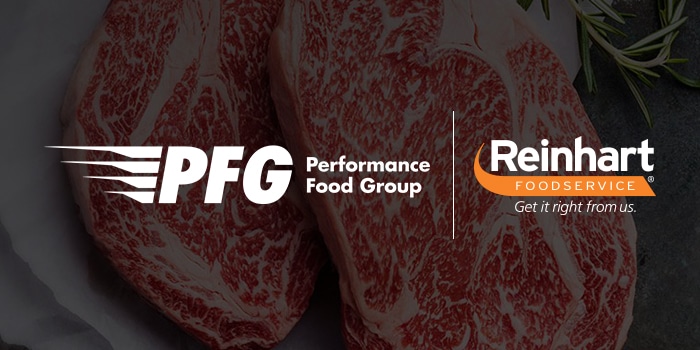 As part of its announced strategy to expand its geographic reach and customer base, foodservice distribution company Performance Food Group (PFG) today announced its agreement to acquire distributor Reinhart Foodservice from Reyes Holdings.
With this acquisition, the Richmond, Virginia-based company will become one of the largest foodservice distributors in the United States, with $30 billion in net sales and nearly 25,000 employees, according to PFG CFO Jim Hope. The transaction is expected to close by the end of the calendar year.
PFG acquired Reinhart, the second largest private food distributor in the U.S., for a $2 billion purchase price, and will pay $1.7 billion with the exclusion of a $265 million tax benefit. Hope said the company financed the acquisition with a combination of cash on hand, debt and "equity proceeds subject to market conditions of $300-400 million."
Reinhart was purchased by Reyes Holdings in 2005, with Reyes growing the business to over $6 billion in revenue, said Hope. Operations of Reyes Holdings include Reyes Beer Division, distributing brands such as MillerCoors, Constellation Brands and Boston Beer, global quick-service restaurant distribution service The Martin-Brower Company, and West Coast bottler and distributor Reyes Coca-Cola bottling.
"Reinhart Foodservice understands the important role our associates play in our success," said M. Jude Reyes, Reyes Holdings co-chairman, in the release. "We have proudly invested in our people and infrastructure to build our business, and we're excited about this acquisition knowing that PFG supports a similar approach."
In a webcast and conference call hosted by the company this morning, Hope, along with George Holm, PFG chairman, president and CEO, outlined the strategic and financial benefits of the acquisition.
"We believe the addition of Reinhart and its complementary strengths will expand Performance Foodservice's broadline presence, improve our network efficiency and help us achieve our long-term growth goals," said Holm.
According to Holm, the acquisition of Reinhart Foodservice, based in Rosemont, Illinois and La Crosse, Wisconsin, increases PFG's geographic reach, especially in the upper Midwest and New England, and improves overall scale. It also enhances PFG's distribution platform, as Reinhart currently has 26 distribution centers.
"We believe there is an opportunity to accelerate their pace growth now that they have improved their distribution footprint," said Holm.
Holm said PFG was attracted to Reinhart's similar go-to-market approach, and was impressed by its "complementary customer-centric operating model" focused on customer success. The acquisition will also widen PFG's customer base and expand PFG's brand portfolio, he said. Reinhart's approximately 42,500 customers include independent restaurants, delis, sporting venues, schools, hospitals and chain accounts, according to its website, with 90,000 SKUs sold, from meat and seafood to coffee and bakery items.
Holm also stated the company has "attractive financial characteristics," providing synergy opportunities and attractive valuation.
"We've long admired the Reinhart business, their team, management, culture and ownership. We believe combining the best of both companies' talent and assets will drive increased topline earnings growth," Holm concluded.
Hope added that PFG has been a "disciplined and proven acquirer over the past several years, with a history of successful integration." Over the next five years, Hope said the company will invest $90 million in Reinhart's IT upgrades.
This new acquisition comes after PFG's announcement in March that it had reached an agreement to acquire wholesale consumer products distributor Eby-Brown Company LLC, which distributes pre-packaged candy, snacks, specialty beverage and tobacco products. PFG said in a press release that it was impressed by Eby-Brown's customer-centric approach and that this deal allowed PFG to expand in the convenience store channel as well as the prepared and made-to-order foodservice market.