Good Catch Closes Convertible Note To Build Out Factory

Although it's only had product in a limited set of stores since February, Gathered Foods, producers of Good Catch plant-based seafood products, is hoping to avoid the operational bottlenecks that have plagued (and slowed the growth of) other plant-based food companies. The brand announced last week the close of a $10 million convertible note in order to continue building out a factory for its line of high-moisture extruded seafood substitutes.
Existing investors New Crop Capital and Stray Dog Capital took 50% and 25% of the round, respectively, and the remaining roughly 2.5 million was "pro rata from other existing investors," Good Catch co-founder and CEO Chris Kerr told NOSH. The convertible note is part of a larger round that will likely close within the next month and include a strategic, "game changing," new investor, Kerr added. The brand previously closed a $8.7 million round last August.
The reason the company needed a capital now (rather then simply waiting for the larger round), he said, was to allow the brand to stay ahead of production demands. Good Catch's exclusivity agreement with retailer Whole Foods Market recently ended, and Kerr said there are another roughly 2,500 retailers ready to come online. Good Catch is currently finishing building out a new multi-million dollar factory in Ohio that is expected to come online late this year in order to fulfill existing and future orders.
"What's happening with Good Catch is that it keeps growing out of these stages," Kerr said. "Every company in this space has been constrained by production and I just thought 'we can't wait another five, seven, nine years.'"
Building a factory this early on, Kerr said, might be risky for other emerging companies, but in the world of plant-based products, where demand is high and production can't keep up, opening your own facility is a more calculated move. Kerr added that even if Good Catch ceased to exist, the factory would be in high demand for its ability to create high-moisture, extruded products that can act as beef, chicken or fish substitutes. The factory may also co-pack for some of New Crop's other portfolio companies.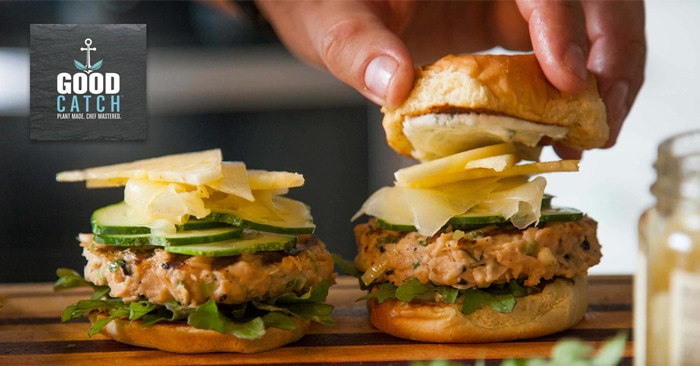 Good Catch has also seen leadership changes in recent months. At the end of May, New Crop — where Kerr is also chief Investment officer — purchased the shares held by co-founding firm, Beyond Brands. As part of that transition co-CEO Eric Schnell departed the company. Kerr told NOSH the company is in the midst of finding a more permanent CEO who can take over the role, moving Kerr to the role of Chairman and focusing on New Crop again.
"I don't want to be the CEO of Good Catch. That was never my charge. We want to bring in an industry pro that can be a great CEO… with more operational experience," Kerr said. "[New Crop] is a group of people that's pretty rag tag. We are entrepreneurs so most of the people who work for New Crop are pretty fearless when it comes to doing a startup — it's what we've been doing all our lives."
The brand also is ramping up for its global expansion, with plans to expand into Europe, specifically the U.K., in early 2020. It's an easy add as some of Good Catch's products are already made in Europe. Australia and Brazil are also emerging markets for plant-based products, Kerr told NOSH, while Asia (specifically China) is lagging behind in interest.
New Crop's portfolio is unique, compared to many other investment firms, in that it contains numerous companies all working to replace animal-based analogues in dairy, meat, seafood and ingredients. For some firms, the overlap in consumers and use-cases would represent a conflict of interest, but Kerr says that there is plenty of room for all plant-based alternatives
"This idea that somehow new entrants are going to suppliant a trillion dollars of the agribusiness just doesn't exist. We can go from zero to 100 million in revenues and we're still less than a rounding error," Kerr said. "We have so much work to do that the idea that there isn't space for a lot of players would be short sighted."