FlapJacked Moves into Ready to Eat with Cookie Bar Launch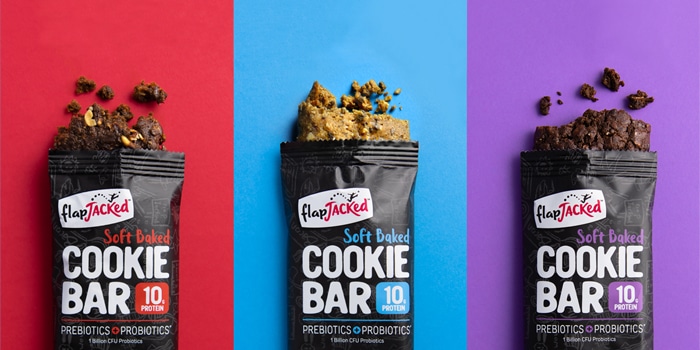 For a better-for-you food brand to have a chance to keep up with on-the-go families, it needs to move with them. Leaning in to the growing "grab-and-go" mindset, FlapJacked, known for its protein baking mixes and mug muffins, has launched cookie bars, its first ready-to-eat product.
FlapJacked launched its first product, a protein pancake mix, in 2013, and has since continued to evolve with consumers, shifting from what Jennifer Bacon, co-founder and chief brand officer, told NOSH was a baking mix brand to a company focused on "macro-friendly indulgence." She said the brand has realized its core consumer is "fit families," an audience that had a significant influence on the latest product launch.
Bacon, a mother of five, co-founded the brand with husband David to create healthy options for her picky-eating autistic son. As the brand expanded its portfolio to cookie mixes and then a microwaveable item (Mighty Muffin), she noticed the products still didn't work for today's on-the-go families.
"We're not lazy, we're just busy. Families are busier now than they've ever been and it's really hard to take the time to bake," Bacon said. "We started to realize the brand really wasn't about a baking mix or breakfast, we were about taking things that people normally couldn't eat and making them way better and way healthier."
Originally Bacon tried to develop an RTE version of Mighty Muffins, but realized there was greater opportunity for a soft baked bar that tasted like a treat but featured a balanced nutritional profile of fats, carbs, and protein. To address concerns about the oversaturated cookie and bar sets, Bacon said the company chose to add both prebiotics and probiotics to capitalize on consumers' rising interest in gut health.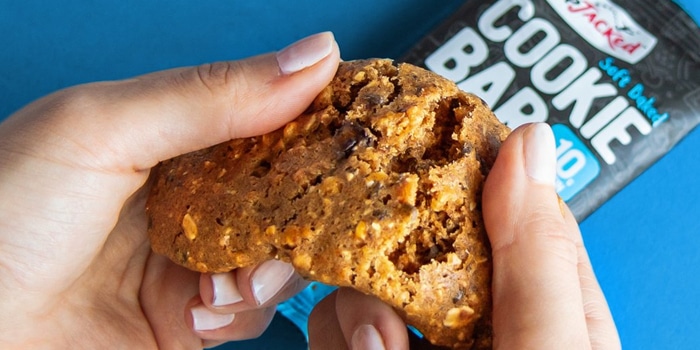 FlapJacked is the latest better-for-you baking mix brand to make the move into ready-to-eat products. Last month, Foodstirs, announced its lines of miniature donuts, muffins and brownies. Although valued at $4 billion last year, according to Mintel, the dessert and baking mix category is shrinking. However, Bacon said she thinks the baking mix category has potential to grow as consumers become educated on the healthier options available.
"In terms of the market, we've seen shifts, we've seen brands come and go, we've seen a lot of products come to the shelf with higher protein, better-for-you options that have stayed and are making their mark, and we think that's fantastic," she said.
The problem brands struggle with continues to be the number of times consumers will cook with a baking mix — even a better-for-you option — in a given month. Adding quick turning options such as bars can help brands see more frequent purchases.
The cookie bars, available in chocolate brownie, chocolate chip and chocolate peanut butter flavors, are currently available on FlapJacked's website and Amazon, and will be launching nationwide with several retailers over the coming months. Bacon said the company is excited by the wider distribution possibilities the bars offer, including c-stores, coffee shops, vending machines and colleges.
In stores, the cookie bars will be merchandised with nutrition bars in some sets, and breakfast bars in others. A 4-pack, retailing for $9.99, will be placed in the breakfast bar set at Safeway locations in the Southwest and Denver.
Bacon said she's found that FlapJacked's products, especially the cookie bars, have different use cases, with consumer research finding a nearly even split between breakfast, dessert, and snacking occasions. From the beginning, she said the brand's road map has been forged by the brand listening to consumers.
"We've changed our innovation plan I can't tell you how many times, because we have so many ideas," she said. "But really it's about 'What do people really want?' and 'What are they screaming for?'"
With a fresh focus as a macro-friendly indulgence company, Bacon said the cookie bars were the brand's fastest product launch, spanning six months from idea to shelf. For Bacon, who served as global brand design director at Kimberly-Clark prior to co-founding FlapJacked, the quick turnaround time was a welcome new experience, and one she hopes can be replicated for future launches.
"From my perspective it's different managing a brand than it is building a brand," she said. "It's really exciting when it doesn't take you two years to launch a product."