Compass Diversified Holdings Sells Manitoba Harvest to Tilray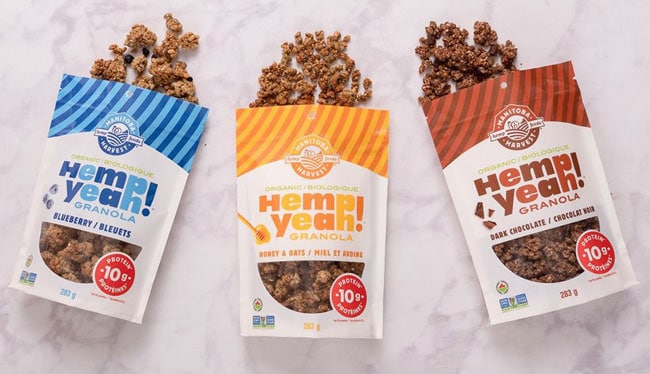 Compass Diversified Holdings (CODI) announced yesterday it has reached an agreement to sell hemp food manufacturer Manitoba Harvest to Canadian cannabis company Tilray for C$419 million, approximately U.S. $318 million.
Manitoba Harvest was acquired by CODI in 2015. Elias Sabo, CEO of CODI, said in a press release that during their three year partnership CODI and Manitoba were able to raise awareness and drive expansion of the hemp category. He also said that the deal is expected to result in substantial gain, and that CODI intends to "deploy the net proceeds towards repaying our revolving credit facility."
Manitoba Harvest, founded in 1998, is headquartered in Winnipeg, Manitoba with retail placement in both the U.S. and Canada, including Walmart and Costco. It produces hemp food products such as hemp hearts, hemp oil and the Hemp Yeah! line which includes granola, a plant protein blend and hemp protein powder.
In the press release, Manitoba Harvest CEO Bill Chiasson praised CODI's support in making the company "the world's largest vertically integrated hemp food brand."
"CODI's ability and willingness to make substantial investments into consumer marketing for our leading brands has resulted in a greatly expanded consumer appreciation of hemp-based food products, accelerating sales growth, and a ubiquitous market presence in highly desirable retail locations," Chiasson said. "I would like to thank CODI for all that they have done to bring Manitoba Harvest to the transformative market opportunity that we are realizing today."
Tilray's acquisition of Manitoba Harvest will extend the company's reach in the U.S. The company plans to release a line of CBD-infused products this summer.
"I believe the Tilray acquisition of Manitoba Harvest was a very logical next step for both companies," said Ari Sherman, president and co-founder of Colorado-based hemp foods company Evo Hemp. "It makes sense at the moment for a Canadian publicly traded cannabis company to pay that amount for access to 13,000 points of sale in the U.S. and Canada. Tilray generated less than half the revenue last year compared to the acquired company Manitoba Harvest."
Sherman added that because Tilray sells both medical and recreational cannabis products, the company can leverage its high valuation on the Canadian stock exchange to make acquisitions in grocery retail.
"Tilray will now utilize the distribution infrastructure at Manitoba Harvest and its recognizable brand name to push CBD infused food products in North America," he said. "This will prove the model that hemp-based food companies are an excellent retail vehicle for cannabis focused companies."
Tilray CEO Brendan Kennedy told Bloomberg that for the company, Manitoba Harvest's multinational supply chain will be "a valuable asset as we look to the future of the cannabis industry."
The hemp-derived CBD market is projected to reach $22 billion by 2022, according to cannabis market research firm The Brightfield Group.