Banza Brands its Own Chickpea "Rice"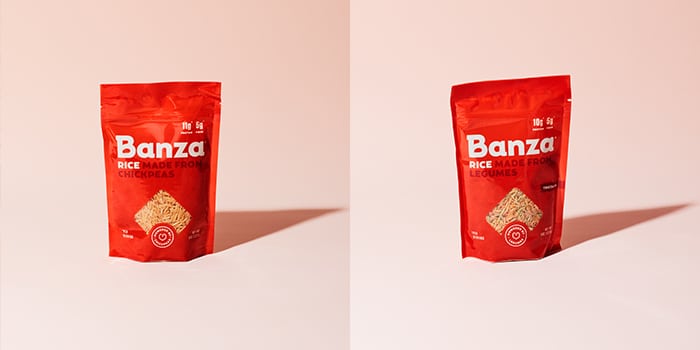 The rice category is starting to stretch with even more ingredients trying to define the staple. Today Banza, which is known for its chickpea pastas, announced it will expand into the category with its own line of rice — the company's first major new product since introducing a line of macaroni and cheese in 2016.
The launch was announced less than a week after a set of two other brands, RightRice and Explore Cuisine, joined the fray with new legume rices.
The rice will launch in Whole Foods Market and on Banza's website in two varieties: chickpea and tricolor legume (a mix of chickpea, red lentil and green pea). Each 8 oz. bag will retail for $3.99, Banza co-founder Brian Rudolph told NOSH. Founded in 2014, Banza's flagship chickpea pasta is sold in retailers such as Target, Vons, Albertsons, Whole Foods Market, Sprouts and Kroger.
Rudolph told NOSH that the company wanted to be thoughtful about expanding into new products, but he kept hearing from consumers that they wanted other ways to enjoy legume-based products and another "canvas" to cook with.
"A lot of the advice that we've gotten is to focus on your core and get really good at it before expanding," Rudolph said. "But there are a lot of dishes that don't revolve around pasta, and rice unlocks a whole new set of opportunities."
With caution in mind, Banza decided to launch a test of the legume rice into Whole Foods' 12 365 stores last fall. Over the course of three months, the brand sold four varieties of rice: chickpea, green lentil, red lentil and green pea. What came back was expressed interest in the product and information about how the product could be refined.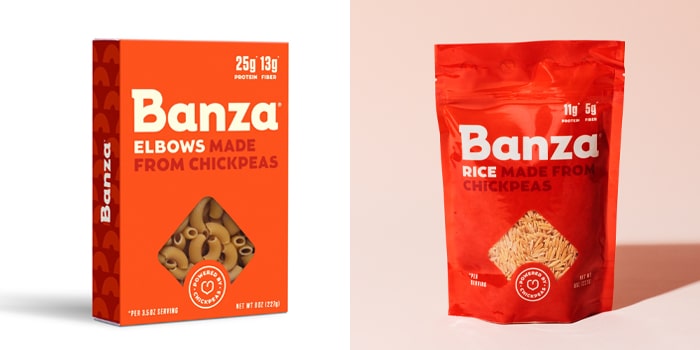 The choice to pivot to a tri-color rice was inspired by the quinoa category, where tri-color quinoa is one of the top sellers, Rudolph said. Banza expects that quinoa consumers, who are often drawn to the grain's higher protein and lower carbohydrates than traditionally grown rice, may be some of the earliest adopters of Banza's rice. The availability of cauliflower rice, he added, has also made consumers more open to unconventional types of rice.
However, unlike RightRice's founder Keith Belling, Rudolph does not believe consumers are necessarily avoiding rice, they simply are open to better options.
"I don't want to vilify rice," Rudolph said. "I don't think the rice category is particularly fast growing or exciting, but it definitely is a staple and that's why [this product] is exciting in the first place."
Unlike when Banza first launched its pasta line, Rudolph does feel the company now has an advantage in that consumers are more familiar with chickpeas. However, despite their growing brand equity, Rudolph still believes the company will have to invest in marketing for the new line.
"When you're launching into a new category, that product needs to have legs of its own," Rudolph said. "I've seen their companies believe that their brand will carry them over into a category without having to do much work, and I've seen that fail."