Wildmade Rolls Out First Product Line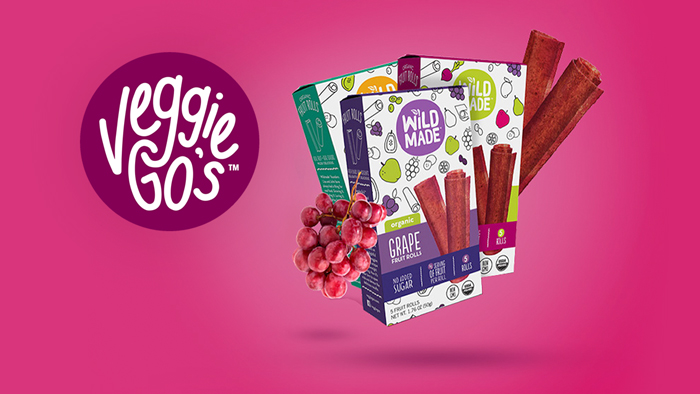 Samantha Brands is looking to roll into new categories. The food brand acquisition and product development vehicle announced last week that it has launched its first product, fruit-based snack line Wildmade, as a sister brand to fruit and veggie snack line Veggie-Go's. Wildmade, which is the first brand Samantha Brands has created in house rather then acquired, will launch nationwide with Whole Foods Market this month.
Wildmade's first product, fruit rolls are an organic, clean label version of fruit leather with half a serving of fruit in each roll. The line will launch with three flavors and retail for $3.99 per 5-pack.
Veggi-Go's currently produces flat stripes and bites that contain both fruit and vegetables. The brand is sold in 1,500 stores with retailers such as Whole Foods Market, Sprouts and Safeway. The company was founded in 2011 by husband-and-wife duo John and Lisa McHugh under the larger corporate identity of Naked Edge. In 2016, Samantha Brands became a majority owner of the Naked Edge and soon after initiated a rebrand in July 2017. Since then, Michael Silverman, Samantha Brands' managing director, told NOSH that Veggie-Go's has seen a roughly 30 percent increase in sales velocities.
The McHughs, who still own a stake in Samantha Brands, will also be leading the Wildmade charge under Samantha Brands.
The idea is to grow sales and respond to consumer demand for more accessible products in terms of flavor and price. Particularly, the company found that parents are more price conscious about what they throw into a lunch box several times a week. In this setting, Veggie Go's, which retail for roughly $1.29 per strip, was at a disadvantage compared to other common snacks like meat sticks, fruit snacks, nuts or string cheese.
"We [found] a lot of millennial parents grew up eating the classic fruit snacks and rolls but they really weren't feeding their children those snacks," Silverman said. "So we saw an opportunity to say 'well if we could reinvent that concept and bring that nostalgia to health-conscious millennial parents, that might be an exciting product launch for the brand.'"
Wildmade plans to move into other parts of center store in the future, however all products will be made with no added sugar, be made from plant-based ingredients, and be certified non-gmo or organic. As for Veggie-Go's, it will remain a marketing focus for the company and its packaging will evolve to feature the Wildmade brand. Veggie-Go will also launch new flavors with strawberry apple sweet potato and mango apple pumpkin strips as well as mango, carrot, quinoa bites.
"Moving forward with Wildmade brands," said Lisa McHugh, "It gives us a larger platform to make all kinds of products that include fruits, veggies or even snacks beyond that."