Unicorns & Mushrooms Inspire New Purely Elizabeth Lines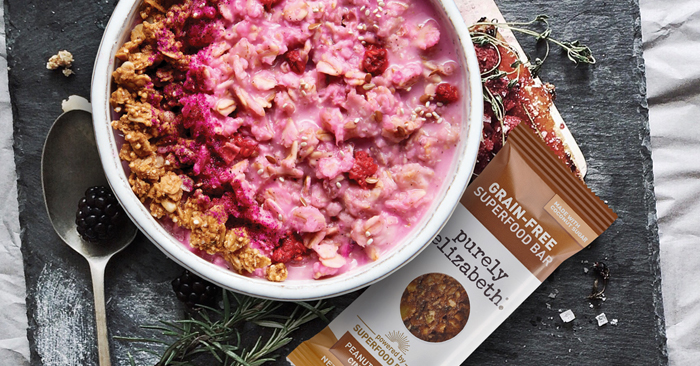 Last April, Starbucks launched a frozen unicorn drink that became a wildly popular hit. Yesterday, iconic cereal brand Lucky Charms announced its first new marshmallow shape in ten years: a unicorn head.
Now that these rainbow hued snacks and drinks are officially a thing, natural food brands are looking to get in on the action.
First up: snack and breakfast brand Purely Elizabeth, which announced today the launch of Vibrant Oat cups. With their bright pink, yellow and blue colors, the line gives the brand a Pinterest-ready play to captivate consumers.
"Really the inspiration for Vibrant Oats came from looking at Instagram at all the beautiful unicorn food that has been happening," founder and CEO Elizabeth Stein told NOSH. "I believe people love looking at beautiful food and that [trend] is here to stay…It felt like a really good opportunity to give consumers what they want and have it be accessible."
For Vibrant Oats, accessibility means easily cooking up a photo ready meal, but also sparing consumers from having to track down exotic, and often expensive, ingredients. The three varieties– raspberry pitaya, coconut tumeric and blueberry lemon –will retail for $2.99 per 2 oz. cup and get their natural colors from the addition of pitaya, turmeric and blue spirulina.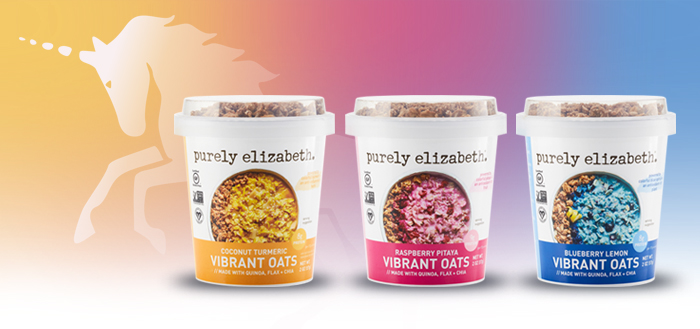 Purely Elizabeth already sells bagged and individual cups of its superfood oatmeal, but the Vibrant Oats have a different ingredient profile. Each cup is lightly sweetened with coconut sugar, can be served either hot or as overnight oats, and features a granola topping that can be added once cooked. Stein believes this last element, along with the oatmeal's base blend of oats, quinoa, amaranth and chia, will give consumers a product with interesting taste and texture.
"It's like oatmeal 2.0" Stein said, adding that oatmeal itself is another popular food trend right now. "It's a category that's been ripe for innovation. Oats are healthy but I think that there's so much opportunity to make it your own, to customize it, to really have fun with such a boring category, that people are embracing it."
The brand also is keeping its feet squarely in the earth with the launch of grain-free superfood bars enhanced with reishi mushrooms. Both the new oatmeal cups and bars come almost a year after 301 Inc, General Mills' venture arm, invested $3 million into the brand, which is now sold in over 15,000 retailers. General Mills has its own bars and hot cereals and, Stein said, through 301, was able to provide technical support f0r the new products.
While reishi mushrooms may not be as colorful as a unicorn, they are another trend that's growing in popularity. Beverage brands such as Rebbl and Four Sigmatic have embraced the adaptogenic ingredient, but Stein saw an opportunity to integrate them into food. The new coconut cashew, peanut butter cinnamon, chocolate sea salt and banana nut bars will be sold in the nutritional bar set and retail for $2.29 each.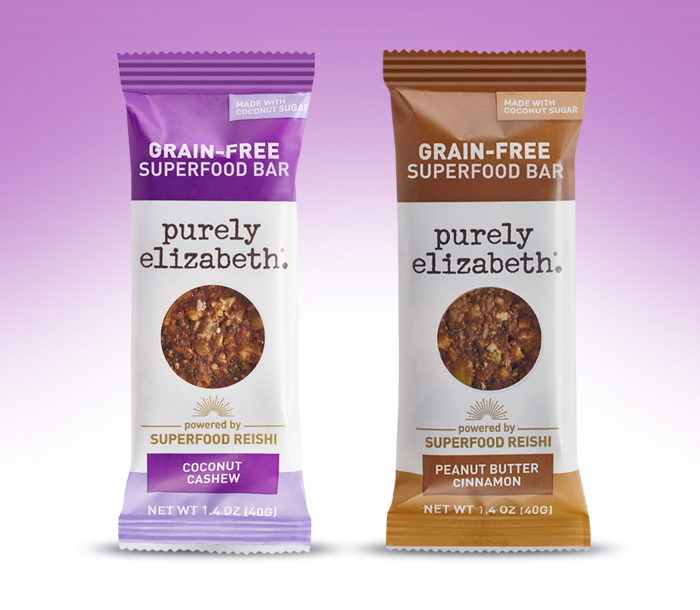 The bars are also grain-free and use a proprietary process that Stein says is closer to the way the company produces its grain-free granola. Rather then extruding the bars, like many other brands, Purely Elizabeth mixes together coconut oil, cashew butter, hemp hearts, chia seeds and other nuts and then bakes the mixture.
Creating a bar was something consumers and retailers had asked Stein to do for years, but she had resisted entering what she felt was a crowded category until she came upon a unique idea.
"I knew it was something that we would do at some point. And I felt like we had to do at some point. Consumers had been asking for it for so long. Retailers had been asking for it for so long," Stein said. "I wanted to do it before someone else did. The timing was right and I think there's so much in this business that is about timing."
SaveSave