The Checkout: Sir Kensington's Becomes Certified B Corp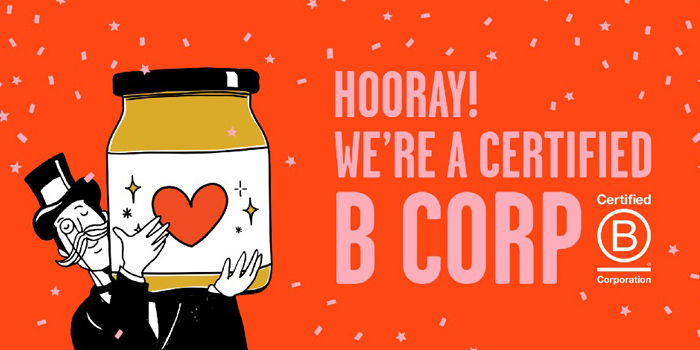 Welcome to The Checkout: an express lane for weekly news you need to know, always 10 items or less.
To build a better food system, you have to invest — but not just of capital. Investment can come in many forms: funds, time, knowledge and relationships for starters. This week, many CPG innovators made announcements about what they are devoting their resources to and shared how it is shaping their companies.
From a condiment maker working for over a year to gain B-Corp status, to new investment funds financing the evolving food industry, here are some of the top news stories from this week that you should know.
Sir Kensington's Becomes Certified B Corp
Premium condiment maker Sir Kensington's, which was acquired by Unilever in 2017, has become a Certified B Corp. The company now must meet higher standards for social and environmental impact and transparency than traditional private companies.
While B Corp may carry with it a stigma of decreased shareholder value, according to Sir Kensington's co-founder Scott Norton, he thinks he is creating more shareholder value in the long term by investing in stakeholder impact today.
"The B Corp movement is about responsibility, but it's not about altruism," Norton said in an online letter. "That's a good thing, because it creates benefits for stakeholders with a business imperative to scale. The future of doing good business combines impact model with business model, rather than seeing social benefit as a philanthropic afterthought to make good on harm done by the business."
While "imperative," achieving B Corp status wasn't an easy task and there is still work to be done. The company, Norton wrote, didn't achieve a certifiable score when it first took the B-Corp assessment. The team worked for over a year to better understand its impact and grow. With a one percent revenue commitment made to nonprofit donations, company community service hours, high animal welfare sourcing standards and strong worker compensation and benefits, Sir Kensington's ultimately was able to land the status. However, the team said it still needs to look into its carbon and water use, packaging and overall company diversity for the future.
FoodShot Launches New Investment Platform
President John F. Kennedy gave a famous speech in 1962 at Rice University in Houston, Texas, focusing on the desire for the U.S. to become an international leader in space exploration. Though the task seemed lofty, if not impossible, it was a "moonshot" the country took. Now a new food-centric investment firm is taking its own moonshot with a new mission: to transform the food industry.
FoodShot Global announced late last week the launch of a new investment platform aimed at creating a healthier, more sustainable, and more equitable food system globally. The fund said it will award up to $10 million in equity and up to $20 million in debt funding to businesses working toward this mission. An additional GroundBreaker Prize of more than $500,000 in philanthropic capital will be awarded to researchers, social entrepreneurs and advocates.
"Achieving systemic change in the global food system means taking big risks—approaches that are radically new, not just incrementally better," Sara Eckhouse, FoodShot's executive director, said in a statement. "We're looking for those bold ideas, innovative companies, and groundbreaking organizations that can shift the paradigm."
The partners — Rabobank, Generation Investment Management, Mars Edge, UC Davis Innovation Institute for Food and Health, The Rockefeller Foundation, The Builders Initiative, Armonia, Stone Barns Center for Food and Agriculture, ACRE, The Foundation for Food and Agriculture Research, and the Soil Health Institute — have committed up to $30 million per year for sustainable food investments. For its first round of investments, FoodShot said it is looking at companies that are addressing soil deterioration and regenerative agriculture. In addition to funding, selected companies will also be given mentorship from the fund's partner network.
Student-Led Fund Invests in SMPL
University of Michigan's student led venture fund, the Zell Founders Fund, announced earlier this week that it has made a $100,000 investment in organic snack brand SMPL. The startup — which makes resealable, single-serve blends of organic fruit, nuts and superfoods — plans to use its new capital to expand its distribution presence and invest in marketing.
SMPL was founded in 2016 with the mission of creating a healthier and more convenient alternative to energy bars — and the University of Michigan was an early backer of this concept, as the brand's founder, Ellis Fried, graduated from the college in 2017. The brand recently underwent a rebranding, designed by Interact Boulder.
The Zell Founders Fund, which was started in 2015 as a $10 million seed fund, has been particularly hungry for food investments as of late. The fund made a $100,000 investment in MINDWELL, a plant-based jerky company founded in 2017, earlier this summer.
Chobani Incubator Names Fall 2018 Class
The Chobani Incubator announced the six food and beverage companies and two food tech companies that have been selected to join its fall 2018 class.
The selected startups include Matcha Bar, a ready-to-drink matcha beverage brand; TeaSquares, a mission-driven caffeinated energy bar; Ithaca Cold Crafted; a premium HPP hummus brand; Haven's Kitchen, a line of refrigerated, globally-inspired sauces; Partake Foods, an allergen-friendly, children's snack brand; and SuperNatural, an allergen-free baking ingredients company.
Chobani's first food tech residency class includes Skyven Technologies, which aims to provide solutions to food processors for reducing fuel use and energy costs, and CinderBio, which is looking at the biology of extreme microbes to provide better cleaning solutions for dairy processors.
According to Chobani, the incubator's first two classes have seen a 250 percent jump in distribution growth and an average 147 percent increase in quarterly revenue since graduating the program.
Improved Nature Raises $3M
Plant-based meat company Improved Nature announced this week in an interview with Ag Funder that it has raised $3 million in a convertible note round led by Concentric Capital. Farmington Foods, the Endowment Fund of NC State University, the Wolfpack Investor Network (NC State Alumni) and the company's management also invested in the round. The company previously raised $6 million in December 2015.
"Investors had the opportunity see and taste a variety of the company's products and compare them to a variety of plant-based protein products that are available in the market today," David Swintosky, Improved Nature's CFP, told AgFunderNews. "Once they could see and experience the product and understand how fast the market is growing, they wanted to come aboard."
Improved Nature's soy-based line of Crispy Tenders and Crispy Filets are meant to mimic the texture of chicken and fish. With the new funding, Improved Nature is investing in new equipment and growing its sales, marketing, and senior management team, according to Swintosky. The company also plans to scale its food service and wholesale-based distribution presence beyond its current customers: the Los Angeles, Irvine, and Tustin Unified School Districts.
Seeds&Chips and Treasure8 Announce Partnership
Milan-based food and agriculture innovation leader Seeds&Chips and San Francisco-based regenerative food company Treasure8 are joining forces to create a comprehensive global food tech network. The goal is to encourage progress in food and agriculture innovation by supporting startups that share the same mission.
Under the new partnership that was announced earlier this week, the groups will work together on marketing, financial and business development. Both will have offices in each other's headquarters and grow each others presence in the U.S. and Italy.
"One reason we're partnering is to use our combined pipeline to help food and bev startups and scaleups (in both the US and Europe) to accelerate their growth with product development, process development, channel access and access to capital," Timothy Childs, Treasure8 CEO, told NOSH. "We have a great startup space on Treasure Island with co-working spaces, pilot lines, and food/bev development labs."
Childs added that the groups have agreed to a mutual long-term commitment to focusing on creating solutions to major food issues in Africa by developing projects for in-country nutrition delivery as well as for exporting value-added ingredients and products.
ALDI Expands Partnership with Instacart
ALDI is stepping up its delivery game. The discount grocer announced this week that it has expanded its partnership with Instacart to all stores nationwide. ALDI first first tested Instacart through pilot programs in Atlanta, Dallas, Los Angeles and Chicago. With the expanded partnership, delivery capabilities will be available across 35 states and in 5,000 new ZIP codes by Thanksgiving, according to the company.
"Like ALDI, Instacart is focused on delivering value and making quality food accessible and affordable to everyone," Apoorva Mehta, founder and CEO of Instacart said. "We're excited to work together to further innovate the shopping experience with fast delivery and low prices for ALDI customers."
Hemp Bread Company Trolls Facebook for Banned Ads
When Alvarado Street Bakery, a cooperatively owned organic bakery, went to advertise its newest product — Sprouted Wheat Hemp & Hops Bread — on Facebook, it never expected the posts would be rejected for the "promotion of illegal drugs." But that is exactly what happened, caused by the product's use of the word "hemp," the bakery said in a press release.
While the company reached out to Facebook and a few (not all) of the ads were eventually approved, Alvarado Street is using the incident as part of a new digital campaign. The first post of its "pseudo-political campaign" features a blue-and-red sliced loaf with the text "#freethebread."
"With so many Russian trolls still lurking out there, it was surprising to see Facebook continually spending their energy rejecting our humble little organic bread," Michael Girkout, president of Alvarado Street, said via a press release. "They made life a lot harder for our team to promote our new dizzyingly delicious new product, so we decided to have a little fun with our predicament."