Ripple Foods Lands $65M Investment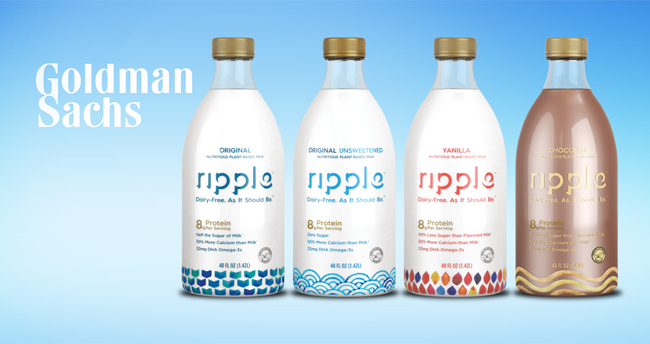 Plant-based food and beverage brand Ripple Foods has received a new $65 million investment, the company's largest fundraise to date.
The Series C investment round was led by Euclidean Capital, with Goldman Sachs and Fall Line Capital joining existing investors Khosla Ventures, GV, and S2G Ventures also participating. Total funding for the brand, which was founded in 2014, is now $110 million.
"Ripple Foods is at the helm of shaping the future of food and reinventing how we use plant proteins to make dairy alternatives," said Kathy Elsesser, global chair of the Consumer, Retail and Healthcare Groups in the Investment Banking Division of Goldman Sachs, in a press release. "We are proud to invest in a company that has created one of the fastest growing plant-based product lines and is changing the way people think about how plant-based foods should taste and impact our health."
In a release, Ripple co-founder and co-CEO Dr. Neil Renninger criticized "Big Food" for its lack of spending on research and development for new products. "We are excited to partner with this set of like-minded investors to continue to bring our innovative products to scale, and make living a healthy and sustainable life easier for everyone," he said.
Ripple initially launched at Whole Foods Markets nationwide in May 2016. Each of the four varieties — Original, Original Unsweetened, Vanilla and Chocolate — are available in 48 oz. bottles and contain eight grams of pea protein per serving. Last year, the brand introduced a shelf-stable 8 oz. Kid's Pack format.
In a call with BevNET, co-founder and co-CEO Adam Lowry said Goldman Sachs' expertise in consumer products will be a valuable addition to the collective braintrust at Ripple.
"Ripple is really a technology enabled food company," he said. "With the partners that we have, including our investor base, we want to have a real technology mindset and a real consumer mindset. With Goldman Sachs, I can't think of a better consumer mindset to bring to the mix at Ripple."
On a broader level, Lowry said the new capital infusion will allow Ripple to execute on the company's plan to become "the number one master brand across the whole non-dairy regiment." In recent months, the company has supplemented its core line with the introduction of several new products made from its proprietary Riptein pea protein extract, including Half & Half and a non-dairy Greek yogurt line that contains 12 g of protein per serving. Lowry indicated that the brand would be rolling out further innovations over the next 12 months, potentially made from protein extracted from other plant sources.
"What makes Ripple Foods unique is not peas," he said. "It's Riptein and the suite of technologies we have, which are plant agnostic. We are using peas right now, we're going to continue to use peas, but there are lots of other place and plants where we can get protein from."
To service the innovation pipeline, Lowry added that Ripple will be investing and expanding its operational infrastructure, including a large investment in equipment that will increase throughput and lower costs. While co-packers will continue manufacturing product, the company plans to build its own line to manufacture Riptein from peas and other plant-based sources. "As our business is growing, it's the appropriate time for us to be making those types of investments," he said.
According to data from research firm Global Market Insights, the global pea protein market is projected to grow 13.5 percent per year in volume through 2023. Lowry cited Ripple's retail penetration and level of investment thus far as validation of the company's technology, team and strategy, while leaving room for further growth.
"Raising money is not an indication of success in a business– it's just capital to help build the business," he said. "We are going to use this capital to do some things to establish Ripple as a leader within the plant-based dairy space in North America. We have the capital to do that, and we can focus on execution."