Project 7 Takes on Skittles With Chewies Launch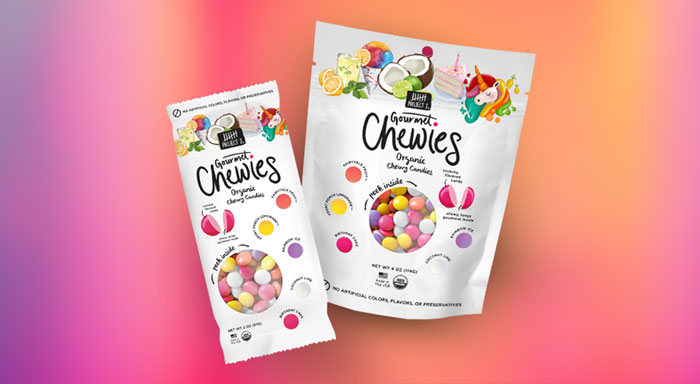 Organic candy maker Project 7 has hit two major milestones this week. The mission-focused brand will launch a new Skittles-like product line in Whole Foods Market locations nationwide — the first time the brand has been sold in the natural channel.
Project 7's new Chewies are organic, non-GMO, gluten-free candies that consist of a hard candy shell enrobing a chewy center. The line contains no artificial colors, flavors or preservatives, and will be sold in 2-oz and 4-oz bags. Project 7 founder and CEO Tyler Merrick told NOSH that the flavors — Fairtytale Fruit, Front Porch Lemonade, Birthday Cake, Coconut Lime and Rainbow Ice — pull from the top flavors of Project 7's gummy bears and gums.
Whole Foods will have a 60 day exclusive on Chewies, which will then launch in other major retailers. The natural products retailer is also adding five of Project 7's gummy bear SKUs for a total of seven facings.
"It's an incredible opportunity with Whole Foods," Merrick said. "Customers love the variety of choice and getting to explore in any category, but candy is definitely one that is about trial and experience. Whole Foods offering a robust array of innovative brands in their assortment is a win-win for the category and the customer."
Merrick has been working on the concept of a better-for-you Skittle for over a year, calling it the "next frontier" for the brand. The difficulty, he said, was finding the right copacker and the right ingredients. Colors proved tricky, especially when it came to finding an organic source of green coloring.
Despite formulation challenges, Merrick told NOSH that he believed there was a huge opportunity for a cleaned-up version of Skittles — the number one performing "sugar" brand.
That's part of the reason for the clear-cut, descriptive name. Consumer research showed Project 7 that shoppers purchase candy based first on form factor and flavor. For example, Merrick said that consumers may be "peanut butter and chocolate fans" — but that doesn't mean they'll always buy Reese's products. As such, Project 7 went with a literal name and clear window in the packaging to tell and show consumers exactly what they are getting.
"It's a decision tree. Do I want chocolate or do I want sugar? If I want sugar, do I want something sour or do I want sweet? Do I want something chewy or hard," Merrick said. "[The name is] an actual subset of what people think of when they are going through that process."
While the launch of Chewies is important for the brand, it's just the tip of the innovation pipeline. Merrick is exploring new seasonal pack sizes for 2018 and also plans to enter more confectionary categories in partnership with other yet -to-be-disclosed retailers.
No matter what, Merrick said he is determined to stick with his plan of reinventing classic candies for the modern consumer.Although many consumers are turning away from sugar, he still sees a place for brands such as Project 7.
"Our whole thing is moderation and that permissible indulgence," Merrick said. "It's [like] having a really great glass of wine, or an incredible dark chocolate or a really great steak."