Once Upon a Farm Closes $20M as CEO Foraker Says "Consumers are Ready"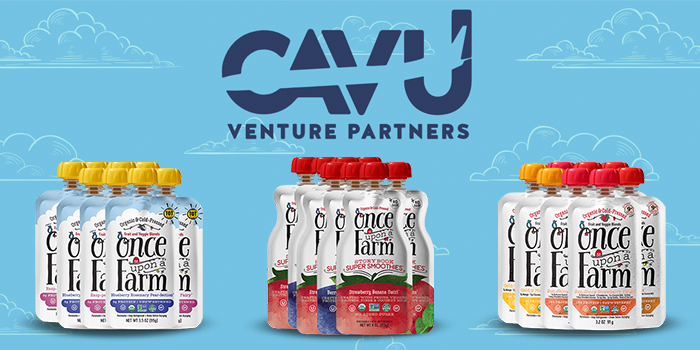 Consumers are ready for fresh baby food offerings and it's time to meet that need head on, believes Once Upon a Farm (OUAF) CEO John Foraker. To test this assertion, the chilled baby and child food brand is ready to "go big" thanks to a $20 million dollar investment announced yesterday. CAVU Venture Partners led the round, with S2G Ventures, Beechwood Capital and other earlier investors also taking part.
OUAF previously raised $3.1 million in a 2017 Series A round led by Cambridge SPG. Over the past year since both Foraker joined as co-founder and CEO and actress Jennifer Garner joined as co-founder, the brand has grown from being sold in 300 retail locations to more than 8,500 doors including Target, Whole Foods Market, Kroger and Walmart.
CAVU managing partner Brett Thomas told NOSH that it was both the team behind the brand as well as the concept itself that motivated CAVU to invest.
"When the idea of fresh baby came up, it was shocking to me and to CAVU how undisrupted the category has been," Thomas said "We think there's obviously going to be a lot of attention on this category and its ripe for disruption."
Both Thomas and Foraker told NOSH that this round of capital should last the company for the foreseeable future, but Thomas noted that CAVU "won't be afraid to invest more resources" if the opportunity emerges and is needed.
Foraker, in turn, told NOSH that OUAF was drawn to the fact that CAVU was known for backing category disruptors and leaders such as Kettle and Fire and Vital Proteins. Having experience with first-to-market products, Foraker said, will be key to OUAF's investor/brand relationship.
"We wanted to be really thoughtful about this partnership because it's one of the most important contributors to our success if we get this right," Foraker said. "[The CAVU partners] had a lot of experience both at CAVU and individually in what I describe as 'big brand activation' — Really going big to break through with consumers so you can really influence the trajectory of a category."
That "big" emphasis means spending capital on marketing and going even wider with distribution. CAVU managing partner Brett Thomas told NOSH that while the traditional route of distribution is to grow "slow and steady" and test in one region before moving onto the next, with fresh baby there's a massive opportunity and competition is only increasing. By going big quickly, OUAF may be able to lock in its status as a leader both with retailers and consumers.
Part of the plan to solidify this placement in the coming months is to roll out in-aisle coolers with "major" retailers — although specific retailers could not be disclosed. Currently OUAF is merchandising its products in the children's dairy set as there is "extremely high cross shop" between the baby aisle and that cooler section, Foraker said, with 90 percent of shoppers in the former crossing over to the latter. However, he added, OUAF realizes that there are some retailers who will want in-aisle cooler programs and the brand wants to be the company that retailers know will support that merchandising program.
Capital will also go towards the company's innovation pipeline, which the brand hopes to span from baby to lunchbox. At last month's Natural Products Expo East, the brand expanded beyond its original pouch format to cups of baby food designed to target even earlier eaters. Foraker told NOSH that if a brand wants to have a "credible baby offering," both pouches and cup products are needed and expected by parents.
But what of those encroaching competitors? Foraker said that to him — or any entrepreneur — competitors are "invigorating" with Thomas adding that competitors are proof that the category is "ripe for disruption." Regardless, there may be plenty of room for all if the market is as big as Foraker believes it is.
"This is a category that should have happened a long time ago," Foraker said. "The incumbents in the category weren't investing in the right innovation and retailers weren't investing in the right reframing of their thought of the category becoming fresh…we believe that the consumer is there and ready and it's really just connecting the very ready and willing consumer with the right product at the place with the right message and price point."