NOSH Live Day Two: Discussions on Tools For Scaling and Innovation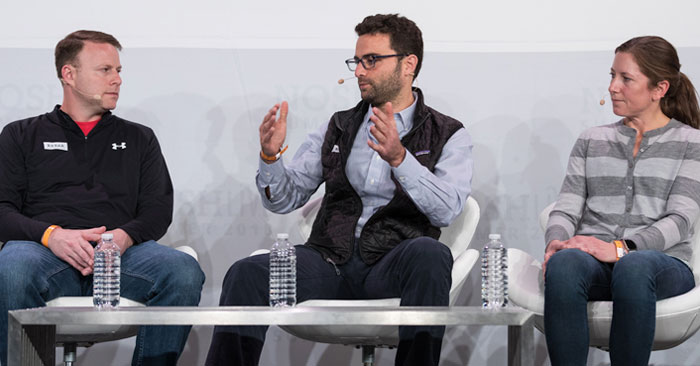 If Day One at NOSH Live was focused on branding and the changing retail landscape, then today was about how to take a brand to the next level through scaling and innovation.
Day Two of NOSH Live Summer 2018 in New York City — the company's first-ever, two-day event — was filled with presentations ranging from how to build a new category to what you can learn from one of last year's biggest deals, RXBar's sale to Kellogg's. In between sessions, attendees participated in networking breaks and later, viewers watched fruit jerky maker Watermelon Road beat out four other emerging brands for the title of Pitch Slam winner.
Throughout the day, the main question presenters tried to answer was: What are the tools needed to take a brand to the next level?
For Peter Burns, the president and CEO of ONE Brands, the answer was good company culture. Burns stressed that a business's team can make or break a company, and for employees to buy into a company, they have to feel empowered, valued and appreciated.
"The most important thing is to be a human being," Burns said. "If they [employees] know you care and you're on this mission together — and that you're the same guy you were when not in the big seat in the corner — people will do a lot for you. They will follow you. And when things are moving in the same direction, great things will happen."
RXBar founder Peter Rahal added that staying true to company culture was key for the company during its courting process with Kellogg's.
"It's bullshit not to tell people [you're looking to sell]," Rahal said. "We are all working so hard for the company, and also it's bullshit not to be proud if it. What's to hide? It [telling our team] was a reflection of our intention; there were no lies throughout the entire thing."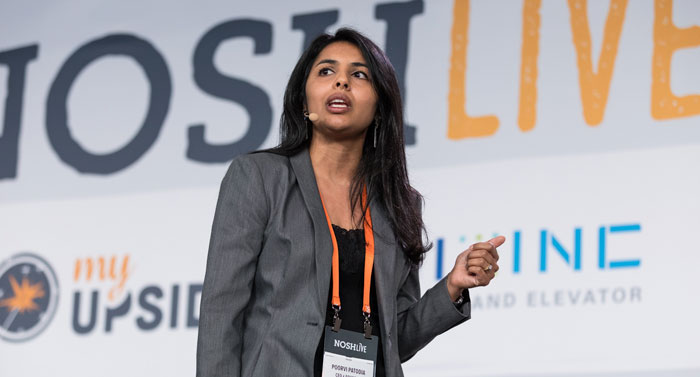 Another tool, presenters noted, is partnerships. For Poorvi Patodia, the CEO and founder of Biena Snacks, a recent valuable partnership was with the Girl Scouts, which led to an innovative new flavor, Thin Mint, based on the cult-favorite cookies. For confection and snacking giant The Hershey Company, it found beneficial partnerships with emerging brands that have different business models and more flexibility.
"We are looking for distinctiveness," Will Lisman, the president of Hershey's emerging brands unit, said. "We are interested in brands pioneering categories, disrupting existing categories and not looking to be me-too players that are marginally better than the existing players."
Hershey's is not the only company looking at brands as partners. The product director of center store for 7-Eleven, Ashley Borden, said she sees emerging brands as some of the leaders in the fresh snacking era. But passion is the way to stand out to her buyers, she said.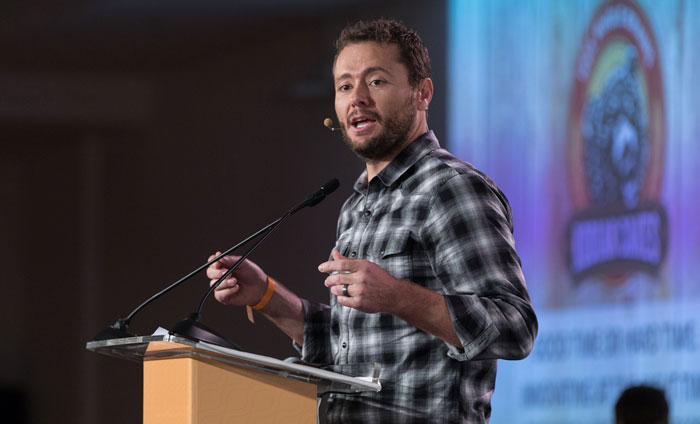 Perfect Bar co-founders Bill and Leigh Keith and Kodiak Cakes CEO Joel Clark also touched on the importance of passion when it comes to building a brand, especially when innovating in a "hibernating" category or a completely new one. The entrepreneurs talked about how they navigated tides, trends and markets — those for them and against them — and used passion and patience to make their brands a success.
"Passion is key to building a strong identity and brand," Clark said. "Consumers want to know backstory and how authentic this brand is."
While on stage, Perfect Bar also announced it will be platforming to Perfect Snacks to bring its brand to more fresh snacking occasions.
Wrapping up the day, industry vets Gary Hirshberg, the co-founder and Chief Organic Optimist of Stonyfield Farm; Shazi Visram, the founder and "chairmom" at Happy Family Brands; and Bill Weiland, the founder and CEO of Presence Marketing, chatted about the changing food industry and how brands, especially those trying to be socially responsible, can make the most impact for the food business and the world.
"I would urge brands looking to build an honest relationship with consumers to focus less on what you say and more on your behaviors," Hirshberg advised.