IFF Acquires Frutarom for $7.1 B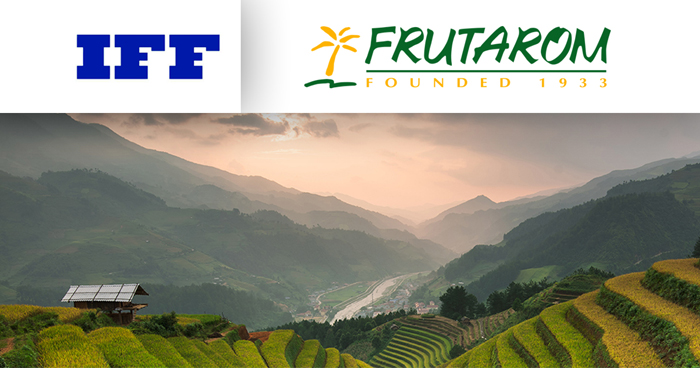 International Flavors and Fragrances (IFF) is trying to become the top natural ingredient and flavor supplier in the world.
The New York-based flavor and fragrance giant announced on Monday its plans to acquire Israeli flavors and natural ingredients firm Frutarom for $7.1 billion — its biggest purchase to date. The deal would boost IFF to a second-place spot in the global natural flavors market, seeing as 75 percent of Frutarom's sales are in natural. The acquisition is just the latest in mergers of leading ingredient suppliers.
"Frutarom has had a fascinating journey of accelerated growth," Ori Yehudai, Frutarom president and CEO, said via a release. "We are extremely excited to combine Frutarom with IFF. The growth potential for the combined company is substantial."
With the merger, Ori Yehudai, Frutarom's president and CEO, will remain with the company as a strategic advisor to IFF Chairman and CEO Andreas Fibig. IFF will remain headquartered in New York while also keeping a presence in Israel.
The deal with Frutarom, a savory solutions and natural ingredients company that sells more than 70,000 products, is part of IFF's "Vision 2020 strategy" to become the global leader in taste, scent and nutrition. The company thinks this acquisition helps keep this vision on track because the companies have complementary customers, capabilities and geographic reach.
"By combining our deep R&D expertise with Frutarom's, we are offering our customers a broader range of solutions and accelerating our growth strategy," Fibig said via a release. "We believe this combination will lead to faster and more profitable growth, enhanced free cash flow and generate greater returns for our shareholders."
The deal is the most recent play in an overall M&A charge within the natural flavoring industry. The top natural ingredient supplier title currently belongs to Geneva-based Givaudan, which announced its own consolidation plans in March. The company acquired Naturex, an international leader in plant extraction and in the development of natural ingredients and solutions for the food. German rival Symrise also spent $2.2 billion in 2015 acquiring Diana Ingredients and Pinova Holdings. And Frutarom itself has taken part in 25 acquisitions since 2015. Michael DeVeau, IFF's VP of Strategy, Investor Relations and Communications, told NOSH he sees the acquisition as a "growth accelerator" for the company and an understandable move.
"Consumers are focused on health and wellness and part of that is expressed as a preference for naturals," DeVeau said. "So it is no surprise that we are seeing a lot of growth in the naturals market."
Clean label has been a rising trend in the flavor industry for 15 years, but now the sales are proven out enough where global giants see there is enough demand and there are enough flavors to make the switch feasible. Grace Venus, an independent consultant specializing in ingredient sourcing and formulation for the natural and organic industry for the past 15 years, said she thinks the deal is "clearly a sign" that these larger flavor house's desire to offer a more diverse line of ingredients, especially clean and organic ingredients.
"Frutarom manufacturers throughout the world so IFF is gaining more than a just flavor portfolio. I would assume that the patented ingredient that they offer are another integral reason for the acquisition," Venus said. "Patented extracts are a large part of this industry's revenue, and in many cases, it is much easier to acquire their parent company than start from the beginning, especially from a regulatory perspective."
IFF was also reportedly interested in Frutarom's ability to cater to smaller and mid-size companies, which make up 70 percent of Frutarom's sales. These are customers other natural ingredient and flavor suppliers have also recently expressed interest in, noting that smaller, disruptive brands are most often the drivers of change in the food and beverage market.
Frutarom's recent growth spurt didn't hurt its appeal, either. The company's expected sales are above $1.6 billion for 2018, on track to hit $2.25 billion for 2020. The deal follows a series of acquisitions from Frutarom throughout last year. Frutarom bought 51 percent of the shares of the Brazilian company Bremil Indústria, the top producer of savory solutions in Brazil, in December — the 12th acquisition for Frutarom in 2017.
Even as the consolidation continues, Venus said she thinks there will always be a role for independent ingredient companies.
"Large ingredient companies have a lot to offer in terms of portfolio and manufacturing expertise, but they make more sense for very large brands. They tend to move slower and can get behind in trends," she said. "My hope is that there is still room for them all… The more expertise and diversity that is in the marketplace can only be a good thing."