Ideal Oats Founder: We Aim to be Halo Top of Cereal Set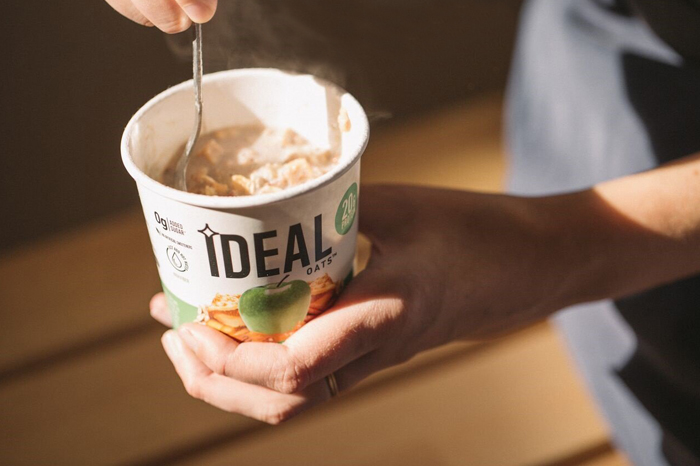 Bai, Halo Top, Quest, Kodiak Cakes. These are the CPG role models Ideal Oats founder Chris Chiarella looked to when creating his low sugar, high protein line of non-traditionally flavored oat cups. The brand, which was launched online in late 2017, rolls out this week in roughly 200 California Target locations.
If there's one thing Chiarella knows, it's protein. Beginning his CPG career at Wild Oats, where he rose to the role of national buyer of supplements, protein powder and vitamins, Chiarella also served as a data analyst at Natural Grocers and category manager for natural supplements and bars for website BodyBuilding.com. In 2013, Chiarella joined then fledgling startup Quest, helping shape the company's product development.
Chiarella told NOSH that he now felt ready to take the next step with his career, and looked for a category where he could create a disruptive offering.
"All of the major players are putting their oatmeal into cups to help their sales because right now, the entire cereal category is declining in sales," Chiarella said, citing high sugar and low protein content in the category. "I'm connecting the dots and trends of what other brands have successfully done in other aisles into a new aisle that has not been touched, with a belief that people are looking for less sugar and more protein basically everywhere."
Chiarella said that the only category as "nutritionally unsound" as the cereal set was previously ice cream. But, he added, that category became over saturated with Halo Top alternatives, leaving it unappealing to enter with a new brand.
The trends that Ideal Oats is embracing, and is inspired by, include using erythritol as a sweetener to lower sugar content as well as adding extra protein to products that aren't known for their protein content. The company also looked to the bar set for flavors — including chocolate raspberry and cinnamon apple strudel — that are not commonly found in traditional oatmeal offerings.
Ironically, Chiarella said his biggest advice to consumers would be to make oatmeal at home from scratch. But given consumers' hectic lives, he knows that's not an option for most people.
"[Making it at home] will be cheaper, sure. But that also goes for a cup of coffee and we all go to Starbucks and pay three dollars a cup," Chiarella said. "We're on the go and the convenience category is very large. That's why all these companies are putting their cereal and oats into cups because that's what people want."
Although some consumers may not want erythritol, Chiarella said the success of brands that use the ingredient — such as Bai and Quest — are helping to make it widely accepted among shoppers. But for those that don't prefer sugar alcohols, that's okay too, according to Chiarella.
"The thing I've learned in food is you cannot be all things to all people," he said. "Especially when it comes to food and nutrition, all you can do is find category gaps and try your best to fill them in as best as you can."