Distribution Roundup: Rollingreens Takes Millet Tots Nationwide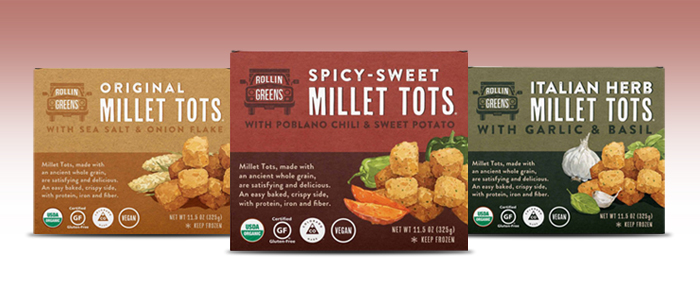 From the distribution boom of a tater tot alternative company, to the strategic launch of a clean protein maker with a natural retailer, here is the latest distribution news.
Rollingreens Takes Millet Tots Nationwide with New Retailers
A year ago, Rollingreen's Millet Tots were sold in only 17 stores. Now, the Colorado-based, potato-alternative tot brand can be found in more than 1,000 locations with the recent addition of Kroger, Wegmans and Central Markets.
Rollingreens co-founder Lindsey Cunningham told NOSH that the company started its growth spurt in 2017 in the Rocky Mountain Region with Whole Foods Market, Lucky's Market, Sprouts and Alfalfa's. Though the majority of the brand's retailers are "more natural leaning," Cunningham said the company is also seeing success in more conventional chains with customers who value natural. Whole Foods, Central Market and Lucky's Market are some of its fastest moving chains, she added.
Launched as a family business, Rollingreens was originally founded in 1980 as Boulder's first organic and local food truck and catering service. But in 2011, the company was reborn by the Cunningham family's youngest son Ryan and his wife, Lindsey.
"In our food truck days, the idea of Millet Tots was sparked from a grain Chef Ko grew up eating. We took this underutilized, nutrient-rich whole food, and turned it into an indulgent comfort food people felt good about eating," Lindsey Cunningham told NOSH. "We could have never predicted the amount of growth we would have, in just under three years in the marketplace. We are excited to continue to grow, and bring our plant-based innovations to more people around the world."
In order to support its scaling efforts, Cunningham added that the company is in the process of raising $500,000 in a convertible note with an expected close of October 31. Aside from taking on a partner two years ago, this round will mark the company's first raise.
Grainful Sees Growth After Redesign
Ithaca, New York-based frozen meal brand Grainful has attracted new retail accounts since rebranding earlier this year.
The company's globally inspired grain and protein bowls will be available in more than 2,000 locations by the end of the summer. Grainful added 611 stores with new retailers such as Meijer, King Soopers, Ralphs and Smith's, as well as an additional 105 Safeway locations in Portland, Oregon. Prior to the new distribution, the brand was sold in about 1,450 stores, including Safeway, Wegmans, ShopRite, HEB, Giant Eagle and Vons.
Jan Pajerski, Grainful president and co-founder, told NOSH that retailers have been drawn to the brand's use of bright colors and its updated formulations. The company's updated packaging is now on shelves in all pre-existing retailers and being sent to new accounts as well, according to Pajerski.
In 2017, Grainful was accepted into the Chobani Food Incubator. Company executives said the program helped them better understand how its product and packaging needed to evolve.
Ascent Retail Presence Climbs with Whole Foods
Sports nutrition company Ascent is bringing its athlete-backed line of protein powders and pre-workout mixes to Whole Foods this month.
The natural retailer has agreed to carry Ascent's Native Fuel Whey Protein Powder, as well as Ascent Pre-workout Clean Energy and Hydration Fuel at more than 400 locations nationwide. The protein will be sold in two-pound bags and 15-count single serving packets in chocolate, vanilla bean, cappuccino and lemon sorbet flavors, while the preworkout will be available in 30-serving bags and 15-count single serving packets in Raspberry Lemonade and Watermelon flavors.
"Whole Foods Market is a perfect fit for Ascent's mission to help our customers naturally improve their athletic performance by providing a purer, less-processed protein product," Paul Vraciu, general manager of Ascent Protein, said via a release. "Our partnership with Whole Foods allows them to find their favorite protein product, on their terms, while doing all of their weekly shopping."
To highlight the launch, Ascent is working with Whole Foods to host in-store demos and events for its target audience: extreme athletes and CrossFitters. The events will take place in various stores in different regions throughout August and September, with a special in-store workout on September 8 with CrossFit Games athletes Katrin Davidsdottir and Brent Fikowski in Austin, Texas.
Wildway Expands with Kroger
Breakfast and snack food company Wildway has grown its retail footprint with the addition of Kroger.
The grocery chain picked up four varieties of the Texas-based brand's grain-free granola line — coconut cashew, banana nut, apple cinnamon and vanilla bean espresso — in 50 of its Lone Star State stores. Wildway also makes grain–free instant hot cereals and smoothie bowl starter mixes, but those have yet to be added by Kroger.
"We are beyond grateful for the opportunity to expand in our own backyard and excited to partner with a great organization that has been at the forefront of the natural and organic movement," Kyle Koehler, Wildway co-founder, said in a statement.
The growth follows the brand's graduation from the most recent Chobani Incubator class, which included 88 Acres, Fresh Bellies, Masienda, Noka, Nona Lim, Puffworks, Remedy Organics, TeaRIOT.
Other notable distribution news:
Belgian Boys Grows with Target: The waffle chip and Belgian stroopwafel company has been added to more than 1,700 Target stores. The retailer has picked up four of the brand's top selling products: Waffle Chips, Choco Waffle Chips, Mini Stroopwafel and Choco Mini Stroopwafel. The company said, via a release, that the addition allows it to "broaden its reach and customer base."
Torie and Howards' Gains More Placement with Halloween Chewies: The company's Chewie Fruities Halloween multipack has gained nationwide placement in select Natural Grocers, PCC Markets, Rouses, Lassens, Woodman's Markets, and Fruitful Yield stores. Torie and Howards attributed the success of its seasonal line to parents desire for organic candy for their children, even on holidays.
Gobble Partners with Walmart: Meal kit company Gobble announced a partnership earlier this month with to sell its products through the retail giant's e-commerce site. The San Francisco-based startup differentiates itself from other meal kits by only offering dishes that can be prepared in 15 minutes or less and require only one pan.
Publix Adds Fourth & Heart: Publix added Fourth & Heart ghee to 1,050 of its stores in the Southeast region. The brand's 9-ounce jars of Himalayan Pink Salt and Original recipe ghee hit shelves on August 15.
Roli Roti Grows Retail Presence with Publix: Gourmet bone broth brand Butcher's Bone Broth, by Roli Roti, has increased its retail footprint with the addition of 1,500 Publix and SoCal Safeway stores. The refrigerated bone broth brand, which debuted for the first time at Natural Products Expo West earlier this year, was only in about 500 stores a year ago but is now sold in about 2,300 locations.
Moli Brings Mexican Sauces to North East: Texas-based Mexican cooking sauces brand Moli Sauces can now be found in 85 Foodtown locations throughout New York, New Jersey and Pennsylvania. The retailer is carrying three of the brand's regional cooking sauces: tomato, morita chile and breen olive sauce, tomatillo and arbol chile sauce, and tomato, tomatillo and chipotle chile.
Whole Foods Adds New Drinkable Bone Broth: BruBroth, an organic bone broth beverage, is now available in all California Whole Foods locations, as well as select New Seasons and New Leaf Markets locations in the Pacific Northwest. The brand is best known for its use of ingredients such as apple cider vinegar and cold-pressed vegetables and roots such as greens, ginger, tumeric, carrots and beets.
Target Adds Mochi Ice Cream: Earlier this summer My / Mo Mochi Ice Cream announced that the big box retailer has added its ice cream snacks to stores nationwide. This brings the brand's store count to more than 12,000 locations.
Back to the Roots Partners With Nature's Path: Two years ago, New York City brought the brand's organic cereal into the cafeterias of its public schools to feed more than a million children. Now, the brand has signed an exclusive licensing agreement with leading organic cereal maker Nature's Path to allow it to scale with more schools and food service accounts.