Colorado Food Works to Unite Industry and State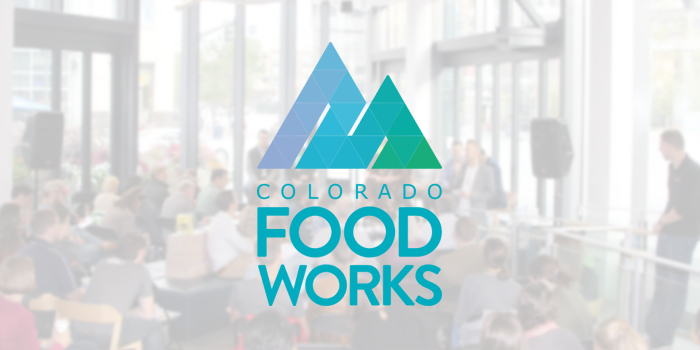 Sipping on a cold beer across from a fellow Denver-based entrepreneur at his favorite local watering hole in early 2017, Doug Helbig, the current vice president of sales at Wandering Bear Coffee, had an idea: create a trade group of industry leaders who could lean on each other when navigating Denver's food system. The industry group, now known as Colorado Food Works (CFW), would aim to foster business development, grow Denver's foodie reputation outside of Boulder's shadow, and build the city's overall economy.
Little did he know that by building his own working group, he'd be doing the city's work as well. CFW started as a monthly happy hour, where 5 to 10 food industry friends would meet up for a cold one and chat about trends they were seeing in the industry and issues they were facing specific to Denver. High rent. Not enough kitchen space. A lack of big-box retailers. Similar to the natural food industry's upward trajectory, interest in CFW skyrocketed, and now, in only just over a year since its inception, CFW has more than 450 members and a formal mission: to support the growth of the Colorado food industry through access, advocacy, resources and community.
"Help yourself by helping others," Helbig said, describing the group's overall mantra. "I believe I'm the most aggressive go-getter in my business, but I help others and somehow in some time the universe will come back to help me. The more dots we can connect on the front end, the more that will come back on the back end. So for our mission, it's connect dots for everybody. You need a broker? I have a suggestion. You want to grab a cup of coffee and ask me about the club channel? Let's do that. Simultaneously everyone is seeking to connect dots and now we have this interwoven community where we share resources."
Though the group still holds networking happy hours, Helbig is much more focused on programming speakers and panels that resonate with the area's entrepreneurs and touch on larger issues facing the food industry, from a Whole Foods Market town hall to a female entrepreneurs spotlight panel. Last week the trade group was also invited alongside the city of Denver to present and take part in Denver Tech Week for the second year in a row. It's an event that attracts over 17,500 entrepreneurs.
Maybe most impactful, however, is the group's ability to be a unified voice for the city's natural food industry amid a time of change for Denver's entire food economy, led by the city itself.
Making a vision a reality
It's no secret: Colorado is a hub of the natural food industry. But while Boulder has long been known as a mecca of healthy food, Denver has been somewhat overshadowed by its little sister city: in the state's capital alone, there are more than 2,200 businesses and nearly 500 non-profits involved in the food system.
But that is changing. Denver has been working to reinvigorate and leverage its food economy to make it a catalyst for change across Colorado. In-state industry leaders think they can offer a hand in lighting that spark, too.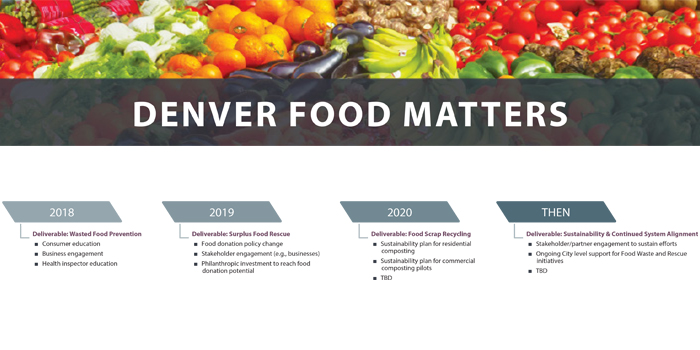 It all started in 2016 when Denver's Office of Economic Development announced it had a vision to transform the city's food system. The goal: to work with manufacturers, retailers, civic institutions and politicians to make Denver's food economy more vibrant and accessible for consumers, producers and the food business in general. The office amended the vision in late 2017 after receiving over 1,000 public comments making more than 90 changes to the vision to guarantee it was inclusive and beneficial for consumers, industry and advocates alike. Then, after originally expecting to publish this at the beginning of the year, Denver published its official Action Plan this summer, detailing exactly how it will make its vision a reality.
"The opportunities and the challenges presented by our food system, including access to affordable healthy food, are not equitably distributed across our city," Denver Mayor Michael Hancock said in a statement. "We have prioritized efforts to focus on underserved neighborhoods with low healthy food access and to advance initiatives that improve food access along with economic mobility – through living wage jobs, entrepreneurship, business ownership, and new community wealth building tools."
The action plan itself only includes projects led by city and public partners — but the report recognized that most efforts to support a strong food system in Denver are being led by private businesses, nonprofits, community organizations and dedicated entrepreneurs in the food industry.
Working hand-in-hand
While no official partnership between CFW and the city exists currently, Helbig described both missions as "parallel and intertwined." To do his part, Helbig acted as an advisor during the city's initial listening groups and drafting of its food vision.
"We are the CPG aspect of that plan so it is great for us to see the city so fully embracing our industry and helping us lay the brick work to make starting a business so much easier," he said. "When you get that kind of validation from the city, you know that your industry is on fire."
CFW's liaison with the city is Denver's manager of food system development for the Office of Economic Development, a long title that belongs to Blake Angelo. Angelo, a former consultant who has worked with everyone from Colorado State University to Kaiser and the City of Boulder to develop grants and providing research-driven strategies to support local food systems, has been in close communication with Helbig throughout the vision and action plan creations to help better understand the needs of the CPG community.
"The city never thought we would solve food alone and we always knew that it was going to require new strategic partnerships with our nonprofit community and our business community," Angelo said. "So one of the things we have been working toward is, 'How do we pull the line resources in new ways and, in a sense, tell a better story about how our ecosystem is working by making that information easier to access, making the current structures more efficient?'"
"When you get that kind of validation from the city, you know that your industry is on fire."
High rent and accessibility to real estate, in particular, have been major points of concern for business owners in Denver and will be a focus for CFW in 2018, according to Helbig.
"With our industry booming the way it is, it is tough to find some place to produce your product, to network, to grow your business," Helbig said. "So one thing I see [CFW] doing more in the future is really kind of helping be a conduit for the city and help companies who are saying "I want to move my company to Denver because it's attractive, and I can't"…. That is such a fundamental thing. If you want to move your business to Denver, you have to have a place to run your business."
To address this, Denver's Sustainable Food Policy Council advanced recommendations on specific changes to zoning, land use and licensing policies.
"At least from the food policy council's standpoint, we are the main body that will oversee the action plan and vision so we are trying to be the policy arm for that," Anne Misak, co-chair of the Sustainable Food Policy Council and healthy food program manager for Colorado Enterprise Fund, told NOSH. "We currently have policy working groups that are focused on residential composting, food recovery, institutional procurement, which is how the city can really support more businesses and healthy food. Hopefully that is part of a larger partnership that a lot of private institutions are on board."
Working with industry to remove some of these "barriers to entry" will, in theory, help the city in reaching another of its goals — to increase the size of the Denver food economy by 59 percent by 2030. This means that (by tracking only new capital) the economy would be responsible for generating $33 million by 2020 and $100 million by 2030. To keep the city and its partners accountable in meeting its long term goals, a subsequent Action Plan will be developed for 2025.
Though on a macro level, the success of CFW ultimately helps to propel the mission of the Food Action Plan, Helbig said the group's long-term plan is to continue to provide resources and networking opportunities for entrepreneurs aiming to build successful businesses in the area. Though the group originated as a primarily free resource for the business community, Helbig said he is not ruling out membership fees as the group continues to grow.
"The beauty for us is that we have no quotas to hit or investors to impress," Helbig said. "We're going to let this thing grow on its own where we don't have any goals for membership or goals for revenue… We are just kind of letting this snowball keep rolling."