The Checkout: Perfect Bar and Wella Bar Announce Larger Platform Plays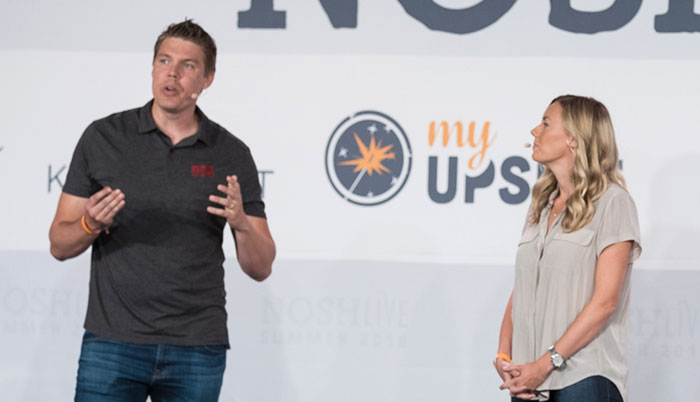 Welcome to The Checkout: an express lane for weekly news you need to know, always 10 items or less.
From brands expanding into new categories to meal kits entering new retail channels, here is the natural food news you need to know from this week.
Fresh Bars Try to Expand to Expand Platform
Refrigerated bars Wells Bar and Perfect Bar are looking to become platform brands — both announced this week product innovations that go beyond simply releasing new flavors.
While on stage at NOSH Live Summer 2018, Perfect Bar co-founders Bill and Leigh Keith told the audience that the company will launch a snacking umbrella brand, Perfect Snacks, comprised of products that meet multiple snacking needs throughout the day.
The first product from the new line will debut at Natural Products Expo East this fall, with a second product debuting at Expo West in March 2019, according to the Keiths. Though the brother-and-sister duo would not disclose what snacking products are coming, they did say future innovations will be verified gluten-free, contain protein and live in the fridge.
"Now [we] have retailers coming to [us] to say 'What other items do you have so we can create a destination spot in the store for fresh snaking?'" Bill Keith said.
Later that day on the NOSH Live Livestream studio, refrigerated bar competitor Wella Bar announced that the brand will also expand its product portfolio. The new products will also be refrigerated items embrace snacking and expand the day parts Wella Bar can target.
Politicians Call for Accurate Labeling in Bipartisan Bill
On Thursday, Kansas U.S. Sen. Jerry Moran and U.S. Reps. Adam Kinzinger, of Illinois, and Kurt Schrader, of Oregon, introduced bipartisan legislation intended to "prevent the issuance of inaccurate labels that mislead consumers and drive up prices."
Known as The Accurate Labels Act, the bill would amend the Fair Packaging and Labeling Act. To guarantee honesty and accuracy on labels, the bill — if passed — would establish science-based criteria for all additional state and local labeling requirements, allow state-mandated product information to be provided through smartphone-enabled "smart labels," and ensure that covered product information is risk-based. The bill comes at a time when consumers are already "voting with their dollar" and gravitating toward more transparent brands.
Leading snack industry trade association, SNAC International (formerly the Snack Food Association), issued a statement in support of the bill.
"Because no SNAC member, big or small, does business in just one state, it is vital for new labeling requirements to follow a strong scientific standard," SNAC International president and CEO Elizabeth Avery said in a statement. "A state patchwork of labeling laws will only confuse consumers and create unnecessary costs for manufacturers."
HelloFresh to Enter Retail Stores
In a statement released earlier this week, HelloFresh said it would start selling its kits at 581 Giant Food and Stop & Shop stores this week, adding more retailers throughout the year.
"Our retail line reduces the pressure on grocers to create these meals themselves and easily integrates into growing areas of their business, such as online grocery and delivery," Tobias Hartmann, president for North America at HelloFresh, said in a statement.
The meal kits are expected to costs between $14.99 and $19.99, and take under 30 minutes to prepare.
HelloFresh is not the first meal-kit service looking to bring its online presence in-store. Last month, Blue Apron announced it would start selling meal kits at Costco, and Kroger announced it was acquiring meal-kit service Home Chef in a deal potentially worth $700 million. Meal marketplace brand Chef'd already has it's kits placed in retail.
Not all retailers are looking to partners, however, for fufillment. This week, Publix announced it had created its own line of meal kits to be sold in stores, and earlier this year Walmart began selling its own meal kits nationwide.
PepsiCo Enters Partnership with Chicago Hatchery
Food and beverage conglomerate PepsiCo has entered into a partnership with Chicago-based incubator The Hatchery in order to fostering collaboration.
PepsiCo, whose current portfolio of better-for-you brands includes recently acquired Bake Snacks, Quaker, Tropicana, Naked, Near East and KeVita, has stated that its goal is to build the company's snacking and better-for-you sectors.
The partnership will give brands represented by The Hatchery an opportunity to receive insight from PepsiCo's leading experts, as well as allow PepsiCo employees to learn the nonprofit's strategies on collaborating and working with startups.
"Our network of entrepreneurs will greatly benefit from NAN's deep knowledge and expertise around things like go-to-market strategies as a means to reach greater distribution," Natalie Shmulik, CEO of The Hatchery Chicago, said in a statement. "The future is all about collaboration, and we couldn't be happier to have PepsiCo join our group of exceptional partners and resources. This is where real change will happen."
CLIF Bar Moves More into Breakfast With New Products
CLIF Bar is looking to position itself as a competitor in the breakfast space with the launch of new products. The bar brand announced this week that it will launch three lines — CLIF Fruit Smoothie Filled Energy Bars, CLIF Sweet & Salty Bars and CLIF Energy Granola — all of which will hit retail shelves nationwide this month. These products mark the brand's first official entrance into the breakfast space.
Driven by increased consumer demand for safer, convenient and healthier food, the global on-the-go breakfast products market is forecasted to hit $1.9 billion by 2026, according to a report from Future Market Insights.
GMA Names New President
The Grocery Manufacturers Association (GMA) announced earlier this week that Geoff Freeman will become the trade organization's new president and CEO effective August 1. Freeman previously acted as president and CEO of U.S. casino industry trade organization the American Gaming Association (AGA).
"Geoff stood out as having a dynamic perspective and is the best person to lead our industry's response to the changing needs of consumers," Vivek Sankaran, president and COO of Frito-Lay North America, said in a release.
As of late, the group has struggled to retain members amidst the changing retail landscape. In 2017, eight of the GMA's largest members — including The Campbell Soup Company, Unilever, Mars, Tyson Foods, Dean Foods, Nestle and Cargill — all dropped their memberships.