The Checkout: Nestlé Works to Adapt to 'Changing Consumer'
Welcome to The Checkout: an express lane for weekly news you need to know, always 10 items or less.
From why Nestlé is changing its strategies to appeal to new consumers, to why packaged and processed food brands are really into protein, here is the latest in natural food news this week.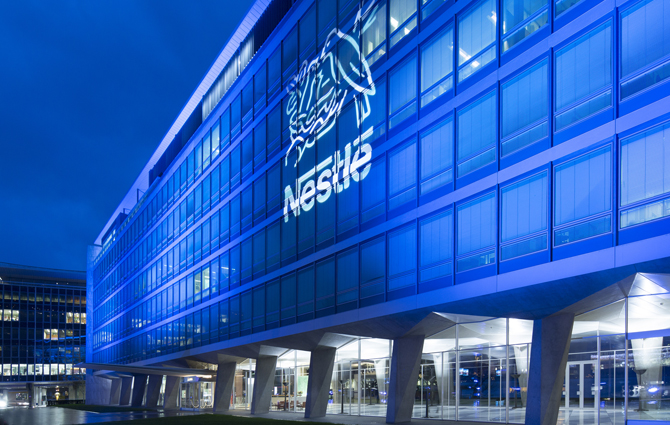 Nestlé CEO: 'Changing Consumer' is Focus for 2018
Nestlé is realizing the need to respond faster to the changing tastes of U.S. consumers after its existing businesses grew by only 2.4 percent in 2017, its slowest pace in over two decades.
The world's largest food company reported unexpectedly weak sales on its 2017 earnings report call with investors yesterday. The announcement follows months of cries from some investors who have asked the company to slim down, focus on profitable operations and plant more of a stake in natural food, according to The Wall Street Journal.
Still, CEO Mark Schneider, who joined Nestle in January 2017, expressed confidence in the lagging North American market for 2018 and said the company has already taken some of the steps needed to appeal to today's consumer.
"At the center of everything we do is the changing consumer," Schneider said. "And the consumer is more than ever interested in good nutritional products and the health benefits of nutritional enhancers, which I think fully validates our nutritional health and wellness strategy."
The company has already started to pick up innovative brands to help shake up its business. Last week, Nestle announced it had acquired a majority interest in Terrafertil, an organic plant-based food company, and last year it acquired Canadian vitamin maker Atrium Innovations and Sweet Earth Foods. Kraft Heinz is also looking to improve its portfolio after missing its earning expectations, the company reported on a call with investors today. The manufacturer has already rolled out healthier versions of some of its products such as whole grain Kraft macaroni and cheese but, like Nestle, Kraft Heinz CEO Bernardo Hees noted the need for innovation.
Though Nestle and Kraft-Heinz are working to take the necessary steps to catch up in today's marketplace, the slump is indicative that even the world's largest food companies are not unsinkable. The size that gives them strength is also what makes it less nimble.
Instacart Raises $200 M
The grocery delivery service war is just heating up, according to Instacart.
Earlier this week, Instacart founder and CEO Apoorva Mehta announced that the company closed $200 million in Series E financing led by Coatue Management. The deal values the company at approximately $4.2 billion. Glade Brook Capital Partners also now joined existing investors in the round.
The funding gives Instacart another weapon in its fight to be the number one delivery platform for food retailers against competitors like Amazon, Shipt and Peapod. 2017 saw retailers across all channels adopting delivery. Instacart reaped the benefits of this as seven of the top eight North American grocers signed Instacart as their provider, according to the company.
Eater Explores How Protein 'Conquered' America
Protein has put a spell on consumers and industry leaders alike as it has broadened its appeal beyond athletes to become the center of the "healthy lifestyle" diet. But why?
A report by Eater looked at why protein seems to be CPG's — and specifically processed food's — go to for products that carry a health halo. One of the major keys to protein's appeal, according to Eater, is that it has health benefits, such as weight loss assistance, that resonate with consumers.
While many brands have jumped on the protein trend in the last decade, Eater uses CytoSport, the makers of Muscle Milk, to illustrate the evolution of protein's acceptance and star power. The company has always centered around protein, but realized it was stifling its growth by only catering to a specific audience. In 2016, they launched Evolve to better resonate with a larger audience and get into new product categories.
"Protein drinks, in a way, are the past," Eater writes. "The future is macronutrient-perfect food that is not only engineered to fit any diet but flavored to meet any craving — pizza, chocolate, barbecue potato chips."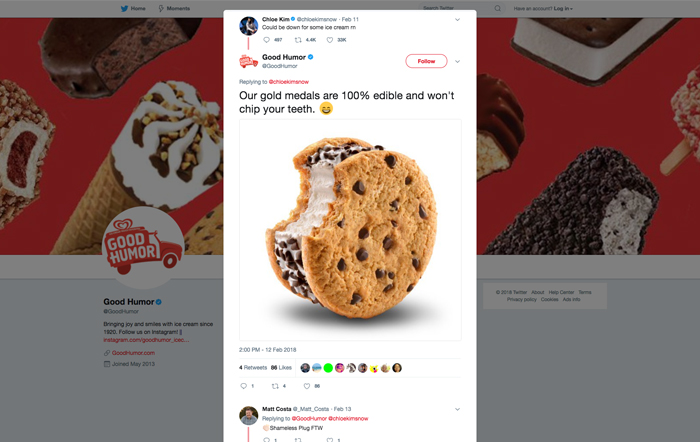 Brands Try to Fuel Olympic Gold Medalist With Ice Cream & Breakfast Sandwiches
When 17-year-old snowboarder and new Olympic halfpipe champion Chloe Kim tweeted between qualifying runs that she "could be down for some ice cream (right now)," the internet and the food industry were really on board with her dedication to snacking.
Almost 500 people replied to Kim's tweet, including ice cream makers Coolhaus, Ben & Jerry's, Nada Moo and Good Humor.
Kim also gave a shout-out to some tasty churros she had eaten earlier in the day, followed by the tweet, "Wish I finished my breakfast sandwich but my stubborn self decided not to and now I'm getting hangry. Cue more brands including Oreo, Roy Rogers Restaurants, Sweet Earth Foods and California Pizza Kitchen joining the online conversation. Vermont Smoke & Cure even jumped in with a recommendation for its high-protein "meat sticks."
So why are food companies big and small investing time into online interactions that, in theory, give them no immediate return? Companies have been increasingly investing heavily in social media, building strategies around major events like the Olympic Games and the Super Bowl because it allows them to cash in on these larger conversations without spending on costly endorsements and advertising campaigns.
"Twitter is an unbelievably direct point of contact," Natasha Case, co-founder of Coolhaus, a Los Angeles-based ice cream company, told the Chicago Tribune. "We saw Chloe's tweet and said, 'Why not put ourselves out there?' It's an organic strategy."