The Checkout: Modern Pod Raises $2M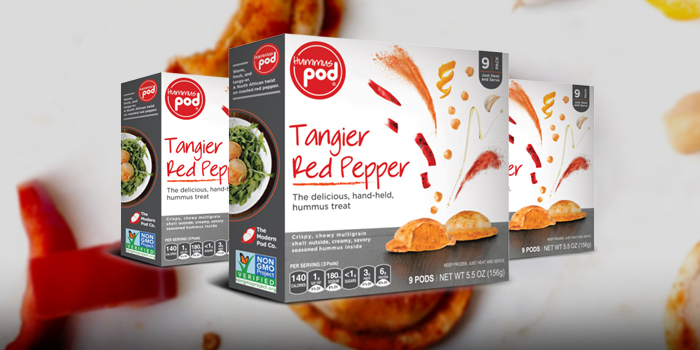 Welcome to The Checkout: an express lane for weekly news you need to know, always 10 items or less.
Natural Products Expo East may be the talk of the CPG world this week, but outside of Baltimore, other natural food news made headlines. From new investments and acquisitions to new hires, here are some of the top news stories from this week.
Modern Pod Raises $2M
Hummus appetizer brand Modern Pod Co. raised $2 million in a Series A fundraising round. Specific details of the raise were not available and investors were not disclosed.
Modern Pod launched in 2017 out of Food Innovation Nexus, an incubator from Johnson and Wales University, with an innovative take on a frozen appetizer: a flavored hummus encapsulated in bite-sized, multigrain shells. Now the brand can be found in more than 2,500 stores nationwide including Whole Foods Market, Kroger, Ralph's, King
Soopers, Wegmans, Safeway East, and Stop & Shop. With this new round of funding, the company plans to expand its distribution reach.
"We are delighted to secure the capital required to expand our brand and our mission,"
Levon Kurkjian, ModPod general manager, said via a release. "Consumer appetite for our innovative Pod form and flavors is surging, and we're excited to continue expanding our platform and our retail partner network."
ModPodCo launched a fourth flavor — Tangier Red Pepper — in August. The line's portfolio includes Sriracha Lime, Smoky Chipotle, and Zesty Lemon. However, Kurkjian said the company is working on new products within the frozen aisle.
To improve its brand presence, Modern Pod hired Whole Foods vet Melissa Traverse as sales promotion manager this month. Traverse served as the associate coordinator of marketing, creative content and supplier relations in the North Atlantic region for the past seven years.
High Road Ice Cream Acquires Ciao Bella
High Road Ice Cream announced this week the acquisition of leading sorbetto brand Ciao Bellia. Terms of the deal were not disclosed.
Under the new ownership, Ciao Bella will undergo a rebranding, using bold-colored paper packaging for a brighter look and collaborating with High Road's culinary team to release "greatest hits" flavors and new SKUs. High Road, which launched in 2010 with pints and has since expanded into ice cream sandwiches, is known for its high-quality ingredients and chef-inspired flavors.
"I discovered CiaoBella's products as an aspiring young chef, and sought out their flavors both as a consumer and a professional during my culinary journey," High Road CEO Keith Schroeder said in a release. "To have the opportunity to steward a brand that I've admired for so long is quite a dream come true."
Ciao Bella CEO Carlos Canals will remain with High Road as chief integration officer, focusing on revenue growth, new product innovation, and expansion of the brand's architecture. Canals brings with him executive experience from brands such as Kashi, UNREAL and Tribe Mediterranean.
"We could not have found a better home for Ciao Bella than High Road," Canals said in a release. "The passion, the belief in good food, and the innovative approach that Keith and the entire team brings is exactly what Ciao Bella needs for its next chapter."
CV Sciences Becomes First GRAS-Certified CBD
CV Sciences, a leading supplier and manufacturer of hemp-derived CBD oil, announced this week that its lines of CBD gold extract received Generally Recognized as Safe (GRAS) status from the Food and Drug Administration (FDA). The company is the first hemp CBD nutraceutical company to officially be recognized as safe.
"We are committed to building consumer confidence and trust in the safety and quality of our products, supported by scientific evidence," Joseph Dowling, CEO at CV Sciences, said via a statement. "This milestone significantly advances our leadership in this space and provides us with opportunities to broaden consumer access to our products, while removing any doubts on the safety and benefits of our products. We are proud to be the first and only company to obtain GRAS self-affirmation on a hemp extract and believe this is a milestone for CV Sciences as well as the entire hemp CBD industry."
The safety recognition will better position the company if the production of hemp is legalized under the impending Farm Bill, according to Jesse Karagianes, CV Sciences director of sales.
"From a food perspective, the biggest thing people are missing and not doing enough of yet is that they are not doing the tox work needed to let people know it [CBD] is safe," Karagianes told NOSH.
The company is slowly starting to work with manufacturers in the food space, and earlier this month announced a partnership with whole food bar maker SNAAK for a branded line of CBD bars.
Campbell's Looks to New Leader for R&D
First came a major restructuring for the Campbell Soup Company; then came the divestment of its international and C-Fresh business units last month. Now the big food player is bringing on new leadership.
Campbell's appointed Craig Slavtcheff as its new vice president of research and development to lead its entire R&D division, including strategy, innovation and product development. Slavtcheff succeeds Carlos Barroso, who retired last month. He will report directly to Campbell's COO Luca Mignini, who was promoted from president of global biscuits and snacks in May following former CEO Denise Morrison's retirement.
"Effective research and development is a critical component of Campbell's focused strategy to leverage our leading brands and market positions in North America," Mignini said in a statement. "Craig is a disciplined and seasoned leader with a strong record of building effective teams that deliver compelling product innovation and drive business results."
Prior to this new role, Slavtcheff acted as the VP of R&D for Campbell Snacks and International, and previously served as VP of R&D for the global biscuits and Ssnacks division.
USDA and FDA Make Amends with Joint Meeting on Clean Meat
It appears that the United States Department of Agriculture (USDA) and FDA have finally agreed to work together to set guidelines for "clean meat." After months of fighting to take the lead in the conversation, the federal agencies announced this week that they are hosting a joint meeting October 23-24 to discuss regulation of the cell-cultured meat segment as well as how these products should be described on food labels.
The joint meeting comes after the North American Meat Institute (NAMI) and Memphis Meats sent a joint letter to President Donald J. Trump at the end of August requesting that the two government agencies work together to clarify the regulatory framework for cell-based meat and poultry products. The USDA has a longstanding role in inspecting meat and poultry products, while the FDA is responsible for confirming the safety of ingredients and new technologies. However, the FDA held a public meeting in July about clean meat without inviting the USDA to the table.
To push forward this budding sector, collaboration will be key among regulators as well as the players themselves, which so far have disagreed on everything from correct terminology to regulatory framework.
The National Cattlemen's Beef Association (NCBA), which has opposed cell-grown meat, said in a release that it was encouraged by the upcoming joint FDA/USDA public meeting, and that it looks forward to being part of the discussion on "lab-grown fake meat."