The Checkout: Amazon Opens Amazon Go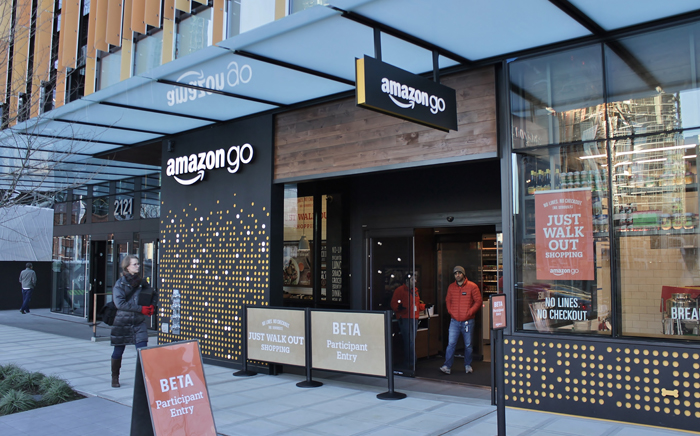 Welcome to The Checkout: the Express Lane for weekly news you need to know, always 10 items or less.
Where you shop, what products are on shelf, and how they get to your house might be different in the future thanks to recent innovations and shifts in the marketplace. Here's what you need to know.
Amazon Opens Amazon Go
Online retailer Amazon launched its long-awaited, checkout-free convenience store in Seattle this week. Instead of individually ringing up items at a cash register, customers can walk straight out of the store with their goods. Amazon logs purchases into a virtual cart and charges your account. The store is currently operating with more of a convenience model, selling mostly packaged items that don't require being weighed or measured.
Under this new system, the opportunities for data collection could be endless. Select one loaf of bread, return it and buy a cheaper one — Amazon may think you're price sensitive. Always buy flowers the same time of the year — Amazon knows you've got something to celebrate. Amazon's acquisition of Whole Foods Market could also one day have the potential to provide the brick and mortar retailer more data on its customers.
Target Announces Same Day Delivery with Shipt
Just a month after acquiring delivery service Shipt, Target is rolling out same-day delivery in more than 50 stores in Birmingham, Alabama, and South Florida. The move is the retailer's attempt to take on e-commerce competitors and offer a solution to consumers who want to avoid a trip to the store. Shoppers who want to take part in the service will first have to become a Shipt member, which carries an annual price tag of $99.
While the initial launch is contained to a smaller geographic area, Target also announced that it plans to offer same-day delivery service in roughly half its stores by mid-2018 and even more by the end of the year. To fulfill the new demand, Shipt plans to hire over 3,000 new employees throughout Florida and an an additional 100,000 shoppers nationwide by the year's end.
Kroger's Simple Truth Hits New Milestone
Getting into Kroger may be a milestone for many food and beverage brands, but the retailer is seeing success of its own: Simple Truth, its natural-focused private label brand, has hit $2 billion in annual sales. This makes it the second-largest brand sold in Kroger stores, according to Robert Clark, Kroger's senior vice president of merchandising.
The Simple Truth brand runs across numerous categories including grocery, meat, produce, deli, bakery, baby, and personal care. In total, the 2,793 Kroger locations stock over 1,400 Simple Truth products — and Kroger plans to add more over the course of 2018.
Kroger recently announced its "Restock Kroger" plan, which includes redefining the food and grocery customer experience as a key pillar. Offering a robust selection of private label products, the retailer said, is key to continuing to attract and retain consumers who are increasingly turning to online retailers in a quest for more affordable options.
Cheesecake Factory Puts Customer Favorite Online
The Cheesecake Factory may be known as an American mall staple, but the restaurant chain is now setting its sights on a new location: grocery stores nationwide. With plans to sell its beloved, all-natural brown bread, the chain seeks to offer consumers a taste of the restaurant no matter where they reside.
To start, the bread — which comes in three varieties: heat and serve rolls, mini-baguettes and sandwich loaves– will be available via e-commerce. This isn't the restaurant's first expansion into CPG. It currently also sells boxed cheesecake, and cookie and brownie mixes.
How Will Kosher and Halal Certifiers View Clean Meat?
Halal and Kosher are two certifications that have been rising in popularity in retail as consumers associate them with quality and cleanliness, even over their religious roots, in many cases. But what happens when so-called "clean meat" — meat grown in large bioreactors from the cells of an animal — finds its way onto retail shelves?
There's no slaughtering process with clean meat, which is a large part of both certifications, but it's genetically identical to the animals they mimic. According to Quartz, the answer is still to be determined, but religious leaders are asking the questions now, before these products fully evolve. According to The Good Food Institute, the products are so far removed from meat they can no longer be considered as such. But some religious leaders aren't so sure — so don't hold out hope for a kosher pork chop hitting stores anytime soon.
Junk Food May See Higher Taxes
Try to checkout at almost any grocery store and you'll have to pass a collection of confection temptations at the checkout. But could that temptation shrink if the price was higher?
Researchers from New York University and Tufts University released a study in the American Journal of Public Health about how raising food prices could get consumers to put down the candy bar and pick up the better-for-you brands. Unlike some soda taxes that have already been enacted, researchers argue that an excise tax should be placed on junk food manufacturers "with additional support for sugar and graduated tax strategies." This would in turn raise the price of these products on shelf rather than just in a tax at the register.