Taste Takeover: 5 Flavor Trends from BevNET Live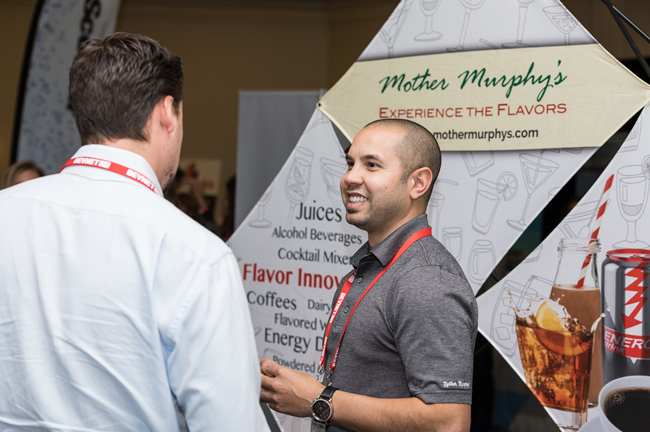 From drinkable bone broths to vegetable-packed dessert bites, some of food's innovative, new food categories might leave the average consumer hesitant to take a bite. But one way these brands are getting customers to give them a try is through familiar or enticing flavor profiles. And, according to experts, some flavors are tantalizing consumer taste buds more so than others.
At last week's BevNET Live in Santa Monica, California, flavor and extract companies predicted their taste trends of 2018. Here's what they expect consumers to be craving most in the new year:
1. Clean Label
Consumers want clean ingredients in their food, even when it comes to flavoring agents. Each company NOSH spoke with during BevNET Live noted that, for brands, clean flavors are not a niche trend but rather a mandate from consumers. However Al Murphy, a sales representative at Mother Murphy's Labs, noted that the definition of "clean" can vary.
"Is it a natural flavor or a natural-type flavor?" Murphy said. "So you need to find out what clean label means to your company."
For Jeff Rakity, VP of sales at Natural Flavors, he thinks clean label demands will translate to a rise in organic and non-GMO offerings across the industry.
"It is a trend that has had great legs for the last 15 years and it's finally come of true age where global giants can now look at it and feel that there is enough demand and enough flavors out there to make it feasible to make the switch," Rakity said. "It was always the availability of starting material [that was a barrier] for the global giant, but because organic has grown as a category, so has the agricultural capacity to meet the larger demand."
2. Savoring Savory Spices
Consumers are embracing less sugar and more spice to make 2018 nice. Heidi McCormack, marketing manager at Finlay Extracts & Ingredients, said the company — which primarily focuses on coffee and tea products — expects to see brands continue to add more savory profiles to coffees, as well as warm flavors like ginger or turmeric in teas.
Rakity agreed, saying that beverage makers, in particular, are no longer looking for the next superfruit but are instead looking for warm flavors that can be combined with traditional fruits. This is part of a larger trend, he noted, toward less sweet and more "complex" food and beverages that embrace savory, pickled or bitter notes.
3. Blooming Botanicals
Plant-based is an industry buzzword, and the flavor world is not excluded. Botanicals — particularly those with floral notes — are on the rise. Rakity predicted ingredients with strong aromatics, like lavender, coriander, chamomile, rosemary and bergamot, will continue to gain a strong presence across food and beverage. Lavender in particular has already started to infiltrate desserts from baked goods to ice creams.
Donald Wilkes, president and CEO of Blue Pacific Flavors and Fragrances, told NOSH he agreed that roots like ginger and spices like basil or cardamom will continue to have a place in both food and beverage, but that he thinks real innovation will be found where functional and botanical ingredients intersect.
"Consumers today are more open to functional. Before, functional had a barrier of consumption; people were worried about, 'Oh should I take this? Is it going to interfere with my medication or things like that?'" Wilkes said. "Botanicals and the experiential aspect of what botanicals are present and how they are mixed with traditional fruit flavors or gingers within products could offer a path to some more of the innovative concepts we are seeing."
4. Mixing it Up
The crossover of functional ingredients with botanicals is not the only overlap that flavor experts expect to see in 2018. Wilkes said he thinks that globally-inspired flavors won't be rooted in one ingredient or flavor, but "a combination of things that are layered and more interesting and bring about certain complexities."
"You'll see kind of a mashup, if you will, in a lot of different areas… There is a passion to go out and try something new and different," he said.
In order to capitalize on this category, Wilkes said Blue Pacific offers a Thai Kaffir lime flavor that was developed, in part, because it pairs better with flavors in food and beverages than a traditional lime flavoring would.
5. Coffee Outside of the Cup
Coffee is creating a buzz in the flavor world. Murphy said he believes that coffee flavoring is going beyond its use in alcoholic or cream-based liqueurs, and moreso into food products. He added that Kona, or other regionally specific blends, are also drawing attention for their unique flavor profiles. Coffee in food is also a trend that Innova Market Insights predicted for 2018. Coffee and tea launches have multiplied over last three years, with tea growing the fastest, according to Innova.