Report: 10 Trends to Watch in 2018
As 2018 nears, some of industry's biggest thought leaders are gazing into their data-driven crystal balls to envision the future of food. Among the predictors is Innova Market Insights, which last month declared its top 10 trends for the new year based on an analysis of global developments in food and beverage launch activity and consumer research.
Lu Ann Williams, director of innovation at Innova, noted during a webinar about the data that while some trends from this year may continue into 2018, the industry will also see some change.
Here are your top 10 trends to watch for 2018, according to Innova Market Insights: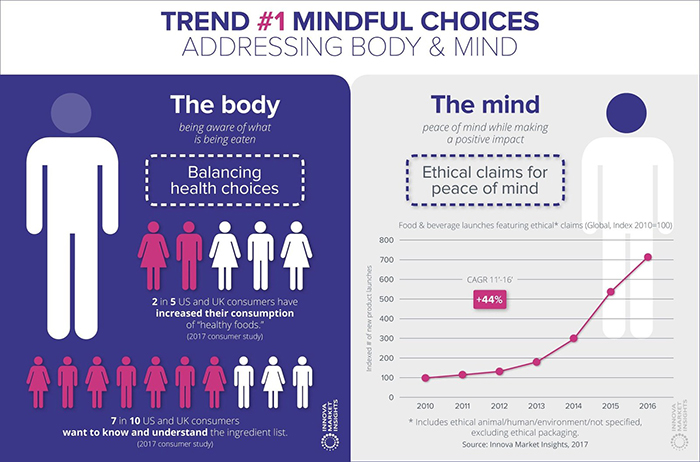 1. Mindful Choices
Being an informed consumer is not a new trend in the industry, though it definitely is a powerful one. Innova found that seven in 10 U.S. and U.K. consumers want to know what's in the foods they eat and easily understand their ingredient lists. One in five American consumers said they are most influenced by "real" ingredients. Williams also noted that ethical claims on packaging are also top of mind, using natural ice pop maker GoodPop as an example of a brand embracing this trend in its packaging. The popsicle company includes a description of "what good means to them" on every box.
2. Lighter Enjoyment
Innova found that while consumers are avoiding "dieting," they are seeking ways to eat healthier — focusing on lifestyle shifts rather than diet fads. This means still enjoying treats and snacks, but looking for better-for-you options. To provide a balance between consumers' want for indulgence and their desire to be more health conscious, brands are creating innovative, healthier versions of traditionally "bad" foods.
Williams said this trend is most evident in the rise of product launches, ranging from brownies to cookies to pretzels — using the claim "thin" to describe a crispier texture. According to Innova, the number of bakery launches using the word "thin" has doubled from 2012 to 2017. Beverages are also looking to lighten up their offerings. Williams noted that in non-alcoholic beverages, waters with a "hint" of a flavor are seeing growth due to the perception that they are lower in sugar.
3. Positively Processed
Consumers are realizing that not all processed foods are equal; some manufacturing techniques indicate care and quality.
"Raw" and "old fashioned" callouts are continuing to rise, according to Innova, but other processes are also gaining acceptance from mainstream consumers. "Sprouted," "cold brewed," and "cold pressed" claims have grown over 2017, but in 2018 Williams said she expects the growth to continue.
4. Going Full Circle
Consumers believe that sustainability matters, and brands are responding. From 2010 to 2017, there was a 70 percent increase in sustainability claims, according to Innova. Williams said that consumers want brands to communicate about their sustainability efforts — from what they do with their food byproducts to how they handle packaging waste.
At the same time, research shows not all sustainability claims carry the same weight in consumers' eyes.
For example, while consumers respond to products with biodegradable packaging claims, they are less motivated by carbon footprint callouts, Williams said, because the average consumer doesn't fully understand the impact of the latter. Upcycling and reusing, however, are resonating greatly with consumers.
Innova's remaining top trends include:
5. Beyond the Coffeehouse: Coffee and tea launches have multiplied over last three years, with tea growing the fastest, according to Innova. With so much growth, there has been a surge of innovation not only in these categories themselves, but also in products in other categories embracing the flavors of coffee and tea.
6. Say It With Color: Brands are looking to make sure the vibrant colors of their natural ingredients are shining through. Why? They look better on camera. Williams said that Innova found that one in 10 consumers from the U.S., Spain, the Netherlands, Canada, and Australia are influenced by social media — specifically Instagram — when it comes to their purchases.
7. Dining Out, In: Food options and cooking methods previously only seen in restaurants, bars and other on-premise locations are now available at home. Consumers are embracing having everything from espresso machines to sous vide gadgets in their kitchens, and are drawn to meal kits that offer restaurant-inspired dishes without having to leave home.
8. From Snacks to Mini Meals: Brands are trying to find new ways to position themselves as snacks and offer options that can be eaten as mini-meals on the go. According to Williams, some snack brands are even offering new formats to position themselves for different use cases and day parts. For example, jerky company Chef's Cut is now offering packs with cheese crisps to position its product as more of a meal and fill a need — and hunger — that it's standard jerky could not.
9. Ocean Garden: The number of sea vegetables used in products between 2012 and 2016 has doubled, according to Innova. This includes everything from algae and kelp, to seaweed, and their use cases span snacks, beverages and seasonings.
10. Bountiful Choice: Brands are trying to increase the appeal of their product offerings to a wider range of consumers, according to Williams. One line can be offered in numerous different flavors, packaging formats, and even with various sourcing methods.