Q4 Earning Report Roundup: Turning 2016 Losses Into 2017 Gains
The numbers are in and it looks like even some of the largest CPG Giants faced difficult challenges in Q4.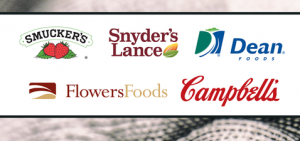 Snyder's-Lance Inc., Flowers Foods, Dean Foods Company and the Campbell Soup Company all held their quarterly earning calls last week. The company's leaders spoke to gains, losses and lessons learned that they hope to apply to 2017.
Here are the main takeaways from each call:
Snyder's-Lance Grows Its Better-For-You Portfolio
Snack brand Snyder's-Lance is looking to grow its sales of its portfolio of "better-for-you" snacks to over 40 percent over the next 12 months, CEO Carl Lee said in an earnings call last week.
The company, whose current sales of healthier snacks comprise about one-third of its portfolio, has been expanding into this category with recent acquisitions of British popcorn maker Metcalfe's skinny Limited as well as Diamond Foods. Snyder's divided the latter by selling the company's culinary nut business and retaining Diamond's Pop Secret popcorn and Emerald snack nuts.
Snyder's plans to continue its focus on innovation in order to expand some of its more successful brands. Pretzel Crisps recently released an organic line and plans to launch a line of fruit chips later this year. The company also announced it will launch a new natural, gluten-free, low fat cracker called Wholey Cheese.
"All our new brands really carry a very important better-for-you claim, and they're entering some areas where there really is a void of better-for-you items," Lee said. "The new items we've got this year are completely unique and different. They're not flavor extensions or anything like that. This is truly new food, a lot of which we are able to create internally because of our expanded capabilities and talent that we've got with the addition of some of the acquisitions we've made over the years."
Campbell To 'Not Sway' From Fresh Food Vision Despite Disappointing Sales
Soup giant Campbell reported lower-than-expected quarterly sales and profit during the company's quarterly earnings call on Friday.
Sales from Campbell's fresh foods business, which includes Bolthouse Farms and Garden Fresh Gourmet, fell eight percent. The company has been struggling to come back from a recall of its protein drinks as well as a disappointing carrot harvest in 2016. Recent acquisition Garden Fresh is also struggling to fit into the company's infrastructure. Plans to expand salsa distribution beyond the Midwest did not take into account the differing consumer palettes of each region.
"The traits that made Garden Fresh Gourmet an attractive acquisition target, the small authentic brand with a compelling story, have also presented some obstacles," Denise Morrison, Campbell chief executive, told analysts on the call. "In January, we launched branded Garden Fresh Gourmet salsa in new packaging with new regional recipes. We're focused on key distribution and velocity-building initiatives"
Campbell also invested in line expansion for Garden Fresh that brought the brand beyond dips and into soups.
Still, Campbell is pushing forward with other natural offerings as well. Morrison noted that shelf-stable Oh Yes! Soups have been well received among retailers and a test of its new, refrigerated soup line Souplicity is continuing.
Morrison added that regardless of 2016's missteps, the company is still committed to Campbell Fresh due to the increasing consumer demand for perceived fresh and "perimeter aisle" products.
Flowers Foods To Cut Costs And Build Brands In 2017
Flowers Foods, which has been struggling with sales, may finally be turning a corner thanks to its organic bread brands. Though the fresh bread category has been soft, the overall market for organic breads (such as Flower's Dave's Killer Bread and Alpine Valley Bread) continues to grow, according to CEO Allen Shiver.
To further growth, Flowers plans to invest in greater product innovation and marketing to keep brands fresh and relevant to consumers.
Going against the grain, Shiver also said Flowers is exploring adjacent categories, such as snacks, and other channels, like food service and in-store bakery, that it has not focused on in the past. These new initiatives are part of Flowers' "Project Centennial," a comprehensive business and operational review that aims to grow sales through brand rejuvenation while also cutting spending.
"While we always paid close attention to consumer trends, we often did not capitalize on them. That will change," Shiver said.
When it comes to future M&A or investing, Shiver noted that the company is particularly interested in adding to its snack capabilities and offerings but did not elaborate.
Dean Foods Expands Portfolio To Counter Declining Milk Demand
Dean Foods, the largest American dairy processor in the U.S., is looking to its branded dairy products and ice cream, as well as a new organic partnership, to improve company sales.
Dean Foods united all of its milk brands under its national brand DairyPure last year, and now it is working to expand the brand's portfolio of food offerings. Dean also plans to broaden its reach in the natural category by releasing a line of natural ice cream under its newly acquired Friendly's brand.
Long term investments are also in the works for the company. Dean launched a strategic joint venture with CROPP, the largest independent organic farmer cooperative in the U.S., in November. This partnership gives Dean Foods 50 percent of the profits of Organic Valley, a leading organic dairy brand, as well as a new channel for future growth. But because the partnership's rewards won't come to full fruition until mid to late 2017, Dean will likely see little profit from the venture this year.
"I think the key with Organic Valley is it, for us at a high level, rounds out our portfolio. We're able to go to retailers and talk about the number one selling conventional milk with DairyPure," CEO Ralph Scozzafava said to investors during the call.