Is Product Reformulation Food's Best Kept Secret?
Food manufacturers may be embracing cleaner ingredients, but they're a little more hesitant when it comes to talking about it.
In an annual health and wellness progress report conducted by Consumer Goods Forum (CGF), the global industry network of retailers and manufacturers found that 66 percent of reporting companies reformulated products in 2016. More than 180,000 of those companies products were brought to market to support healthier diets or lifestyles for consumers– an increase of over 100,000 products from the previous year.
Sharon Bligh, Director of Health and Wellness of CGF, said she was "very happy" with the number of companies embracing cleaner, more transparent ingredients. Reformulation is one of four health and wellness commitments the group asked its more than 400 members, including Ahold Delhaize, Campbell's, General Mills and Ito En, to make in 2016. Others included increased employee health and wellness programs, industry wide consistent product labeling, and an end to marketing communications to children under 12 years old for products that do not fulfill nutritional requirements.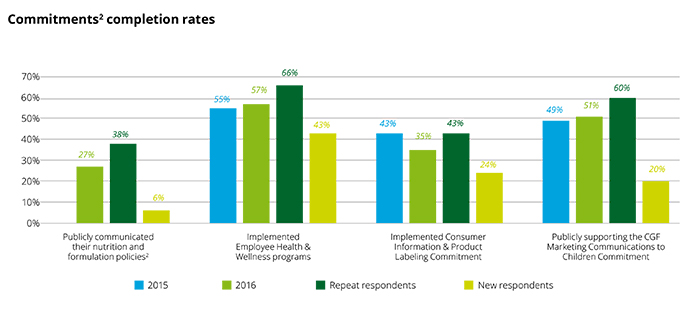 "Our members are really working on product reformulation and there are huge investments from the industry," she said. "I think one of the drivers that has really pushed this has been the demand from consumers. They are really actively looking for solutions to change their diets and their lifestyle."
Sodium and sugar were the most frequent ingredients removed from food and beverage products throughout the year, while whole grains and vitamins were the most likely to be added. An increasing number of companies are also reducing or removing synthetic dyes from their ingredient panels.
Though the number of reformulated products aimed to be healthier has grown significantly, the topic remains hush among manufacturers. Of those working to improve the nutrition of their products, only 25 members — roughly 27 percent of those surveyed — made their company policies regarding nutrition and product formulation public. CGF is looking to change that.
The group's health and wellness sector, made up of retailers and manufacturers, will be launching a product reformulation "framework for action" this June to give its members a step-by-step guide for how best to communicate reformulation research and innovation to the public.
"We see a big overlap in the reformulation area and consumer information," Bligh said. "People really want to understand what is in the products, and more and more manufacturers R&D departments and marketing and communications departments are working even more closely to have coordination on the two. But we're still seeing that gap."
Bligh said many companies avoid speaking publicly about their reformulation efforts because they find that consumer's perception on recipe changes aren't always positive as one might think — and sometimes that results in a dip in sales.
"Often when they told consumers this has reduced sugar or whatever ingredient, they found the reaction was that it was going to be a bit bland or not taste as well," Bligh said.
The action plan evaluates how brands can take action throughout a number of phases, from defining and communicating goals internally, to building a communication strategy, to actually implementing the change and accurately measuring its outcome. The group also published a book of case studies last month to highlight what other manufacturers are doing in this area.
Bligh added that she hopes the framework will not only be a resource for companies to understand how to achieve this commitment on an internal level, but will also be an inspiration for the industry as a whole to commit itself to reformulating products, as well as more clearly communicating to consumers they do so.
"What is good for the consumer is good for business," Bligh said.