Primal Kitchen Brings Caveman Diet From CPG To Fast-Casual
It looks like "new-age caveman" Mark Sisson is also a Renaissance man.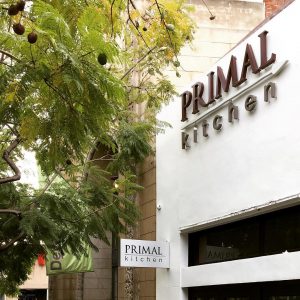 Sisson, a 10-year health blogger and author who had established himself as an expert within paleo and clean diet spheres, started Primal Kitchen Foods three years ago. Last year, he launched a healthy lifestyle certification program to align with the primal diet, the leading blueprint behind his budding condiment and snack brand. This year, he's doubling the amount of products in his brand's portfolio and deepening his footprint in the food world, moving from CPG into fast-casual restaurants.
The idea to open a restaurant began three years ago when Sisson was approached by now-business partner Mario Altiery, president and founder of Upside Group Franchise Consulting. He told Sisson that he wanted to partner to fund and create a line of restaurants that serve fast-casual fare that aligned with Primal Kitchen's already highly followed the primal diet: high protein, gluten-free, artificial sweetener-free, dairy-free, organic and GMO-free foods. The two have been working together ever since.
"We're intending to serve anyone aiming to eat food free of additives, preservatives, overused seed oils, but we also want to be the place where people who work together can go to lunch," Sisson told NOSH. "We wanted it to be a place that everyone could find something on menu that they love."
Franchises will be open for breakfast, lunch and dinner, serving up items like frittatas, chicken and waffles, blackberry ribs and burgers. Prices range from $9-$15. Each restaurant will also have a marketplace for snack items, which will include all Primal Kitchen products as well as other clean food brands curated by Sisson and Altiery.
Restaurants will feature Primal Kitchen Food's new products as they become available throughout 2017. Currently, the company has 10 SKUs, but will be doubling that by June with products like an egg-free mayonnaise, a collagen fuel drink and four new salad dressing flavors. Sisson said Primal Kitchen Restaurants operates as a separate business from Primal Kitchen Foods, but that they are "quite synergistic."
"I'm trying to promote a lifestyle based around healthy eating," Sisson said. "So the way I look at it is, I have just given people a couple of choices. One of which is [for consumers] to go into a grocery store and buy some of the materials and make a meal at home. The other is, 'Well I don't want to do that. I think I will just go to a Primal Kitchen restaurant and they'll make it for me.'"
Primal Kitchen has already announced that it will be serving Paleo Treats' Brownie Bomb and FitVine wine. Though Sisson said he could not yet disclose any other specific snack brands to be featured in the restaurants, he did say jerky, bars, cassava chips, healthy pork rinds, chocolate and coffee are all currently being considered.
Brands interested in being sold in the franchises must submit their products for review. A board, including Sisson, will then take into account different variables like sugar content, grains used, oil processing and consumer following to curate the shelves.
Primal Kitchen is currently working with eight signed and potential franchise owners to establish locations in places including Clover City, South Bend, Indiana, and Portland, Oregon. The food brand's popularity or sales numbers had no impact on determining restaurant locations, according to Sisson.
"The first round of franchisees have all come to us because they have been followers of the paleo diet or the primal blueprint and they were looking for an opportunity like this," Sisson said.
Primal Kitchen Restaurant's first franchise in Los Angeles is expected to open this April. The Culver City spot will be led by owners who arguably know Sisson's mission better than anyone else: his children, Kyle and Devyn Sisson.
"I've always been interested in healthy eating," Kyle Sisson told NOSH. "… But growing up, I always had this idea that I didn't really want to be a part of or take over the family business. This was just far enough away from it. I can be my own boss, but I can also take pride for all the work my dad has been doing in the health and fitness world."
The restaurant is not the first fast food joint to be tied to a packaged food brand. Amy's Kitchen, best known for its organic frozen meals, opened an all vegetarian drive-thru restaurant in Rohnert Park, California in 2015. But Sisson isn't looking to have a single location. He wants restaurants promoting his primal blueprint to be scattered throughout the country.
"I see an opportunity here from a business standpoint that I can provide not only tools, coaching and strategy for this lifestyle, but also places and food to eat with the intent of delivering great taste and healthfulness," he said.