Plant-Based Meat Category Sizzles With Innovation and Growth
Plant-based, "bleeds-like-meat" brands Beyond Meat and Impossible Foods have been competing in the fight to win over flexitarian consumers looking to still enjoy a burger. This week, both companies had new developments in their quest to make plant-based options more accessible.
Today, Impossible launched a new sales channel with DOT Foods, America's largest food redistributor, to gets its burgers in more restaurants nationally. On Monday, Beyond Meat announced its first venture beyond burgers with Beyond Sausage.
For Beyond, the latest innovation — a mix of pea, fava bean and rice in an algae casing — will launch in one Whole Foods Market location in Boulder, Colorado, in three flavors: original bratwurst, hot Italian and sweet Italian. The company will also open a new laboratory facility in early 2018.
"I love Beyond Sausage first and foremost because it's truly so enjoyable to eat but also because I see it as an advance in our team's relentless march toward a perfect build of meat from plants," Ethan Brown, CEO of Beyond Meat, said in a statement. "Though we aren't there yet, I'm encouraged by the progress we've made with Beyond Sausage and look forward to hearing what the consumer thinks."
The news follows the company's recently closed raise of $55 million, which was led by Cleveland Avenue, the venture group founded by former McDonald's Corporation CEO Don Thompson, along with Tyson Foods and a few celebrity investors. Beyond has also been going through a growth spurt in regards to its store count. Since Memorial Day, according to a spokesman, the company has seen double-digit growth in retail with the Beyond Burger, picking up major grocers Kroger and Albertsons and, within the past few months, Shaw's and Ahold. In total, the company is in over 15,000 retail locations with over 5,000 selling the Beyond Burger..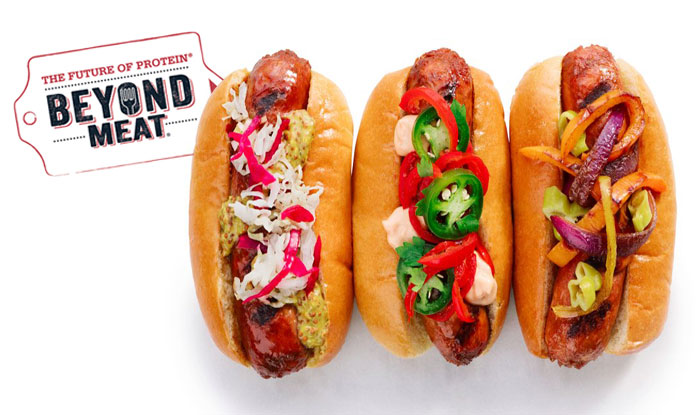 Though the company is gaining grocery locations, it also is focused on food service. The Beyond Burger is in thousands of food service locations — including restaurants, dining halls, hotels and more — and the brand has an exclusive partnership with food service giant Sysco. Most recently the brand completed a test with chain TGI Fridays and will rollout chain-wide next year.
But Beyond will have more competition in food service with Impossible Foods' latest distribution advance. Currently Impossible Foods has their own plant-based burger sold in 400 restaurants, but the DOT partnership gives Impossible Foods a national sales network that will allow more restaurateurs to add the Impossible Burger to their menu.
Redistribution as a whole in the foodservice channel alone is a $5.5 billion industry in the U.S., according to Chicago-based marketing research firm Technomic Inc. It's proven to be an effective tool for handling cost-to-serve issues for high-cost customers like Impossible whose volumes may be low or who require extra special handling of things like mixed pallets or less than-pallet loads.
The Illinois-based redistributor has nine distribution centers serving all 50 states, according to the company. Deliveries of the Impossible Burger are expected to begin on January 2.
"The Impossible Burger is that rare menu item that excites customers and generates lines around the block — a real differentiator in America's highly competitive restaurant sector," Stephanie Lind, Impossible's SVP of Sales, said in a statement. "We want to make it as easy as possible for restaurants to get the Impossible Burger, and that means working with the most trusted, reputable distributors in the food industry."
To better highlight the reasons why restaurateurs should add Impossible burgers to their menus, the company launched a campaign to boost its efforts called "Put Me On Your Menu." Under that website domain, restaurant and foodservice industry leaders are able to fill out a form to express interest in the product, but also learn more about how Impossible's addition has resulted in increased sales in their previous accounts.
Meanwhile, Impossible, which has focused on largely on foodservice until now, is eyeing grocery — Beyond's domain. In September, Impossible Foods announced that it has officially begun production of its plant-based patties in its new 68,000 square-foot Oakland, California-based facility — a major stepping stone on its path into traditional retail. To aid in these efforts, Impossible brought on veteran sales leader Stephanie Lind this week as the company's first Senior VP of Sales. Lind, formerly the VP of North American sales for Kerry Group, has also held executive sales roles at food service giant Sysco, McDonald's supply chain partner Havi Logistics, PepsiCo and Pepperidge Farm.
The continued announcements of innovation and growth comes at a time when both Impossible and Beyond are looking to be the first meat-mimicking, plant-based brand to reach wide commercial scale. The unspoken competition between Impossible and Beyond stems from their shared goal to embrace the texture and flavors of meat in their R&D — and the similarities don't stop there. Both companies also have attracted some impressive investors to back their growth. The brands, however, have taken different approaches in formulation: The Beyond Burger is non-GMO and contains no soy or wheat, while the Impossible Burger uses both ingredients as well as genetically modified soy leghemoglobin, or heme.
Beyond and Impossible may be the industry's current heavyweight darlings, but they're not the only fighters in the plant-based meat ring. Maple Leaf Foods acquired grain-based meat alternative Field Roast earlier this month. Unlike Impossible and Beyond, whose consumers are seeking meat-like qualities, Field Roast's consumers and employees voiced concerns after the acquisition regarding the company's commitment to its vegan roots. In September, Nestle also announced its acquisition of frozen vegan and vegetarian meat maker Sweet Earth.
SaveSave
SaveSave