Nutrition Bar Founders Hope to 'Empact' Lives of Women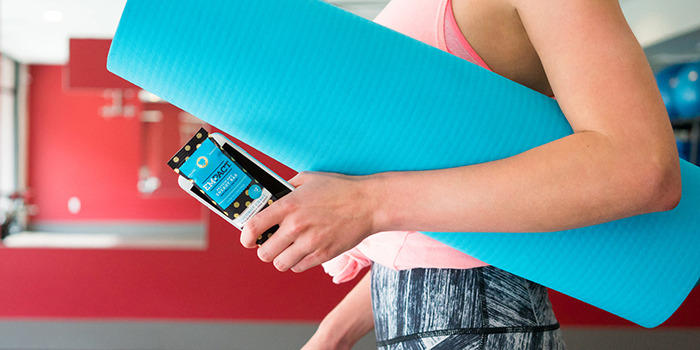 In 1999, when Clif launched Luna Bar with women as its target consumer, the move was seen as innovative and perhaps daring because it focused on only one part of the market. Now, as the bar industry has become a multi-billion dollar category, the founders of a new product, Empact Bar, also see a future in a new generation of nutrition bars that both appeal to and even help empower that female demographic.
Colorado-based Empact Bar was created six months ago by two married former lawyers turned fitness video and healthy snack creators, Melonie and Zeke DeRose. The women-focused and mission-driven protein bar company wants to not only fuel women throughout their day with nutrient-dense food, but also to empower women. "The idea is that when you empower a woman or you empower a mother, you empower the entire community," Zeke DeRose, founder and "chief gentleman," said.
The gluten-free bar, which retails for $2.49, is currently sold in over 300 stores, including Texas-based retailer H-E-B and Kroger; it comes in three flavors — chocolate cherry bling, maple-licious and coconut crave. The Deroses expect the bars to be on shelves in 700 stores by the end of the year.
The bars are packaged in brightly colored wrappers with metallic polka dots and an edgy slogan calling women to "find their inner goal diggers." Though the packaging is intended to be fun, Melonie DeRose said the company means business about recognizing women.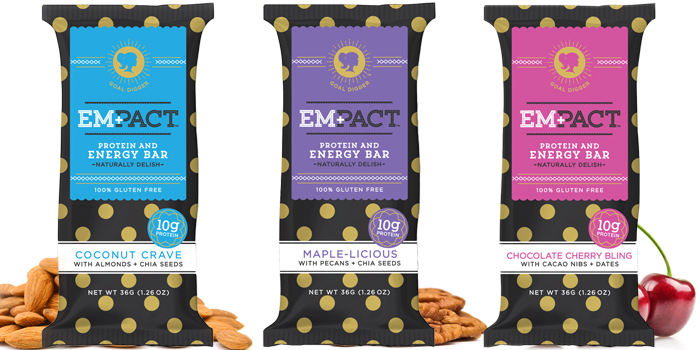 To lead by example, the company is making it a point to work with women-owned service providers, like its first broker and designer. While these are longer term initiatives, Melonie DeRose said she thinks the company is "making a direct impact right now" in women's lives by working directly with nonprofits.
Empact also hires paid temporary employees from The Women's Bean Project, a nonprofit that helps chronically underemployed and impoverished women transition to full-time employment through job training programs. The employees assist with fulfilling and shipping online orders.
"[The partnership gives an] opportunity for the Women's Bean Project program participants to see that the work they do is valued, and that another company's operations are depending on them. The women we hire have such low self-esteem when they begin working here. Our job is to help them see they have value and that they are worthy of a better life," Tamra Ryan, CEO of the Women's Bean Project, said. "As Empact becomes more and more successful, there will be a direct impact on the number of women we can hire – and lives we can help change."
Empact also works with Dallas-based Jonathan's Place, a nonprofit shelter for children in the foster care system. Empact has run training programs with the shelter's teenage women to help them prepare for the business world. "For us it was, how do we get our hands dirty, how do we affect and empower women now, and make a difference today. We are literally writing a check every month not based on revenue, not based on profit, but we are hiring these women," Zeke DeRose said.
When initially launching the brand, Zeke DeRose said the company didn't know if they should focus on the bar's product attributes or its mission.
"Walking into the food space with a background in law, it was difficult to decide what message to go with," he added. "Our assumption was that we needed to lead with gluten-free, paleo-friendly, and obviously we are a female focused brand, but what we found is actually retailers and our customers are super into our mission focus. People will come to us and say 'you need to lead with that' so we've been receptive to it."
The company's mission is also resonating with investors. John Maggio, an investor and strategic advisor for Empact, said he thinks given the current political climate, now is the perfect time for a women-focused product.
"Young millennials coming into the marketplace [are] saying they're voting with their pocketbooks," Maggio said. "They're saying, 'I want to get involved with something. And I am going to buy something I think is really making a difference and helping people make a difference.'"
Maggio added that Empact has plans to release more bars in 2017 for different eating occasions. For now, Melonie DeRose said her main focus is to continue to grow the company and build velocity in their current retailers. She added that growth is good for more than the bottom line. The more bars they sell, the more women they will need to hire, and the more resources they will be able to offer to their partner programs.
"About 86 percent of grocery shoppers are women," she said. "We believe this is a void we can fill with a mission women can believe in."