Listen: Banza Closes $7.5M Round for Protein Pasta
Today pulse-based pasta brand Banza announced the close of a $7.5 million series A financing round. Beechwood Capital led the investment with Strand Equity Partners and RSE Ventures also taking part. The investment follows two years of growth in which Banza has expanded from roughly 1,700 stores to 5,000 retailers.
Banza last raised funding in 2015 when it had a $1.3 million dollar seed round which RSE also took part in through its VRSE fund (a joint venture between the investment group, Gary Vaynerchuk and VaynerMedia).
The Detroit, Michigan-based brand was drawn to Beechwood for the group's strategic assistance and forward thinking nature. "[Beechwood] understood that we were taking a long term view of making foods more affordable and accessible to everyone and being able to do so with more nutritious ingredients," Scott Rudolph, Banza's co-founder, told NOSH. "What was exciting was that they really took that long term thesis and its hard to find that in the financial community."
Beechwood typically invests in companies with $5-$50 million of revenue with $1-$5 million in earnings before interest, taxes, and amortization (EBITA) and targets investments of $1-$5 million.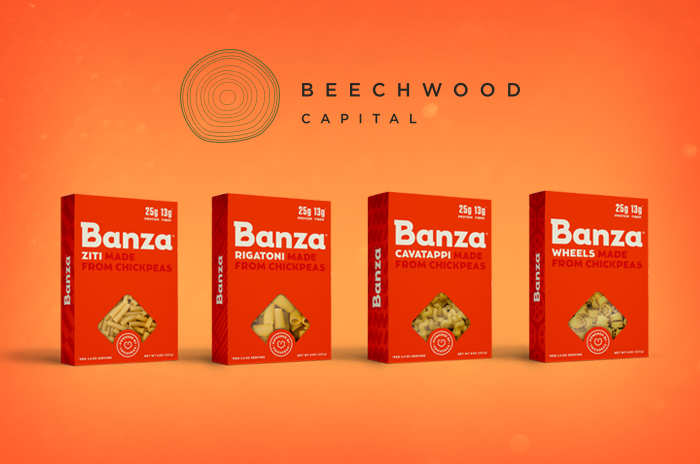 Beyond the numbers, Banza, fits Beechwood's strategy of focusing on disruptive brands, said Larry Kahn, the fund's founding partner and managing director. Kahn noted that he was particularly excited by Banza's ability to bring consumers back to the center aisles of a grocery store.
To further its goal of attracting new customers, Banza has spent the last few years focused on increasing its product portfolio — launching new noodle shapes and moving into macaroni and cheese. Along with the funding, Banza announced the launch of six new pasta shapes: angel hair, cavatappi, linguine, wheels, ziti and rigatoni. Banza co-founder Scott Rudolph told NOSH that the company wants to offer consumers better-for-you pasta options that would work with every recipe before moving into other center store categories.
Founded in 2014 by Rudolph and his brother, Banza is currently sold nationwide in retailers including Target, Eataly, Jewel-Osco, The Fresh Market, Costco and Sprouts. The product uses chickpeas as a base and is high-protein, high-fiber, non-GMO and free of the top eight allergens. In 2017 the company was part of the inaugural class of the Chobani Food Incubator.
At Project NOSH Live this past June, Project NOSH Editor, Carol Ortenberg, sat down with Rudolph and Kahn to discuss the incipient round. To hear the full interview, please listen above.