Juice Press Makes Travel Play at NYC Airports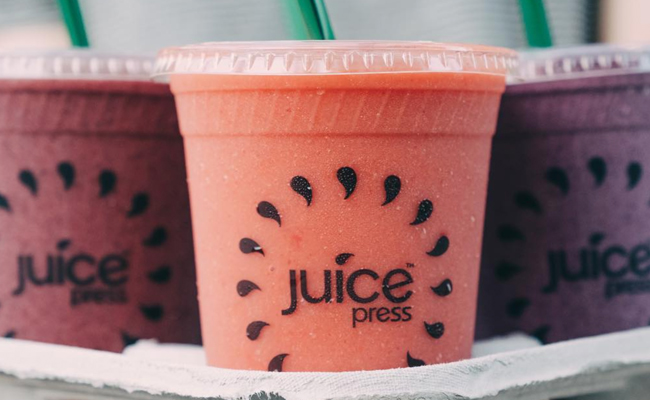 Cold pressed juicery Juice Press is seeking to expand its grab-and-go business to travelers from around the world via a partnership with airport retailer OTG that will put some of the company's ready-to-drink and energy bar products in three major New York City area airports.
Juice Press's Greens + Earth and Ginger Fireball cold-pressed juices, along with the brand's Almond Cacao Energy Bar and Mint Chip Energy Bar, are now available in LaGuardia, John F. Kennedy, and Newark Liberty International airports. Juice Press chairman Michael Karsch told BevNET that the selected SKUs contain "immunity-boosting properties" that would appeal to travelers on-the-go.
The airport expansion is the beginning of a move into wholesale for the company. While Juice Press has recently added retail partners, including locations in Grand Central Terminal in New York and Union Station in the District of Columbia, the brand was previously sold exclusively at its 68 brick-and-mortar locations nationwide, Karsch said.
"We have national ambitions, but this relationship is a major development for Juice Press because it is our first wholesale relationship and the airports serve more than 100 million travelers yearly," Karsch said.
The company has aggressively grown its brick-and-mortar presence in recent years. Speaking to BevNET this summer, Karsch said the East Coast company only had 4 retail locations five years ago, but expects to have 120 Juice Press stores opened by the end of 2018.
In addition to airports, Juice Press products are also now sold wholesale to SoulCycle, a New York City-based cycling-gym chain that is a subsidiary of Equinox Fitness.
"We have had more requests to launch our products in the airport than anywhere else, while at SoulCycle, the fitness brand's desire to add healthy beverages (without being able to retrofit their studios to build a full Juice Press retail store) led to the launch of our kombucha line," Karsch said. "This is significant because both are unique avenues of distribution that allow Juice Press to be more accessible outside of our own locations, which has been a focus for the brand."