'Crapola' Brings Poop Puns to CPG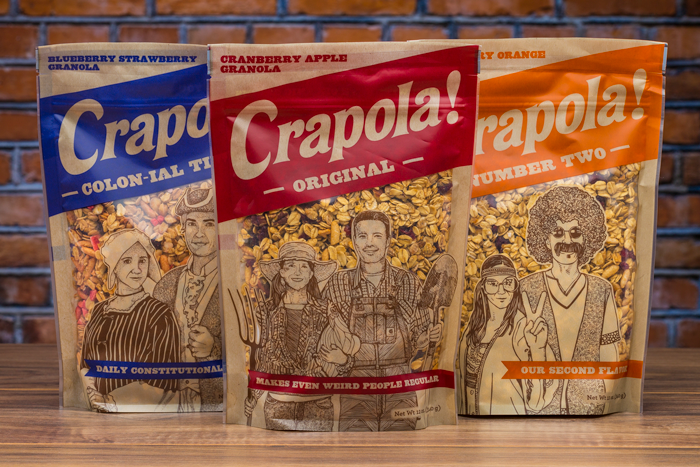 Want to top your yogurt with a bunch of Crapola? Brian Strom sure hopes so. He's built his entire business around the notion that people are never too old for a good poop joke.
Strom, cofounder of Crapola, launched the Minnesota-based artisanal granola company with his wife, Andrea, in 2007 as "simply a joke." Now, the company is celebrating its tenth anniversary, and Strom is reflecting on the pun-forward brand's history while in pursuit of a different kind of throne: major retailers' shelves.
"When I started, I thought it would be funny if you made a cranberry-apple granola, and called it 'Crapola' just because of the word play. That was it," Strom told NOSH. "There was no plan… It was just a couple of novices with a joke."
The brand's four SKUs, which retail for under $6, are made with organic grains and are (perhaps unsurprisingly) high in fiber. The line is currently sold in more than 200 stores including Hy-Vee and Festival Foods, and, while made with high quality ingredients, Storm said it's the company's branding that retailers find most appealing.
The names for each variation all play to the power of puns: "Crapola," "Number 2," "Colon-ial Times," and "Kissypoo." The brand's tagline, "Makes even weird people regular" and illustrated packaging follows suit.
Strom said he started with the recipe, which he reverse-engineered to include cranberries and apples in order to make the joke work. He then launched at local farmer's markets, a humble start that Strom described as "kids with a lemonade stand."
"It was just to make people laugh so in some ways, even just bringing it to the farmer's market helped us to achieve our entire goal," he said. "We didn't have a business plan beyond that. We just brought it to life."
However, the couple soon learned that running a CPG company without a fully developed plan was anything but funny. Just four months after its inception, Crapola got a shout out from Jay Leno on "The Tonight Show." It was "too much too soon." Crapola quickly outgrew its kitchen space and the brand faced difficulty fulfilling orders as it began to pick up retailers. In 2009, Strom purchased a small production facility to better meet this new demand. But, not predicting the brand's continued growth, Crapola quickly outgrew its facility yet again within a few years.
In October 2015, Crapola closed a Kickstarter to fund the the purchase and build out of a new 2,000 square foot production facility. The commercial kitchen is also home to the brand's own cafe, where it sells baked goods and granola bars.
"Our goals have changed quite a bit — going from zero goals and no clue what we were doing to kind of evolving, painfully, through the growing pains," Strom said. "We were always playing catch up for years. The brand was kind of dragging us around. And we were hanging on with white knuckles."
The company is still privately owned and independently funded, but Strom said the brand is considering seeking investments in order to help with future distribution growth and portfolio expansion. The granola bars currently sold in the brand's cafe "make sense" as the brand's next product, but Strom said they've struggled to scale the recipe and find a co-packer. Also in development are additional serving sizes, including a move into the grab-and-go space.
For now, Strom said he is working on expanding his retail presence. To meet this goal, the company attended this summer's Fancy Food Show, the brand's first trade show. Strom said he was "really encouraged" by the brand's positive reception.
"This is a hard [product] to sell on the phone," he said. "But when they taste it, they're hooked."