Earnings Roundup: Terravia Looks For Buyers, B&G For Acquisitions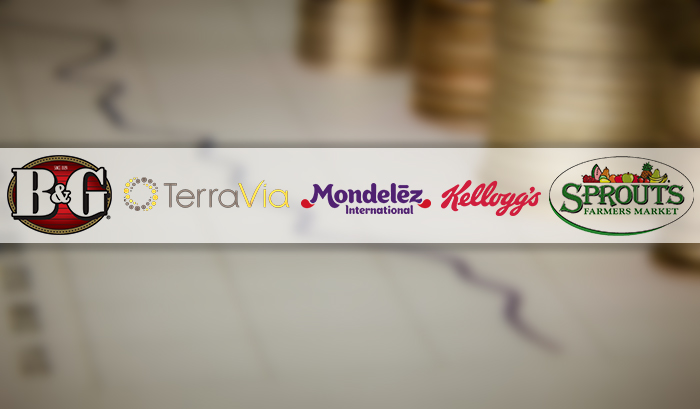 Industry leaders have been trying to grow their companies by expanding their brand portfolios, testing product innovation and increasing store counts. For some, it's working. Others are looking to investors for some help.
In this week's earning calls, Terravia Inc., B&G Foods, Sprouts Farmers Market, The Kellogg Company and Mondelez International talked Q1 sales and how they are employing new strategic initiatives to better work toward their 2017 goals.
Terravia Looks to Sell Part or All of the Company
Microalgae company Terravia announced it is looking to sell a portion or all of itself as part of its debt restructuring plan, CEO Apu Mody said during the company's Q1 earnings call Wednesday.
"The company is actively engaged in a process with a number of strategic and financial parties to sell substantially all or a portion of the company by or before the conclusion of the period," Mody said. He also noted that the company is also in negotiations with note holders to equitize its debt if the sale process is ultimately unsuccessful.
The announcement comes as the San Francisco-based company is working this year to diversify its portfolio with products like AlgaPrime DHA, designed for the animal feed market, and AlgaPur, for the personal care market, ahead of launching its highly anticipated algae butter in early 2018. Mody said he thinks the butter, which was originally slotted for a 2016 release, "has the potential to be a blockbuster."
Butter isn't the only innovation top-of-mind for Mody. He added that TerraVia's culinary algae oil Thrive is expected to make expand its U.S. retail presence with major chains in the coming months. As for AlgaVia powders, the company's first foray into the food ingredient world, Mody said the company is "actively [engaging] in discussions around potential strategic partnerships."
B&G Ready to Look For Next Acquisition Opportunity
During B&G Foods' Q1 earnings call Thursday, President and CEO Robert Cantwell said the company has "successfully completed [their] debt refinancing and remain[s] ready to act when [they] find the next acquisition opportunity."
The company's most recent acquisitions have proved fruitful. Late last year, B&G acquired Victoria Fine Foods Holding Company and Victoria Fine Foods, as well as the spices and seasonings segment of ACH Food Companies. The company's acquisition of frozen product brand Green Giant in 2015 had a rockier start. However, through product innovation like Veggie Tots and Riced Veggies, the market share for the brand increased each month in the quarter. The company is in the process of broadening its offerings with the launch of a new line of brick-oven baked beans.
As for its next acquisition, Cantwell said size will not be a restriction for the company.
"We can pretty much finance as big as you can think. But it has to work in our model," he said. "At the end of the day, it's not about acquisition size. It's about whether it sells through our same sale system. It goes on our trucks. It's more line items on our invoice… So if that works, we can buy another Victoria or we can buy something that's twice the size of Green Giant."
Sprouts Talks Amazon Prime Expansion, Enhanced Food Service Program
Even in a time when the natural grocery retail is considered "an industry with continued deflationary challenges," Sprouts is seeing growth rather than slumps, CEO Amin Maredia said during the company's Q1 earnings call Thursday.
"I am extremely proud of the Sprouts team for delivering our 40th consecutive quarter of positive comps," Maredia said to investors. "Our focus remains on our strategic priorities of category innovation, developing team members, enhancing the customer experience and investing in infrastructure to support our long-term growth."
Riding this wave, Sprouts announced it is doubling its 10-store test of providing home delivery through Amazon Prime Now this year. A "robust" rollout of the partnership is expected for 2018. The grocer also maintained its earlier plans to open 32 new stores, of which some are getting a face lift. Sprouts said it is on schedule to introduce its enhanced deli program at 50 new and existing stores this year. The program includes a full-service case of prepared meals and sides, a salad bar, juices and a soup station.
"What we've learned is, it's a business that builds over time because customers are getting used to it, now that you have expanded that product into your stores," Maredia said.
Hungry For Growth, Kellogg Cuts Costs
Though Kellogg reported an overall sales decline this quarter, the cereal maker is crediting its 50 percent rise in profit to its recent cost-cutting measures, according to the company's Q1 earnings report released Thursday.
Kellogg launched Project K, a restructuring program to ramp up production and profit through job cuts and other means, four years ago. The largest cut came in January when the company announced it was switching to a new warehouse distribution system for its snack segment, cutting about 2,000 jobs– including 250 from its American business– in the process.
"We continue to make progress on our 2020 Growth Plan, which directly addresses many of the revenue headwinds we are presently facing, and we have good visibility into continued currency-neutral operating-profit margin expansion," Kellogg Chairman and CEO John Bryant said. "[But] like virtually every packaged food company, we experienced a suddenly lower consumption trend across all categories in the U.S."
Mondelez Responds to 'Challenging Market Conditions'
While some companies are seeing growth as consumers desires for healthier food flourishes, Mondelez is struggling.
"The accelerating growth of well-being products is one of the biggest shifts facing our industry, and we're addressing this with urgency," Rosenfeld said. "As we enter the back half of 2017, we have an unprecedented pipeline of innovation, including new items like Véa as well as renovation of existing products like Triscuit," Mondelez Chairman and CEO Irene Rosenfeld said during the company's earnings call Tuesday.
To make the switch to better-for-you options, the company launched GOOD THiNS last year. The newest line, Véa, a whole-grain product, will be introduced in July. Aside from product innovation, Mondelez also talked about new packaging capabilities that could simplify the manufacturing of smaller packages of healthier products, like its belVita Protein biscuits.