Denver's Plan: Partner With Industry To Grow City's Food Economy
Denver's got a vision — a food vision, to be exact.
In this vision, the city is an "epicenter for the regional food economy," one in which manufacturers, retailers, civic institutions and politicians are focused on ways Denver's food system can be more vibrant and accessible for consumers, producers, and the food business in general.
A working group composed of leaders from the Mayor's office, the City Council, community sponsors and the Denver Sustainable Food Policy Council released The Denver Food Vision last month. The plan was developed over the course of 18 months and involved 22 community and industry focus groups.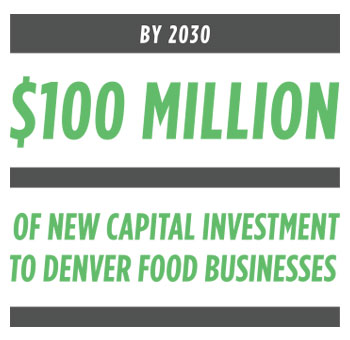 Denver is one of a dozen communities across the country that have announced they are taking a comprehensive approach to developing their local food systems. The vision lays out priorities and winnable goals in the CPG, retail, restaurant, community garden and agriculture spaces to be met by 2030. One of its goals? To attract $100 million of new capital investment to Denver food businesses.
But the idea isn't simply to grow industry for industry's sake, notes Blake Angelo, the city's manager of food system development, a part of the Office of Economic Development (OED). The bigger effect will come as the growth of these businesses creates economic opportunity and helps affordable food reach households across the city's varied socioeconomic groups, he said.
"The best opportunities we found were to help businesses scale to the point that they can be producing things more efficiently, more effectively and reaching broader markets at a lower price point," Angelo said.
By 2030, the city wants to increase the size of its food economy by $500 million, from $6.9 to $7.4 billion per year and aims to make 25 percent of all food purchased by public institutions come from Colorado.
Right now, with 2,221 food related businesses, Denver's food system generates about $6.9 billion in economic activity annually, according to the planning document, with about $3.5 billion — and 6,000 jobs — coming from the manufacturing sector alone. One in 10 of all jobs in Denver are food-related, with occupations in growing, distributing, value-added processing work and retail and foodservice industries.
Here's how brands and manufacturers, retailers, and entrepreneurs fit into the city's vision for a more "inclusive, healthy, vibrant and resilient" Denver.
Brands and manufacturers
Food businesses and manufacturers are taking on a central role in the plan.
"When we think about food, we think about food in the broadest possible sense, from not just the farms and ranches where food comes from, but even the input suppliers of technology, capital, seeds, all the way through to the consumer," Angelo said. "In an urban context, we really try to highlight the important roles of the sometimes hidden food system players, particularly distributors, food manufacturers, and processors– like a farm to plate kind of model."

To develop this market more effectively during the vision's first five years, the city wants to increase the production and international exportation of all Colorado-made products, specifically Denver-made and manufactured products.
It will also work to streamline city permitting processes for food-related businesses across all agencies. This is one implementation that both entrepreneur and more established business owners, like Mario Esparza, cofounder of Denver-based food company PB Love Co., said will be "extremely helpful" moving forward.
"I'm excited for that process to finally be addressed and made better for not only people who want to start businesses, but also current business owners who have to refill out these things," he said.
Shortening stacks of paperwork isn't the only thing the city wants to help business owners with. The OED will be evaluating everything from business incubator support and how to recruit major food-related businesses, as well as items like living wage job creation, the connections between Colorado farms and Denver-based food businesses, and food workforce training programs.
But the current food system is under stress. Angelo said rents on warehouses and other infrastructure that could be used by food companies are seeing spiraling rents and limited opportunities because of the city's thriving marijuana and craft beer businesses. To compete, he added, the Food Vision plan includes "the priority of enhancing food system infrastructure including aggregation, storage facility, commercial kitchen and potentially public market spaces to really enhance that value-added production and connections to the marketplace."
Retailers and Entrepreneurs
To boost the economy, Denver is also focusing on retail and entrepreneurs in its vision.
The OED is expanding its efforts to recruit full service retailers into neighborhoods with low-food access by offering financial incentives and site selection support. Currently, one in six people Denver residents suffer from food insecurity or hunger.
"We want to make sure [smaller markets] have access to these healthy foods at reasonable prices so that they can then pass them on to their neighborhoods," Anne Misak, Healthy Food Program Manager at Colorado Enterprise Fund and a member of the sustainable food policy council, told NOSH.

The panel is also trying to work through how to attract independent, mid-tier grocery stores in order to give consumers more purchasing options, she said. Denver is home to 92 grocery stores, but some of the state's largest formerly independent chains, like King Scooper and City Markets, are now operated by parent company Kroger.
Entrepreneurs could also form one of the threads binding Denver's food web together. Nearby Boulder is widely regarded by the industry as Colorado's natural food innovation hub, attracting businesses and entrepreneurs from across the nation. But now Denver wants a bigger piece of that pie.
That's not to say Denver has declared war on its neighbor, but rather it's doubled down on its commitment to the common goal of growing the state's food economy. Angelo said the ability of both cities' industries to merge resources like packaging space or co-packers, as well as the state's potential as a consumer testing ground, gives Colorado as a whole a competitive advantage when it comes to attracting entrepreneurs.
Esparza said that the state and specifically Denver's community of innovators and business leaders is also a major draw for start-ups.
"It's the community here," he said. "I've been doing this for more than five years so why shouldn't someone come and ask me questions if I can help? We're all facing the same problems, and there's a way we can solve them [that] makes the whole thing better for everyone."
What's Next?
To make these priorities a reality across all three food industry areas, Denver will need both public and private investments, but no specific entities were named in the vision statement.
The draft report is currently in a public comment period until January 31. Once that feedback is received, Angelo said the OED will take time to review and amend any priorities or strategies before entering its action phase.
But the larger food community has always been the heart of the vision and its planning process.
"We've always wanted this vision to come from the community and its businesses, not just a group of planners or city agencies involved," Misak said.