Deep River Snacks Acquired by Parent Company of Wise Snacks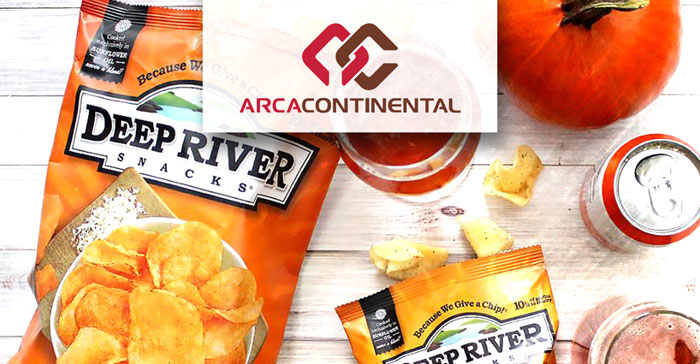 It pays to "give a chip" — literally.
Mexico-based Arca Continental, the parent company of Wise Snacks and the second largest Coca-Cola bottler in Latin America, announced on Monday that it is acquiring mission-driven chip producer Deep River Snacks.
Terms of the deal were not disclosed. The maker of the premium, better-for-you snacks, which includes kettle cooked potato chips, baked crisps, popcorn and Honchos organic seasoned tortilla chips, has national distribution with sales in excess of $45 million annually.
Jim Goldberg, founder and CEO of the Connecticut-based salty snack producer, did not immediately return NOSH's request for comment, but did share his thoughts on the deal in a post on Deep River's Facebook page.
"When I started Deep River Snacks 15 years ago, I wanted to prove that a business could be both successful and philanthropic," Goldberg wrote. "Through our mantra, 'Because We Give a Chip,' we've created the best tasting snacks using real, non-G.M.O. ingredients. But Deep River Snacks has become so much more than a bag of chips. The brand has become a platform to raise awareness for the organizations that have touched the lives of my family, friends and co-workers. We'll never stop giving a chip and now, with Arca's backing, we'll be able to have an even bigger impact in communities across America."
Arca also owns U.S. salty snack brands Wise Snacks, Si Senor and La Abeja, in addition to several South American snack brands. The company said that the purchase of Deep River is part of the its overall strategy to become a larger player in the U.S.'s highly competitive salty snack space.
With Deep River, Franisco Garza Egloff, the CEO of Arca Continental, said he hopes to attract consumers in both the conventional and better-for-you snack categories.
"This acquisition broadens the process of diversification and complementarity of the snacks portfolio for the US consumer with innovative products and in differentiated segments, allowing us to better serve our customers and enhance the development of our brands," Egloff said in a statement.
Deep River has strong roots in the Northeast U.S., and has grown sales partially through partnerships with independent beverage distributors. A key aspect of Deep River's brand identity was its dedication to social impact activities. Deep River donates 10 percent of its profits to charity and features non-profit organizations that have impacted employees on its packaging. The idea to do so came from Goldberg's sons; one of them is on the autism spectrum while the other has Primary Sclerosing Cholangitis and Crohn's Disease.
Manuel Barragan Morales, chairman of the board of directors of Arca Continental, noted in a statement that the company was attracted to Deep River's social mission and planned to continue to support these activities.
"Consistent with Arca Continental's profitable growth and long-term vision, we continue to expand our investment in complementary businesses in the U.S., hand in hand with a company that shares our core values and sense of social responsibility," Morales said.
The salty snack category has been on the rise in recent years, making successful brands such as Deep River attractive targets. According to IRI data, across 10 core snack categories, salty snacks was one of only four categories that grew in both dollars and units, with chips being the main driver.