In the Courtroom: Kraft-Heinz Suit Sets Patent Precedent, Mott's Sued for 'Natural' Claims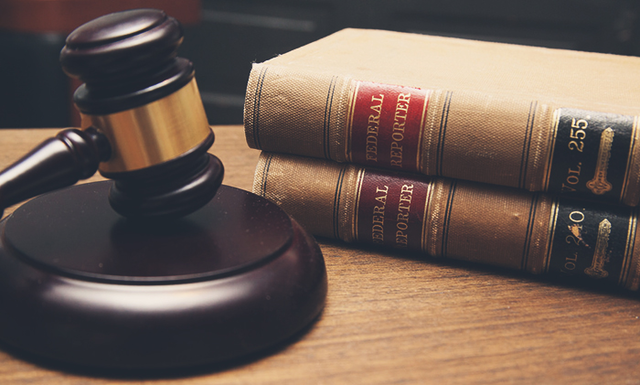 Food fights have been breaking out in courtrooms across the U.S. this month — and some of them are having major legal implications across the business world as a whole.
From patent restrictions and investor complaints to false labeling claims, these are the cases creating — or aiming to clean up — messy food dealings.
Woman Sues Jelly Belly for 'Deceptive' Sugar Labeling
A California woman is suing candy giant Jelly Belly for allegedly using deceptive language surrounding the sugar content of its products.
Jessica Gomez filed a federal class-action lawsuit against the Fairfield, Calif.-based candy company in March claiming she was unaware that she was eating sugar. Gomez alleges that Jelly Belly positioned its "Sport Beans" as a performance-enhancing product and did not explicitly list sugar as an ingredient, but rather as "evaporated cane juice."
Gomez said she thinks this use of the phrase is deceptive to consumers, and is seeking damages, restitution and a court order demanding the company end "fraudulent practices."
Jelly Belly may be in a sticky situation since the FDA previously recommended companies to avoid the phrase "cane juice" on their labels. Jelly Belly is trying to dismiss the suit, arguing Gomez's claims are based on non-binding FDA guidance instead of binding federal law. Still, the company has since changed their Sports Bean label to say "cane sugar," according to The New York Post's Grubstreet.
Food and Beverage Suit Sets New Standard for Patent Filing Practices
The U.S. Supreme Court is putting tighter restrictions on where patent owners can file infringement lawsuits in an effort to fend off "patent trolls." The unanimous decision changes a 30-year practice that has historically allowed the lawsuits to be filed anywhere the defendant company's products are sold.
In the lawsuit closed last week, judges sided with TC Heartland, a producer of water flavorings, in a case filed by Kraft Heinz. The court ruled that patent infringement suits can be filed only in courts located in the jurisdiction where the targeted company is incorporated, according to The Washington Post. The food giant sued TC Heartland, claiming its liquid water enhancers infringed on Kraft's MiO liquid water enhancer, and brought the case to the notoriously lenient Eastern District of Texas. Heartland was originally turned down by the courts when it attempted to get the case shifted to Indiana, where the company is headquartered.
Before the ruling, many companies, including food and beverage brands, made it a point to move their cases to the Eastern District of Texas. The area's court received about one-quarter of all the patent cases initiated between 2014 to 2016. That's more than were assigned to all federal judges in California, New York and Florida combined, the Post reports.
Motts Sued Over Use of 'Natural'
Beyond Pesticides has sued applesauce-maker Mott's for falsely labeling its "natural" applesauce line as natural, even though it does contain a toxic pesticide.
The national environmental health organization filed the suit against Mott's parent company, the Dr Pepper Snapple Group, earlier this month after finding residues of the neonicotinoid insecticide acetamiprid in the company's products, according to a press release. Because there is no official definition or regulations regarding the use of the term "natural," Mott's is claiming there is no infringement.
"People are looking for food products that are healthy for their family, children, and the environment, and deceptive "natural" labeling of products grown with pesticides undermines their best intentions," Jay Feldman, executive director of Beyond Pesticides, said in a statement.
The case is filed under the District of Columbia's Consumer Protection Procedures Act. Acetamiprid has been found to be toxic to pollinators, which many players in the food industry have been working to protect in recent months.
HealthyYOU Vending Suit Resolved
The battle between healthy vending machine companies HealthyYOU Vending and Grow Healthy Vending has been resolved after three years.
HealthyYOU Vending, a nutritional beverage and snack distribution company, has reached a settlement agreement, including a stipulated judgement and permanent injunction, with its competitor Christopher Wyland, chief executive of Grow Healthy Vending, according to a press release.
In 2014, Wyland allegedly posted untrue statements online about 1.800.VENDING and one of its owners. HealthyYOU filed a lawsuit in federal court that October, seeking monetary and injunctive relief. During the investigation, the false statements were traced back to Wyland's IP address and his numerous username identities. The settlement states that Wyland will make an initial payment of $25,000 to HealthyYOU and 20 additional payments over the course of the next two years.
"This has been a long process and we are happy to have it resolved," Jeff Marsh, HealthyYOU's chief operator officer, said in a statement. "Although it is now clear to everyone that these posts disparaging our company are fraudulent, from what we've discovered about his history, I am cautiously optimistic, at best, that Mr. Wyland and Grow will refrain from further disguised attempts to damage our company. Only time will tell."