CAVU Capitalizes on Crunch with Hippeas Investment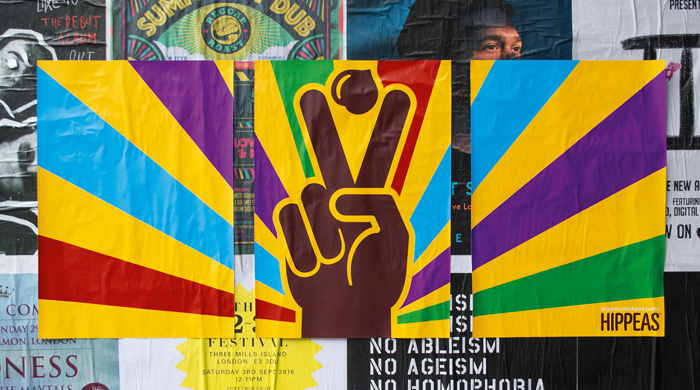 Hippeas continued its year long roll today, as the pulse-based salty snack brand announced it had received a $10 million investment from CAVU Venture Partners, the investment firm helmed by the CPG veterans Rohan Oza, Brett Thomas, and Clayton Christopher.
Thomas will join Hippeas' board of directors as part of the deal.
The investment follows a previous, attention-getting round of capital in May, when Strand Equity Partners and actor Leonardo DiCaprio were added to the cap table. While terms of that deal were not disclosed, Hippeas CEO and co-founder Livio Bisterzo told NOSH it was a smaller round and more about the partners it brought to the table rather than a needed infusion of capital.
Bisterzo noted that the $10 million will go to fund the company's continued growth in retail. Since its official launch in September 2016, the brand has been picked up in the U.S. by retailers including Starbucks, Whole Foods, Wegmans, Kroger and Albertsons, and online on Amazon and on Thrive Market.
"Our business shows a significant growth trajectory next year… we really need to keep growing the business, the team, our field marketing, our digital work, our social [channels] and set up our e-commerce," Bisterzo noted. "We think we can be a $100 million brand within the next three to four years. We just want to keep funding the business and now have that piece of mind where we can just execute for the next three years."
Bisterzo was drawn to the considerable track record in helping brands scale that Thomas, Oza and Christopher have established, be it through Vitaminwater, Chef's Cut, Vita Coco, High Brew or Bai. In particular, Bisterzo noted, CAVU will be able to guide the brand as it focuses on multichannel growth.
Thomas told NOSH that having followed the brand for the past year, he and the CAVU team were impressed with what Hippeas has accomplished to date.
"If you asked me how to define a CAVU deal, you've got to have people, great product, great packaging and that passion. I think Hippeas, which has only been around for a year and half, in that short period of time they've nailed the product, they've nailed the nutritionals, they've nailed the packaging," Thomas said. "Then look at the team Livio has assembled. I give him a lot of credit, he's an amazing entrepreneur and sometimes it's hard early on to be willing and open to accept help and put the people around [you] to be successful. For a brand this stage, I've never quite seen a team like this that's ready to go."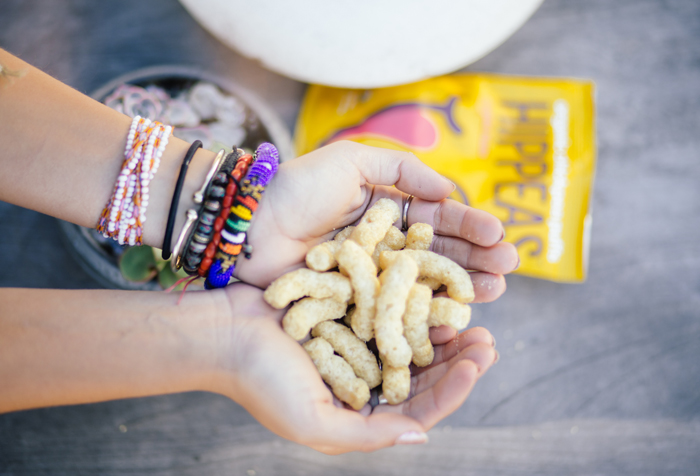 Bisterzo plans to use the capital to expand the company's points of distribution beyond conventional and natural grocers and into channels such as mass, club, convenience and e-commerce. For now, innovation for the brand, he said, will come in the form of new flavors, pack sizes and shippers.
Bisterzo hopes to eventually shift Hippeas beyond salty snacks to a wider set of pulse-based snacks. This could be everything from crackers, to breakfast items to spreads, he said.
Thomas, too, sees the ultimate future for the brand moving beyond salty snacks. The CAVU portfolio includes other plant-based products, such as Kite Hill "dairy" products and WTRMLN WTR, as well as protein plays, such as Chef's Cut and Good Culture cottage cheese, and Thomas sees both trends continuing to resonate with consumers.
Although embracing plant-based protein is important, Thomas said one of the biggest keys to Hippeas success is that it's an easy swap for consumers to make. With one purchase, consumers make an upgrade to their diets and see a payoff in terms of ingredients.
"You don't go from eating Doritos and soda to eating kale overnight. It's a evolution vs a revolution," Thomas said. "People, if given the opportunity to upgrade their diet and eat something a little bit healthier, [still want it] to have taste. If it's cardboard, they're not going to switch. You're going to have a customer who tries it and then never tries it again with no repeat purchase."
The end goal is to become a lifestyle brand, something Hippeas has already embraced with its bright packaging and colorful marketing. It's a product that consumers feel eager to carry around and show off. That said, the packaging still has to sell product. While Hippeas was seeing success on shelf, the team recently slightly changed the packaging to more clearly call out different flavors and to include a photo of the puff on the front of pack. The company also bumped up the intensity on several flavors.
"Fundamentally the opportunity with this company and the brand we created goes way beyond the salty snack. We've created a lifestyle snacking platform," Bisterzo said. "We have a clear vision with this company and the vision is to go beyond being a salty snack company that's for sure. And we know this company can do it. The sentiment of this company and the emotional connection this company is building with consumers is one of a kind."