Bronx Hot Sauce Brings the Heat to Win NOSH Live Pitch Slam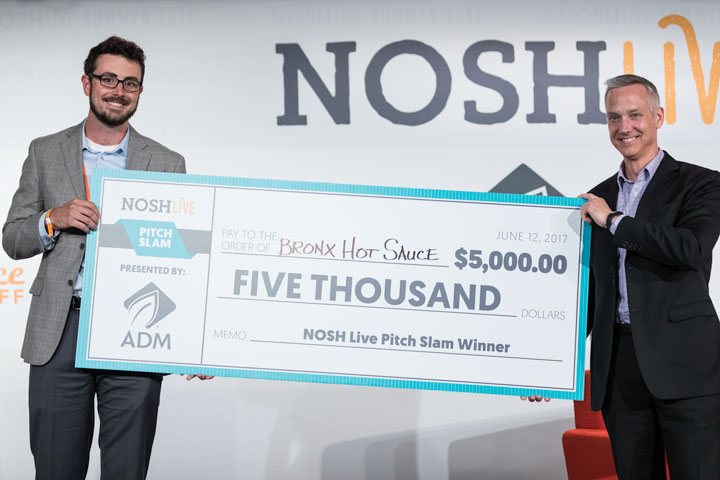 It looks like Bronx Hot Sauce is next-level on more than just their heat scale.
The New York-based, mission-driven hot sauce brand won the second annual Project NOSH Pitch Slam, sponsored by ADM, at the Metropolitan West in New York City on Monday. Bronx Hot Sauce Vice President Daniel Fitzgerald competed against representatives from four other emerging brands: Cali'flour Foods, Zesty Z, Bearded Brothers and Partake Foods.
"Getting to this level is an incredible thing," Fitzgerald told NOSH. "It represents the aspirations of so many community partners that we have. Just to come to a pitch fest like this, it really feels like the next level."
Bronx Hot Sauce, which was founded three years ago, is made from serrano peppers grown in community gardens throughout the brand's namesake borough. The company purchases the peppers at high prices to provide better wages for the gardeners growing them. Last year, more than 30 Bronx community gardens grew 1,500 pounds of serrano peppers that ended up in bottled hot sauce distributed across the Tri-State Area, according to the company.
"While it is a little bottle only five ounces, it represents something very big," Fitzgerald said during his pitch.
Each brand was given four minutes to convince a panel of four industry vet judges– Mark Rainey, Vice President Global Food Marketing at ADM, Jason Cohen, Founder and Co-CEO of Halen Brands, Deb Hannah, Director of Retail Branded Partnerships at Starbucks and Tom Spier, founder and Managing Partner of Boulder Food Group — that their product was the future of natural food.
During his pitch, Fitzgerald wowed the judges with his plan to help solve some of the city's largest societal problems through the brand's economic model. It's based on selling their socially conscious products at a premium price. Fitzgerald said he thinks the model addresses the disconnect between urban communities that are thriving but struggling to make capital and the purchasing power of mission driven consumers.
The judges praised the brand for its taste and flavor, as well as for its locality and mission. In further describing why Bronx Hot Sauce was named the winner, Rainey told NOSH that both its taste and positioning were on trend.
"I think first and foremost the taste and the flavor was very much on trend, very clean and very crisp. Also really important to the judges' decision was the messaging behind it," Rainey said. "Overall we are definitely seeing a lot of interest in local, especially down to that familiar neighborhood level. So the fact that this is from the Bronx and many of the ingredients like the serrano pepper are coming from the local community, that was really important."
Bronx Hot Sauce won a $5,000 grand prize, which Fitzgerald said will be used to help the company launch a new brand out of a different borough next week.
"We think we can push this model of urban farming to different cities in America," Fitzgerald said. "We did it first in the Bronx, we want to do it in another borough, and we will then hopefully go to other places as well."
Rainey added that the judges are hoping to work with Bronx Hot Sauce more on the company's proposed scaling plan to expand their model.
Though Bronx Hot Sauce took the top spot in the Summer 2017 Pitch Slam, other brands also made an impact on judges.
The other competing brands focused on their family roots. Zaatar maker Alexander Harik of Zesty Z's gave an energized pitch about the Mediterranean food blend company that he co-founded with his mother. Denise Woodard, founder of allergen-friendly snack company Partake Foods, also started her business with family top of mind to create snacks that her daughter, who has severe food allergies, could enjoy. Bearded Brothers co-founder Caleb Simpson spoke about how he is growing an organic snack bar line geared toward adventure lovers with his brother-in-law, also a bearded entrepreneur. Cali'flour Foods founder Amy Lacey talked about how her cauliflower pizza crust allow families to have a convenient and more accessible way to eat vegetable-based foods. Rainey said that while the competing brands all delivered on taste, the other brands struggled to convey their stories on packaging.
Bronx Hot Sauce is the second company to win NOSH Live's Pitch Slam, joining YuMaMi's Go-Dip snacks, which wowed the judges last November for its disruptive chip-plus-dip-to-go packaging and its bold Asian-inspired flavors.
Stayed tuned to ProjectNOSH.com for more coverage from NOSH Live Summer 2017.