Distribution Roundup: "Clean" Options See Retail Wins
Kura Keeps Growing
California-based smoothie Kura announced that its line of smoothie powders is now available in more than 3,000 CVS stores nationwide and online at Walmart.com. Later this summer the brand will launch in Bed Bath & Beyond, Meijer and Earth Fare. The new retail channels come as the brand has claimed growth by a factor of 20 in distribution over the last 16 months.
Kura, which offers vanilla, chocolate and berry flavored powders, uses New Zealand-sourced grass-fed whey protein. The line is the first consumer product from White Cloud Nutrition and launched in the market in 2015.
Salty Girl Seafood Reels in New Retailer

Founded on the belief "that serving sustainable, traceable seafood dishes should be fun and easy," Salty Girl Seafood crafted a unique line of frozen seafood entrees that are ready to heat and serve. Each package contains a code that consumers can enter on a website to learn more about the type of fish they are eating, where and how it was caught and even what boat harvested it.
Already sold in 40 retailers, the brand has over doubled that count by recently adding the Northern California region of Whole Foods and numerous independent retailers on the West Coast. Later in July, Whole Foods Mid-Atlantic and New York area stores will also add the brand to their freezer departments.
Fusion Jerky Goes Club With Costco
Bay-area brand Fusion Jerky launched a new Hickory Smoked Beef Jerky in conjunction with Costco. The product is a response to consumers' demand for a "smoky flavor" and family-size bag, wrote the brand in a press release. The new SKU will debut in Costco Midwest locations.
Although the brand is less than two years old, it's already distributed in retailers including Cost Plus World Market and Bed Bath & Beyond. The line prides itself on producing softer jerky made with no nitrates or preservatives and has its own ranch in Nebraska to supply its meat.
Red's All Natural Picks Up Publix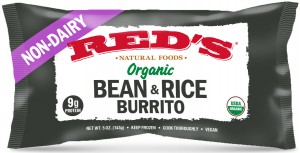 Launching this summer are Red's All Natural Organic Bean & Rice Burrito and Chicken & Rice Burrito. The two burrito options launched in Publix's 1,114 stores the first week in June and are unique in that they are either non-dairy or non-milk.
Red's prides itself on offering cleaner takes on traditional frozen favorites and are made with organic or "natural" non-gmo ingredients and meat raised without the use of antibiotics.
PureSpoon Pumps Up Retailers
PureSpoon, an Austin, Tex. based company, added several new retailers. The brand creates refrigerated, cold-pasteurized fruit and veggie purees for babies and toddlers available in 11 flavors.
New retail chains include 70 Targets, all 240 Sprouts locations, 11 ShopRites and Midwestern i Hy-Vee locations in eight states. Target will include the brand in a refrigerated "kid's food" set in stores throughout California, Minnesota and Texas. The addition adds 315 new doors for PureSpoon, which will triple the company's previous store count.